Show All News
We all need to work towards equality, whether as a company or in society as a whole. When it comes to fair opportunities, treatment and pay, as well as proactive and mutual support, it's not just about gender differences. These are integral aspects of making our world more diverse and our chances more equal. As Women's Month comes to an end, we would like to share some thoughts and ideas from our team.
At Spread Group, we see ourselves in a constant learning process, and are fully committed to working towards fairness and equitable treatment company-wide. That's why this year we have addressed the International Women's Day motto, "Embrace Equity", and asked ourselves, what does it actually mean?
#EmbraceEquity – "why equal opportunities are no longer enough"
When talking about gender parity, equality is the top priority. Women's Day 2023 highlighted that equality and equal distribution of resources does not necessarily mean everyone is on a level playing. Instead, it is important to recognize different backgrounds, experiences, and individual challenges. In particular, women, the LGBTQ+ community, people of color, people with disabilities, and the financially disadvantaged are in need of specific empowerment. This is where justice, or "equity," comes into play, which recognizes that not everyone has had the same experience or resources. As a result, we must find individual solutions while breaking down individual barriers – this is how fairness and inclusion can be achieved.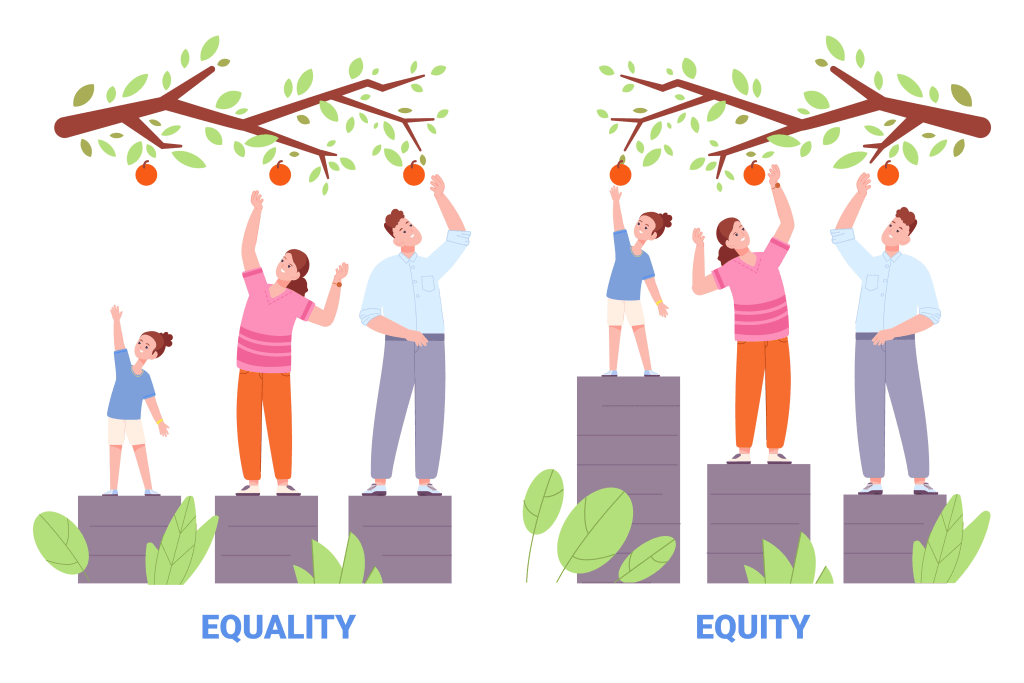 Discussion on Diversity, Equity & Inclusion – our Women's Day event on March 8th
At Spread Group we are also committed to deepening our knowledge on equality and learning from each other in the process. To get us underway, we hosted a hybrid event for Spreadsters at our Leipzig headquarters. Business & Family Coach Hulya Kurt kicked things off with a candid keynote presentation on Equity vs. Equality and Unconscious Bias. This was followed by insights into everyday life at the company, with Spreadsters from different areas presenting their own experiences with diversity and inclusion. Positive experiences at Spread Group were discussed, as well as ideas and suggestions for improvements. Fueled by some tasty snacks and drinks, many conversations took place afterwards, where we chatted about what we had heard so far. Overall it was an insightful day, giving us new energy and input as we continue to strive for equality.
Questions for our Spreadsters – What does Equity and Equality mean to you?
Besides the event, we asked various colleagues what equity and equality mean to them, and how they practice it in their daily lives. Colleagues of all genders had their say, with their responses clearly reflecting the diversity of our company. Different experiences and perspectives produced very different takes, and an excerpt of the statements can be seen here:
Ultimately, we can all do our part, but it is primarily a leadership task to create and follow up on structural changes. A task that also occupies Shazmin Hussein, our new Head of Talent Acquisition & Employer Branding. Her vision is to strengthen the influence of female leaders in the company. This requires the right tools "to better navigate the business landscape, develop and leverage talents, and step into roles of greater influence," says Shazmin. This can enable lasting personal and professional development – because that's possibly the most significant mandate and lever for companies like ours to practice real equity, equity. Addressing career development opportunities individually – empowering the entire Spread Group team.
Caroline has enjoyed a truly diverse career path over the last 17 years at Spread Group. Having started as a packer in Leipzig, she is now the Director of Manufacturing and Production, responsible for all of our production sites across the world. In the role, Caroline is the main contact and expert for print technologies, production processes and capacity planning. She talked to us about her career before and with us, her tasks and how she finds a work-life balance.
How did you end up at Spread Group?
I applied here after a recommendation from a friend in 2005, at a time when they were looking for people to join the production team. After my interview I actually started working as a packer on the same day. I like to think of Spread Group as my second baby, as the company is slightly younger than my daughter (laughs). I spent the first few years learning production, eventually changing my roles, as team lead, supervisor, production manager and now director. So far it's been fun pretty much every day and I'm proud to be part of the success story that is Spread Group.
Can you tell us a bit about your educational background?
After my apprenticeship as a legal assistant it was clear that working on things which require creative and innovative solutions fits me better. This led me to another apprenticeship in Digital and Print Media Design. Following a classic educational path hasn't really taken me to where I am. More important was the trust and support I received from my supervisors at Spread Group. I am very thankful that they noticed my potential and empowered me. If you want to build yourself up somewhere internally, having fun and staying motivated will set you on your way.
How would you describe your current position?
I am responsible for our production sites in Germany, Czech Republic, Poland and the US, building a fantastic team full of smart people around me. As the main contact person, it's essential to show presence, so I travell regularly between the sites and enjoy doing so. With such a diverse range of tasks, it's hard to summarise exactly what I do. Nevertheless you can roughly divide it into five areas: quality control, capacity planning, optimising productions processes, warehousing and people management. By always having to keep up with the newest developments, in terms of printing technology and textiles, things never get boring.
What was your personal highlight at Spread Group so far?
Boiling it down to one highlight is tough after 17 years. What I am undeniably proud of is having watched this small Leipzig start-up become a global player. Seeing how the production sites have been built up is just confirmation of this. In addition, it is always a highlight when ideas that are brought in are then actually implemented in production and we become better, faster or more modern as a result.
How do you spend your free time?
Although I travel a lot for work, I still like to do it privately as well. Extending my horizons and getting to know other cultures and mentalities is a real passion of mine. I am actually about to become a grandmother for the first time, which is of course incredibly exciting. It wont be hard to guess which baby in Leipzig is going to have the coolest babygrow with the funniest slogan (laughs).
🚀 Are you ready to start your career with us? Check out our current open positions here.
Our operations director Zach recently took over an enormous project: the relocation of our production facility in Nevada. He has been with us for 10 years already, now managing our two US-American manufacturing sites. Zach views himself as a ground level air traffic controller, that is taking care of all processes running smoothly. We talked to him about the challenges of managing two teams in two locations, the future of our American production and what keeps him occupied off the job.
Hi Zach! Can you tell us when you joined Spread Group and explain what is your job here?
I started in 2012 as the operations manager for the Greensburg facility. Now I'm the operations manager for both of our North American facilities in Greensburg, Pennsylvania and Las Vegas, Nevada.
If you were to explain your job in three short sentences to somebody like just to summarize, what would you say?
My job really boils down to being ground level air traffic control. You know, the word director and the title are really appropriate because people come to me needing either resources or an answer or solution. Either I help them with that, or I direct the information to who can. And I do a lot of connection in between like an air traffic controller. So, a lot of my time I feel like I'm kind of waving things in, it's a lot of making connections and making sure resources are adequately shared.
You took over a big part in the relocation of our production facility in Nevada. How was this experience for you?
It was challenging for sure, but it was definitely a positive experience. I really enjoyed it. Taking over the project at a later stage was not easy, getting myself up to speed, figuring out where and what was already planned. You know, being both remote and on site, it was a lot. It was a great challenge. It's a great test run for when we move the Greensburg facility someday. It was a lot of work. But it was also rewarding and I'm really glad that I did it.
What are the plans for the future of our production in the USA? Can you already tell something about that?
One of the biggest things we're going to do is making sure that we standardize processes, you know, globally and especially within the US. The time zones being so far apart makes it really hard to communicate. We have got a couple plans in place with changing supervisors, travel times and some weekly meetings to keep both facilities aware of what's going on. So, if somebody has a great idea at one site, we can share that information with the others, and I've been connecting the maintenance teams a lot more. So that if one of our pieces of equipment has an issue, they have a much bigger group to communicate with. We've set up the teams chats and we're communicating a lot better now. And so, to me the thing I'm looking the most forward to is building a national team.
What are qualities or maybe soft skills that you need in this position and in the interaction with your team?
Being an active listener. There's a lot of people that get into leadership positions based on any given skill, like being very good at a particular job. From a leadership perspective to me the most important thing is being an active listener and having empathy, emotional intelligence. Because if you don't have those two things, you're not going to build a team. You know, I can hammer out specific statistics and the time per piece or point out mistakes that are made. But if I don't do it in a way that connects with people and builds them, then it's going to fail.
Are there any hidden talents or hobbies you'd like to share?
I'm an amateur car restorer. I have two project cars. One is a 1969 Mustang and one is a 1973 Scout. I don't do it for money, I just do it for my own entertainment because I like fixing things and it's a nice contrast between my day job. No two days are the same. You know, like sometimes it's very hard to recognize what I really accomplished in a day. But when I'm working on something mechanical, there's a very tactile experience. I can take a part of a car, I can clean it, I can repaint it, I can put it back together. I can make it work again. So that to me is sort of like a cathartic release to counterbalance a hectic day. And in addition to that, I am also a guitar player at a local indie rock band in Pittsburgh named Sommelier.
Oh great, we should definitely check it out! Thank you, Zach!
At Spread Group, we have several helpful tools and events to guide our new Spreadsters through their orientation. The goal is to get to know each other and the company.
Onboarding plays an essential role in every employee's experience at a company. Feeling welcomed, supported, and integrated into an organization, and learning about the structures and culture creates our first impression at a new job. That is why onboarding at Spread Group is designed to provide numerous offers and support systems to new employees during their first weeks at the company.
The Welcome Package
The onboarding journey starts on the first day, where we provide our new employees with a welcome package filled with useful goodies. Among them is the Onboarding Booklet – a brochure filled with important information about the company, its structure, our values, and frequently used words or abbreviations. The package also contains an Onboarding Pass, which can be used as a name tag and a checklist for completed onboardings.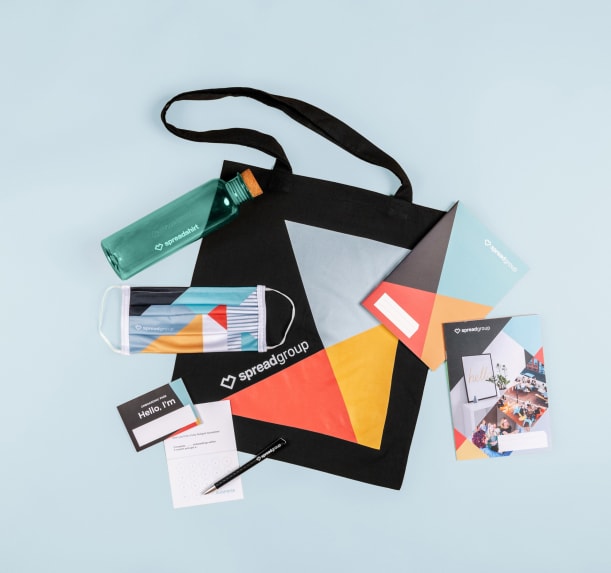 Onboarding Meetings
Our onboarding meetings are a central part of the process because they provide detailed insights into our departments and teams that a booklet cannot. In total, we have 27 onboardings: 7 mandatory and 20 additional meetings. A team leader chooses the most relevant onboardings for their employee. Their purpose is to give new employees an overview of our departments and teams, their tasks and responsibilities, as well as useful information and contact persons for specific issues and questions. At the same time, they give attendees a chance to network and get to know colleagues.
Welcome Tour
A special additional onboarding provided by our people and culture team is the welcome tour. Because we have a quite large building in Leipzig, it is important for new employees to know their way around and to know which team is to be found where.
Internal Introduction & Events
To support the interpersonal communication and get2know process, we provide our new Spread Group colleagues different options. The internal introduction is carried out by your team and within our internal communication channels, such as our blog and company events. Among those events are lunches and Get-togethers with other colleagues, to help new employees to chat, connect and get involved.
Feedback
Creating a comfortable onboarding environment is an ongoing process. We strive to constantly develop and improve it, to create a satisfying experience for every new employee. Feedback is an integral part of this process. To help with this, we implemented a 3-month-feedback conversation that includes questions about the recruitment process, onboarding experience and your satisfaction with your team, tasks, and responsibilities.
Our onboarding process consists of several steps to make sure that new employees get all the information and support that they need during their first weeks at Spread Group.
Would you like to experience our smooth onboarding process? Then check out our open positions!
Spread Group's U.S. production team is moving to a new location in the Mountain West Industrial Park in Las Vegas.
From the suburbs to the big city: Spread Group's production team, previously based in Henderson, Nevada, will in future be working in the Las Vegas metropolis. The Mountain West Industrial Park, where the new building is located, is being built in the fast-growing southwest of the city. This brings production close to Las Vegas and its excellent infrastructure, which offers many logistical advantages. A total of 4650 square meters of space in a state-of-the-art hall will become the production hub of Spread Group in the west.
Local move, globally supported
Although the move involved a single production facility, it is also an example of the excellent cross-site cooperation within the company. There was a lot of support from the main U.S. site in Greensburg, Pennsylvania, where several colleagues assisted the team in Nevada to prepare all Spreadsters for the upcoming move. A new director of production in Las Vegas, Abbie Hills, was also brought on board. Zach Coss, who as Director of Operations oversees both U.S. locations, was responsible for the successful implementation of the move as well as supporting the team during the project. Together with Chief Customer Delivery Officer (CCDO) Hanne Dinkel, who is responsible for the strategic management of the five Spread Group production sites worldwide, he inaugurated the site during an official ceremony.
Opening event at the new location
In the modern lobby, the approximately 40 employees and guests from the headquarters in Leipzig were welcomed to the joint opening ceremony. The highlight was the traditional cutting of the ribbon at the entrance of the production hall. The occasion was used not only to honor the team's efforts in implementing the project, but also to celebrate the company anniversaries of several U.S. employees who have accompanied the development of production in Nevada since the opening of the site in Henderson 10 years ago. At the end of the official opening, a raffle was held for the team, with great prizes being drawn among the employees. A successful kick-off for production at the new Spread Group location!
About the Las Vegas production facility
Location: 7180 West Post Road, Suite 105, Las Vegas Nevada 89113, USA
Area: 4650 m²
Team: approx. 40 employees
Download images