Show All News
SPREAD: The next generation fashion & lifestyle brand with a radically new approach, offering what Genzennials like most: individualization and personalization. The global launch will happen in Berlin on Friday, April 28th, during Gallery Weekend. With a surprise campaign starring some of Berlin's coolest DJs, Musicians, actors and artists. And a big bash of 800 selected guests at a secret location.
The SPREAD USP, "created to create," is a fashion revolution! Customers can select their own personal design on demand using a "creative toolbox" which includes bold graphics, prints and embroideries. And exclusive artworks designed by collaborating artists.
All made to order and delivered within the next days.

The first SPREAD drop is a cool and unique streetstyle capsule. A curated selection of unisex, everyday essentials and powerful, iconic styles. Inspired by contemporary urban culture, it is cool, relaxed, oversized: hoodies, crew necks, t-shirts, long sleeves, zip hoodies, sweatpants and shorts. Produced in Portugal and made from 100% organic cotton. All styles exclusively available globally at the new SPREAD online shop: spreadyourstyle.com
The SPREAD story starts in Berlin, with an ambitious plan to spread globally. Masterminded by Lothar Reiff, Chief Product & Brand Advisor for SPREAD GROUP and a well known fashion and lifestyle visionaire. Together with the young SPREAD team of fashion designers, graphic artists and specialists, headed by Michael Kampe, Creative Director Fashion of SPREAD GROUP (formerly Armedangels Creative Director). SPREAD GROUP Chief Commercial Officer is Frederik Brakel (formerly Zalando and Central Group Europe / KaDeWe).
SPREAD engaged renowned Creative Director Donald Schneider to develop the innovative communication, "from local to global." With a community-building launch campaign concept, for which he and his team worked together with upcoming star photographer Vitali Gelwich and stylist Claudia Hofmann. Featuring the "Berlin Squad" campaign stars:
Artist Mago Dovjenko, photographer Vitali Gelwich and artist Jeroen Erosie designed special artworks exclusively for this first SPREAD collection. More collaborations are being planned.
Friday, April 28th, the launch campaign will start on all social media channels, with lots of buzz and media coverage. Berlin will get plastered with the #spreadberlin campaign posters. And in the evening, there will be a big launch party for 800 selected guests at a secret location. Orchestrated by Berlin nightlife impresario Henok Tsehaye. With a cool booking of hot music acts and DJs, like Dania, Alcatraz, Nunguja, Bill Kouligas, Josh Johnson, Anyang Anyang, Rafi Sinn, and special surprise performances.
Dr. Julian de Grahl, CEO of SPREAD GROUP:
"With SPREAD, we are utilizing our proven made-to-order technology in a disruptive way and are creating a unique, digital fashion and lifestyle brand. At the core of it is our successful USP of personalization and individualization. Which is exactly what the fashion world is longing for, including digitalization and sustainability. And what the Genzennials value most: personality and consciousness."
SPREAD THE WORD! SPREAD YOUR STYLE! SPREAD: good vibes, awareness, warmth, creativity, individuality, from Berlin to the world.
PHOTO & VIDEO MATERIAL FOR PRESS: campaign photos (photographer: Vitali Gelwich), campaign videos, campaign posters, BTS photos
Spread Group is the exclusive and official merchandise partner of Rock am Ring and Rock im Park. For at least two years, the global provider of customized and sustainable fashion products will make an appearance with their consumer brand Spreadshirt. Following recent collaborations with Netflix and Universal Products & Experiences, Spread Group will for the first time distribute fanwear in the live entertainment sector, on-site and through online shops. With additional merchandising products that complement the online offering, the fashion-tech company Spread Group will also keep the festival feeling alive in the aftermath of the event.
In doing so, Spread Group will take over the design creation and production of all merch products for Rock am Ring and Rock im Park for the 2023 and 2024 festival seasons. Online sales will take place via the official websites of Rock am Ring and Rock im Park with integrated online shops, as well as on Spreadshirt's marketplaces. In addition, products will be distributed on the Rock am Ring (#RAR2023) and Rock im Park (#RIP2023) social media platforms, such as the YouTube Merch Shelf.
The online offers allow visitors to get their festival package with T-shirts, hoodies, caps, tote bags, drinking bottles and mugs before the festival weekend. From June 2 to 4, more than 160,000 music fans are expected to attend the two festivals. Spread Group has received an exclusive license from eventimpresents GmbH & Co. KG c/o CTS Eventim AG & Co KGaA.
Frithjof Pils, Managing Director Eventim Live:
"In Spread Group, we have found a strategic partner that will enable us to provide a comprehensive online availability of a diverse merch portfolio, in addition to an attractive merch offering on site. I am sure that this cooperation with its associated offer will help us succeed in conveying the unique festival feeling and the shared passion for Rock am Ring and Rock im Park."
Dr. Julian de Grahl, CEO Spread Group:
"With the exclusive license of Rock am Ring and Rock im Park, we are continuing our path of offering high-quality designs to customers in the fanwear segment with convincing, sustainable product quality. The multichannel approach with sales on site and through online shops facilitates a multifaceted portfolio with diverse campaigns, while offering the opportunity to rethink and expand festival merch as such."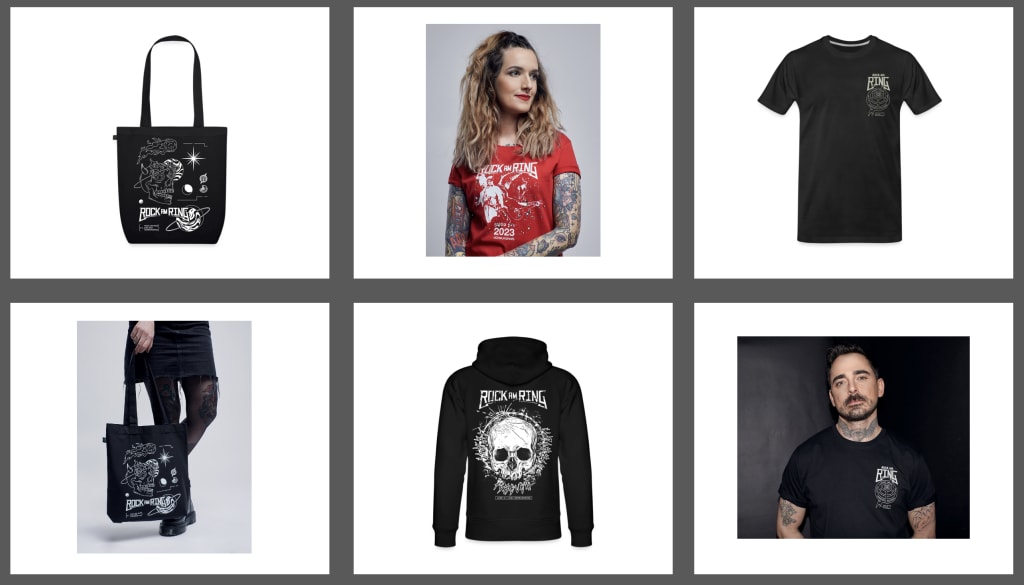 Photo Material for Download
Related Links
The fashion AI startup "SAIZ" has secured a pre-seed investment from Spread Ventures in its first financing round. The newly founded VC fund "Spread Ventures" (part of Spread Group) will participate in the Berlin-based company SAIZ as lead investor with a six-figure sum. SAIZ is an AI-based solution to reduce returns in the fashion industry. It is the business idea of the two founders Svenja Tegtmeier and Marita Sanchez de la Cerda.
The fashion AI startup "SAIZ"
Returns are a key problem for the fashion industry, especially for online retailers. More than half of online purchases are returned due to problems with size and fit. This not only creates significant costs for brands and retailers, but also accounts for a large portion of the industry's CO2 emissions. SAIZ addresses this problem by using Artificial Intelligence and NLP to optimize sizes and fits for fashion brands – recommending the right size to customers based on their body measurements and preferences. The B2B SaaS platform also provides real-time data analytics and insights that help companies make informed decisions and stay ahead of the competition. As a first-of-its-kind solution, SAIZ creates product-specific 3D measurements for each garment and matches them with each customer's body measurements.
The two founders previously founded a fashion label themselves. They used AI and data analysis to translate their experience in the fashion industry into an innovative size and fitting solution for the e-commerce and fashion industry, which they further developed together with well-known brands and online retailers.
The Spread Ventures x SAIZ investment
The financing at SAIZ is Spread Ventures' first investment and a milestone for the company and the industry. The lead investment has been joined by other angel investors from the fashion and e-commerce industries – a reflection of the potential of the solution and the strength of the team behind it. The fresh capital will be used to accelerate product development, expand the team and drive growth.
SAIZ is poised to transform the fashion industry and help brands reduce returns, improve customer satisfaction and become more sustainable.
Marita Sanchez de la Cerda, co-founder of SAIZ on the investment from lead-investor Spread Ventures:
"SAIZ and Spread Ventures are a perfect match. We are super excited to build a sustainable fashion tech future together with a lead investor with the same ambitions."
Robin Nitsch, Head of Ventures and Innovations at Spread Group on the investment in SAIZ:
"SAIZ is the first solution that actually works and is proven to reduce returns. As a result, fashion brands and retailers can not only save on logistics costs, but also reduce their CO2 footprint at the same time. SAIZ fits perfectly with our mission to establish sustainable solutions in the fashion industry and to support Spread Group in its transformation into a fashion tech company. With our investment and close partnership, we can combine personalized products with perfect fit, something that has not been found in the market so far."
New VC fund "Spread Ventures"
The newly founded investment fund Spread Ventures is Europe's first VC that specializes in fash-ion tech startups in the pre-seed and seed phase. Commenting on the investment strategy, Robin Nitsch, Head of Ventures and Innovations, says: "We are looking for the best teams in Europe (and beyond) to invest in technology-based startups with innovative solutions for a more sustainable fashion and e-commerce industry. The fashion industry is at an inflection point – pushed by new web3 technologies and ESG requirements, sustainability awareness of consumer generation Z and legislators. These trends and technologies will significantly change the fashion industry in the coming years, from 3D product design to greener materials and production processes to virtual collections, social commerce and circularity solutions. With our startup partners, we want to develop answers to these market trends, share our industry knowledge and test new concepts at scale."
Related Links
Photo and Video Material
About Spread Ventures
Spread Ventures GmbH is the first European early-stage venture fund to focus on pre-seed and seed investments in fashion tech companies, supporting them with operational industry exper-tise from the e-commerce and print-on-demand business. The company is a subsidiary of Spread Group, a technology-enabled global provider of individualized fashion and lifestyle products. Spread Ventures scouts and invests in technology-based start-ups with new solutions for a more sustainable fashion and e-commerce industry. The focus is on B2B and B2C startups in the areas of Fashion Tech // Digital Fashion & Metaverse // New Textiles & Circular Fashion // Creator Economy.
Contact: Robin.Nitsch@spreadgroup.com  (Head of Ventures and Innovations)
Production-on-Demand Supports Sustainability and Customisation Goals
Merchandise featuring characters from Universal Products & Experiences will be made available via the online marketplaces of fashion tech company, Spread Group. Fans will get a sense of belonging through customisation. They can choose from popular character images and quotes on clothing, accessories, home & living products, as well as stationery.
Spread Group's ability to bring ideas to market quickly has resulted in collections of Universal Products & Experiences iconic brands being recently launched on the platform. Films, TV shows and cartoons, including 80s classics and 21st century favourites will all have merch made-to-order. Fans can customise The Big Lebowski 'The Dude Abides' T-shirts, Back to the Future sweatshirts, DreamWorks Animation Spirit 'Stay Wild!' stickers and cushions, and long-sleeved tops with 'Amity Island Beach Instructions' designs from JAWS.
Fans of Universal will benefit from Spread Group's ability to allow variation and a nimble approach to getting designs online. Merch ideas can be created from scratch or Spread Group can adapt existing concepts and bring them to life on fashion and lifestyle products online.
In the summer of 2022, Illumination's Minions: The Rise of Gru designs were launched in time for the film's release. These included yellow t-shirts with Minions and hanging-on-the-clothes-line stickers. Special Christmas designs were created and launched in time for the important Black Friday and Cyber Monday shopping days.
Universal Products & Experiences' brands now available at Spread Group include The Big Lebowski, Knight Rider, and from Universal Pictures and Amblin Entertainment – Back to the Future, E.T. the Extra-Terrestrial, JAWS, and Jurassic World, as well as DreamWorks Animation's Spirit, Trolls, and Dragons.
Sven Burscher, Spread Group's Head of Licensing said:
"This collaboration shows how customisation and made-to-order technology can deepen fans' loyalty to the shows, films and cartoons they love. It increases a sense of ownership because they get a delight item in a style, size and colour that suits them. Brands can offer this service whilst still retaining the integrity of their merch guidelines".
Tobias Schaugg, Spread Group CFO commented:
"Spread Group's Licensing Division has continued to grow rapidly, and we expect to exceed predictions in 2023. This international collaboration shows how digital fashion can support licence holders in offering their fans something new and exciting. Universal Products & Experiences are giving their worldwide followers the chance to be involved with the brand and show their enthusiasm in real life".
Product Details
Minions Ugly X-mas Sweater – Blah
The Spreadshirt Collection stands for best-possible print results on top-quality products. A huge range of sizes makes sure that our gear fits everyone, big and small. Fair and sustainable. Very durable. 150 g/ m². Material: 100% cotton (from organic production).
The Big Lebowski – Dude
Our classic T-shirt is now available in organic threads, soft to the touch and full of clean conscience. Durable fabrics. 150g/m². Material: 100% cotton (from organic production).
E.T. The Extra-Terrestrial Since 1982
This hoodie is a do-good icon of environmental soundness that will both benefit the planet and your green conscience. Rugged fabrics: 300 g/m². Material: 85% cotton (from organic production), 15% polyester (from recycled materials).
JAWS Amity Island Beach Instructions
Our Premium Longsleeve Shirt is the safe choice in any weather as it keeps you warm on cooler days and is still light enough to wear when it gets warmer. Fair and sustainable. Durable fabric: 150 g/m² Material: 100% cotton.
Back to the Future DeLorean Destination Time Logo
The Premium T-shirt offers an sheer infinite choice of combination opportunity with other items. Fair and sustainable. Durable fabrics. 150 g/m².
Sustainability is an important element of this deal. Underpinning Spread Group's delight items is print-on-demand technology. This reduces waste because no item is printed until it is ordered. So, there's no over-stocking or discarded sizes.
Image Links
Model photo Minions (Minions Franchise © Universal City Studios LLC. All Rights Reserved.)
Model photo Minions XMas (Minions Franchise © Universal City Studios LLC. All Rights Reserved.)
Model photo E.T. (E.T. the Extra-Terrestrial © Universal City Studios LLC and Amblin Entertainment, Inc. All Rights Reserved.)
Model photo JAWS and The Big L (JAWS © Universal City Studios LLC. All Rights Reserved. The Big Lebowski © Universal City Studios LLC. All Rights Reserved.)
Model photo Back to the Future (Back to the Future © Universal City Studios LLC and Amblin Entertainment, Inc. All Rights Reserved.)
Additional Links
Spreadshirt Licensed Fanwear Overview
Official The Big Lebowski Showroom
Official Back to the Future Showroom
Tech-enabled next generation fashion company, Spread Group, has appointed Frederik Brakel as Chief Commercial Officer (CCO). The experienced fashion industry manager will pioneer a new direction to ensure further growth of the direct-to-consumer business. Building on the current macro trends of individualization and digitization, Brakel will, among other things, oversee the expansion of the product range with modern, sustainably produced fashion. The women's segment in particular will be greatly expanded. Resource-saving made-to-order production will be at the top of Spread Group's technological agenda in the near future.
Before joining Spread Group, Frederik Brakel held leading positions in the fashion and luxury industry for 18 years, including some 10 years in the field of e-commerce and digitization. Over eight years, he made a significant contribution to the development of Zalando. Most recently he was Chief Digital Officer at Central Group Europe (e.g. Rinascente and The KaDeWe Group).
In tune with Generations Z and Alpha
What appealed to Brakel most about his new role at Spread Group was working with new products and target groups. The exciting development of the fashion industry is increasingly moving towards on-demand production and stronger individualization. Buyer groups from Generations Z and Alpha are driving these changes, leading to a focus on sustainability and individuality while improving quality and style. This heralds an end to the popularity of mass-produced goods from fast fashion brands and the real-time fashion industry, which are traditionally produced in poor working conditions and at the expense of the environment. Spread Group's made-to-order production – orders are only ever manufactured and shipped on demand – answers the call for sustainably produced and truly unique products.
The evolution of production-on-demand towards next generation made-to-order
With its strong technology-driven approach, Spread Group is one of the main drivers and beneficiaries of the sustainability movement. Spread Group's business model has a fully digitalized made-to-order approach, making it a perfect fit for driving macro trends of individualization, digitalization and sustainability. Trends set by Generation Z consumers currently determine the entire fashion and lifestyle industry.
Over the past two decades, Spread Group has succeeded in manufacturing and distributing one-of-a-kind items at attractive margins. Detailed improvements and customer-focused production with locations in the USA and Europe have enabled the company to invest more in technical and digital innovation, while increasing product quality.
"Investments in research and development will play a key role in our expansion in the immediate future. The goal is an evolution of 'production-on-demand' towards 'next generation made to order'. Further partnerships with innovation leaders are also envisaged." – Frederik Brakel, Chief Commercial Officer
Favorite items you want to wear again and again
Frederik Brakel joined Spread Group in May 2022. In his new role as Chief Commercial Officer, he will ensure Marketing is aligned with Assortment, Supply Chains and Quality Management. Corporate Social Responsibility (CSR) has long been an integral part of Brakel's work. It is his goal to offer customers their new favorite items, whether these are customized, curated by designers or the stylish original look. He will ensure that satisfied customers will enjoy wearing their favorite items again and again.
Spread Group CCO Frederik Brakel explains:
"In an industry characterized by overproduction, I believe we can make an important contribution to more conscious consumption with our digital services and products, which are only ever produced after an order has been placed."
Spread Group CEO Dr. Julian de Grahl adds:
"The fashion landscape is constantly changing, and topics such as sustainability, digitalization and individuality are the future of the industry. As a customer-focused platform, Spread Group wants to continue to promote these topics and accompany current trends. Through his many years of experience in the fashion industry, Frederik knows which steps to take. We look forward to new and exciting projects, and we're happy to give Frederik a warm welcome at Spread Group."
Image Links
Spread Group's technology will create sustainable & individualised series merch
Stranger Things and The School for Good and Evil are the first two titles to go live in the new Spread Group consumer products deal with Netflix.
Spread Group rolls out the collection on all marketplaces in the UK and Europe. Designs for other properties will follow, including: Squid Game, Sex Education, La Casa de Papel, Elite, Shadow & Bone, 1899, Outer Banks and The Witcher.
The first designs will include Hellfire Club hoodies and The School for Good & Evil lunchboxes. Fans will be able to buy designs across a wide range of products in the apparel and accessories segment but also covering Home & Living products which are great for gifting.
Spread Group's technology enables individualization. This creates a sense of belonging through products people love. Fans can find a design in a style and fit to suit them, across Spread Group's fashion and lifestyle range.
When fans are involved in the creation of an item it creates a greater affinity with the brand. With the Spread Group and Netflix partnership, fans can create for example; Squid Game sweatshirts, Elite water bottles, The Witcher bandanas, Shadow & Bone drawstring bags or Outer Banks long sleeve shirts.
The Spread Group technology also boosts sustainability credentials. Production based on need (not projection), means an item is only produced after it has been ordered. This limits waste because there's no over-stocking and leftover sizes.
Dr. Julian de Grahl, Spread Group CEO, says:
"This partnership will enable Netflix fans to create delight items for much-loved shows. We do this through individualization; a growing trend in brand merch. Our made-to-order technology gives fans space to produce something unique they want to wear every day. The ability to individualise will then increase their sense of belonging to their favourite Netflix shows."
Sven Burscher, Spread Group's Head of Licensing said:
"We're delighted to be partnering with Netflix to offer such a huge range of merch to its wide audiences. Our technology means Netflix can retain brand integrity for its iconic series and a demand-led printing model also limits waste, which is good for the planet."
"The Netflix shows have become significant brands in themselves. Fans identify with the story-lines and characters and the programmes are binge-watch destination TV. With this partnership between Spread Group and Netflix series fans can wear their dedication with pride!"
Image Links
Additional Links
About Netflix
Netflix is the world's leading streaming entertainment service with 221 million paid memberships in over 190 countries enjoying TV series, documentaries, feature films and mobile games across a wide variety of genres and languages. Members can watch as much as they want, anytime, anywhere, on any internet-connected screen. Members can play, pause and resume watching, all without commercials or commitments.
Spread Group, leading global provider of individualized fashion and lifestyle products, has appointed Martin Gawlak as Vice President of People & Culture. This new position will be accompanied by a comprehensive strategic realignment of human resources and corporate development. Martin will report directly to the CEO, Dr. Julian de Grahl.
Spread Group sees the position a key aspect of the new direction in corporate strategy. Martin's appointment coincides with the recently announced partnership with B2B merchandise platform mula. as well as greater company focus on innovative and sustainable human resources development. The new Vice President of People & Culture has already worked with the Berlin-based start-up in the past.
Martin will oversee the strategic development of the People and Culture department at Spread Group. Across all locations and all affiliates, the experienced manager – with over 20-years in leading management positions – will push forward the development of company culture, talent management and digitalisation.
Gawlak has a diploma in economics to go with his master's in organisational psychology, and his last role was as Chief Human Resources Officer (CHRO) at foodspring, a Berlin company and part of the Mars group.
He explains:
"I am excited at the chance of strengthening corporate culture at Spread Group as they adapt their structures and grow across all parts of the company group. Together with my team, I want to create a working environment which continuously develops their skills and helps the management team reach their ambitious goals."
Spread Group CEO, Dr. Julian de Grahl:
"The exceptional commitment, talent and team spirit of our employees has been a key success factor over the past twenty years. Spread Group management aspires to continue the performance and innovation culture, which has existed here since day one, in the next phase and to further develop our talents in a targeted manner. With his extensive expertise, experience in fast growing companies and last but not least as an experienced user of the mula. B2B merchandise platform, Martin a perfect fit for Spread Group."
Image link
Photo Martin Gawlak, Vice President People and Culture (Copyright: Spread Group)
Spread Group enters into a long-term partnership with mula. and acquires shares in the digital B2B merchandising platform.
The strategic partnership is intended to provide B2B customers of both companies with an improved and comprehensive service portfolio.
Spread Group's investment in mula. is driving the expansion of its B2B business and the implementation of its sustainability strategy.
Both companies have complementary offerings and will work closely together both in the operational business and in the further internationalization of mula.
Spread Group is the leading global provider of customized fashion and lifestyle products. The global company is entering into a strategic partnership with the Berlin-based B2B merchandise platform mula. To this end, Spread Group is acquiring shares in the start-up and providing mula. with a growth budget in the millions.
The aim of the long-term collaboration is to offer customers of all sizes an extensive portfolio of services that builds on both companies' existing offerings. In addition to the individual design and production of high-quality corporate fashion and merchandising products, this also includes the digitalization of existing internal processes on the customer side. For example, the digital B2B merchandising platform can be used to provide innovative support for onboarding processes, send automated gift boxes at specified times (e.g., birthdays or customer events), or make merchandise available to a limited customer group via white-label online stores.
Both companies have complementary expertise and will work closely together on operational issues as well as on the further internationalization of mula. In particular, mula. will benefit from the global production and distribution infrastructure of Spread Group.
Dr. Julian de Grahl, CEO Spread Group, explains the move: "Mula. and Spread Group are perfect partners: both companies operate in a customer-centric manner and have repeatedly demonstrated their innovative strength. The topic of sustainable corporate gifting has gained a lot of importance in recent years as a tool for customer and employee loyalty. We create enormous added value for our customers, through the digitalization of time-consuming manual processes in marketing, sales or HR departments, which can result in a significant gain in efficiency."
Marco Lawrenz, Co-Founder and CEO of mula., says: "We cannot imagine a better partner than Spread Group: 20 years of industry experience, market leader and active worldwide. Moreover, known for its special reliability in the market. At the same time, Spread Group can benefit from our broad solutions for merchandise user cases in all business areas. Through this partnership, the digitalization and automation of currently very manual processes, e.g. by integrating HR-, marketing-, or sales software, we can deliver real added value for companies of all sizes. The combination of the expertise and the services of both companies is a forward-looking move for the entire industry."
Image Links
mula. founders with Spread Group CEO Dr. Julian de Grahl (from left to right: Tobias Boertz (mula. Co-Founder, Head of Engineering), Marvin Müller (mula. Co-Founder, Head of Merchandise), Dr. Julian de Grahl (Spread Group CEO), Marco Lawrenz (mula., Co-Founder, CEO), Moritz Halfmeyer (mula. Co-Founder, CTO)
Additional Links
About Spread Group:
Spread Group is a global provider of customized fashion and lifestyle products. With the brands Spreadshirt, Teamshirts and Spreadshop, Spread Group offers consumers, companies, and content creators (e.g., YouTube, Instagram, TikTok) digital services for the individualization of fashion and lifestyle products. The common basis of all Spread Group service offerings is a flexible software platform that enables deep vertical integrations along the value chain. This includes not only product design, marketing and sales via marketplaces and online stores, but also production, payment processing, worldwide shipping and customer service.
The made-to-order pioneer founded in 2002, in Leipzig, Germany, now operates five production sites in the U.S. and Europe and has annual revenues of over 175 million Euros. In 2021, Spread Group manufactured on demand more than 10 million products for customers in over 170 countries.
About mula.:
The digital B2B merchandise platform mula. was founded in Berlin in 2018 by Marco Lawrenz and Marvin Müller and has since developed into an internationally active company. Thanks to the platform, all merchandise activities for companies and their employees can be simplified, streamlined, and managed. This is achieved, among other things, through the automation of processes, API integration with HR and CRM tools, such as HubSpot or Salesforce, and the creation of own stores. In addition, customers can select and individualize their own merchandise as well as their team clothing via the platform. mula. places a lot of emphasis on sustainable products that are environmentally friendly. The B2B merchandise platform is rounded off by a comprehensive design and warehousing service and CO₂-neutral delivery.
Spread Group's U.S. production team is moving to a new location in the Mountain West Industrial Park in Las Vegas.
From the suburbs to the big city: Spread Group's production team, previously based in Henderson, Nevada, will in future be working in the Las Vegas metropolis. The Mountain West Industrial Park, where the new building is located, is being built in the fast-growing southwest of the city. This brings production close to Las Vegas and its excellent infrastructure, which offers many logistical advantages. A total of 4650 square meters of space in a state-of-the-art hall will become the production hub of Spread Group in the west.
Local move, globally supported
Although the move involved a single production facility, it is also an example of the excellent cross-site cooperation within the company. There was a lot of support from the main U.S. site in Greensburg, Pennsylvania, where several colleagues assisted the team in Nevada to prepare all Spreadsters for the upcoming move. A new director of production in Las Vegas, Abbie Hills, was also brought on board. Zach Coss, who as Director of Operations oversees both U.S. locations, was responsible for the successful implementation of the move as well as supporting the team during the project. Together with Chief Customer Delivery Officer (CCDO) Hanne Dinkel, who is responsible for the strategic management of the five Spread Group production sites worldwide, he inaugurated the site during an official ceremony.
Opening event at the new location
In the modern lobby, the approximately 40 employees and guests from the headquarters in Leipzig were welcomed to the joint opening ceremony. The highlight was the traditional cutting of the ribbon at the entrance of the production hall. The occasion was used not only to honor the team's efforts in implementing the project, but also to celebrate the company anniversaries of several U.S. employees who have accompanied the development of production in Nevada since the opening of the site in Henderson 10 years ago. At the end of the official opening, a raffle was held for the team, with great prizes being drawn among the employees. A successful kick-off for production at the new Spread Group location!
About the Las Vegas production facility
Location: 7180 West Post Road, Suite 105, Las Vegas Nevada 89113, USA
Area: 4650 m²
Team: approx. 40 employees
Download images
Print-on-Demand Offering Helps Sustainability and Customisation Goals
Flashdance, Top Gun, Star Trek, Garfield and SpongeBob SquarePants are five of the iconic brands in the European licensing deal signed by Spread Group and Paramount Consumer Products.
Sustainability is at the heart of this partnership. The Spread Group's print-on-demand offering means an item is only printed after it has been ordered. This limits waste because there's no over-stocking and leftover sizes.
The first designs will include I Feel the Need for Speed Top Gun t-shirts, Flashdance logo and What a Feeling! hoodies, Garfield LASAGNA lunchboxes and Saturday Night Fever posters. The designs will be a mixture of image classics and newly created designs created by Spread Group.
Customisation is also made easy with print-on-demand. Fans have the freedom to add a design to a product in a size, colour, and style of their choice. When fans are involved in the creation of an item it creates a greater affinity with the brand.
Sven Burscher, Spread Group's Head of Licensing said:
"This partnership means Spread Group can offer a huge variety of themes to a wide audience. The Paramount Global brands cover iconic movies and cartoons for a large demographic. There's a coming-of-age moment for everyone!

Our print-on-demand offering means the brands and their fans can customise their creations to suit them, whilst retaining brand integrity. It also limits waste which is better for the planet".
Fans will be able to add images and quotes to t-shirts, hoodies, caps, bags, aprons, mugs, water bottles, lunchboxes, pillowcases, posters, and stickers depending on the brand. Designs will also be localised; for example, Garfield quotes in German, French and English.
The licence covers Germany, Austria, Switzerland, France and the UK.
Image Links
Additional Links