Show All News
We all need to work towards equality, whether as a company or in society as a whole. When it comes to fair opportunities, treatment and pay, as well as proactive and mutual support, it's not just about gender differences. These are integral aspects of making our world more diverse and our chances more equal. As Women's Month comes to an end, we would like to share some thoughts and ideas from our team.
At Spread Group, we see ourselves in a constant learning process, and are fully committed to working towards fairness and equitable treatment company-wide. That's why this year we have addressed the International Women's Day motto, "Embrace Equity", and asked ourselves, what does it actually mean?
#EmbraceEquity – "why equal opportunities are no longer enough"
When talking about gender parity, equality is the top priority. Women's Day 2023 highlighted that equality and equal distribution of resources does not necessarily mean everyone is on a level playing. Instead, it is important to recognize different backgrounds, experiences, and individual challenges. In particular, women, the LGBTQ+ community, people of color, people with disabilities, and the financially disadvantaged are in need of specific empowerment. This is where justice, or "equity," comes into play, which recognizes that not everyone has had the same experience or resources. As a result, we must find individual solutions while breaking down individual barriers – this is how fairness and inclusion can be achieved.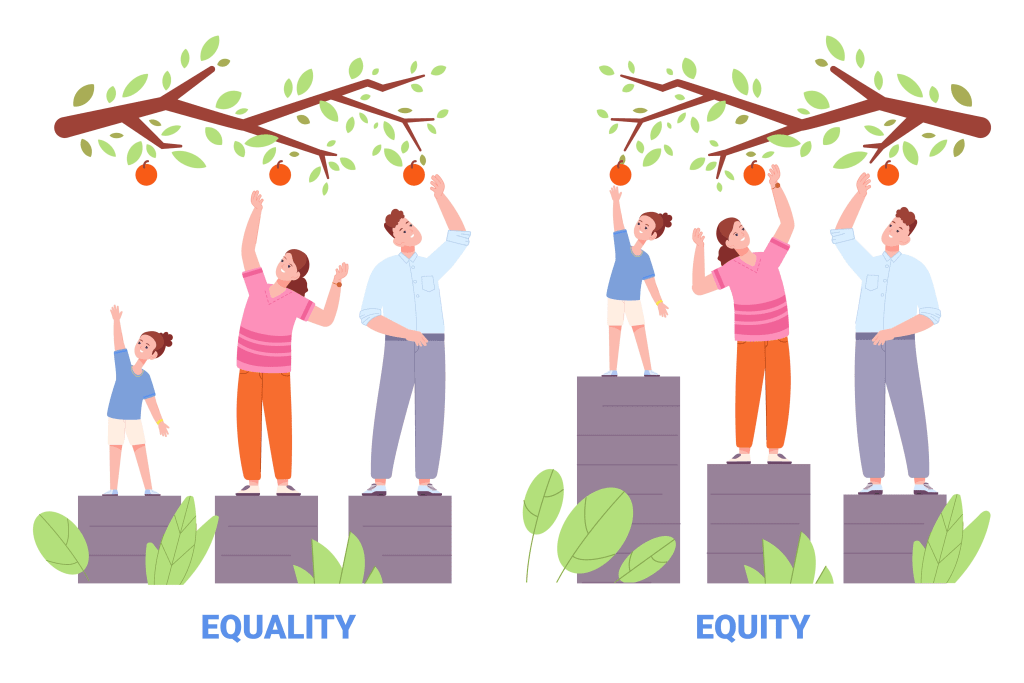 Discussion on Diversity, Equity & Inclusion – our Women's Day event on March 8th
At Spread Group we are also committed to deepening our knowledge on equality and learning from each other in the process. To get us underway, we hosted a hybrid event for Spreadsters at our Leipzig headquarters. Business & Family Coach Hulya Kurt kicked things off with a candid keynote presentation on Equity vs. Equality and Unconscious Bias. This was followed by insights into everyday life at the company, with Spreadsters from different areas presenting their own experiences with diversity and inclusion. Positive experiences at Spread Group were discussed, as well as ideas and suggestions for improvements. Fueled by some tasty snacks and drinks, many conversations took place afterwards, where we chatted about what we had heard so far. Overall it was an insightful day, giving us new energy and input as we continue to strive for equality.
Questions for our Spreadsters – What does Equity and Equality mean to you?
Besides the event, we asked various colleagues what equity and equality mean to them, and how they practice it in their daily lives. Colleagues of all genders had their say, with their responses clearly reflecting the diversity of our company. Different experiences and perspectives produced very different takes, and an excerpt of the statements can be seen here:
Ultimately, we can all do our part, but it is primarily a leadership task to create and follow up on structural changes. A task that also occupies Shazmin Hussein, our new Head of Talent Acquisition & Employer Branding. Her vision is to strengthen the influence of female leaders in the company. This requires the right tools "to better navigate the business landscape, develop and leverage talents, and step into roles of greater influence," says Shazmin. This can enable lasting personal and professional development – because that's possibly the most significant mandate and lever for companies like ours to practice real equity, equity. Addressing career development opportunities individually – empowering the entire Spread Group team.