Show All News
As a crowning finale to Women's Month you will be introduced to five inspiring and strong women at Spread Group. Learn more about their thoughts of empowering women, their greatest strengths and their personal role models.
Let's start with Spread Group's Chief Customer Delivery Officer (CCDO) Hanne Dinkel. As CCDO since 2018, Hanne is managing Spread Group's five production sites in Europe and North America, and she is also responsible for the strategic management of Operations, Assortment, Purchasing and Customer Service.
Here are three questions to Hanne:
How do you empower other women?
I am a female C-Level, that is empowering: We as women are there and visible.
What is the most important challenge that women face today?
We are still not there: we are 50% of the world but we don't yield our share of influence as we could and should.
Which woman in your life are you grateful for?
I am very grateful for my older sister, she introduced me to feminist literature like Simone de Beauvoir. As a teenager I started to think about the role of women in this world and what I could do to make a difference.
Sanja Wetzel is a true role model for those who keep reinventing themselves. After studying classical vocal performance at the San Francisco State University, she worked in the hospitality industry for 17 years. Then she took up a new career path in web development. She learned the basics in computer systems software from scratch and joined our company as a Junior Software Engineer this year. Three questions to Sanja:
Which women inspire you the most?
Nina Simone, Angela Davis, Marsha P. Johnson, Rear Admiral Grace Hopper
Which woman you would like to meet and why?
Dolly Parton, because she is a legend!
What can we do to start making a difference for women globally?
We should finally recognize that gender isn't binary, that not all women are born into the bodies they identify with, and that being true to who you are is the greatest strength and gift anyone can have.
"I'm inspired by women who fight for women's rights, and not just on March 8th." That is the message of Daniela Kroll. Daniela is part of Spread Group's indispensable Customer Service team, taking care of requests and questions. We asked Daniela for which women she is grateful in her life. Her answer is a special tribute to her team: "I'm grateful for my fellow female co-workers in customer service. No jealousy, no judgement, a lot of friendship and laughter. I really like all of them." Here are three more questions to Daniela:
What is your greatest strength?
As a single mom I am really good at time management and being patient, that may help me in my job.
What is the most important challenge that women face today?
Depending on the form of society, women face different challenges. Women in Poland are fighting for their right to have an abortion. In Germany, they are fighting for the abolition of paragraph 219a.
How do you empower other women?
I don't know if I treat women some kind of special. But I try to be supportive in any way I can.
Manuela von zur Mühlenn is our Director of Global Strategic Alliances & Business Development at Spread Group. She proves that women of all ages, talents, and backgrounds have the power to leave a positive impact on the world. Three questions to Manuela:
Which women inspire you the most?
Ida Strauß, my grandma in spirit, 88 years young. During WWII she hid 2 Jewish families in her barn, sharing the little food she had while her family had to survive. For me she is the epitome of kindness and wisdom. This lady had to leave school after 4 years, because she was "just a girl." She knows what really matters.
Which woman would you like to meet and why?
Ingrid Klimke. "Ride to your own joy" is the credo of the Olympic multiple-gold-medal winner. Ingrid is an athlete, businesswoman, ambassador of charities like Pink Ribbon Deutschland and roterkeil.net. She is also an equestrian icon, as she treats horses like equals. She is an inspiration of what devotion and credibility can achieve.
How should we start empowering women globally?
We have the luxury to live in a world where we can choose to be anything – so we should finally choose to be kind.
"Raising children without imposing gender stereotypes on them." This is the idea of Marta Chade how we should start making a difference for women globally. Marta is Spreadshirt's Design Lead Marketplace and has started working at Spread Group four years ago. Here are three questions to Marta:
How do you empower other women?
Lead by example. Be there for them when they need advice, support, or a boost of positive energy.
What is the most important challenge that women face today?
Politicians who feel entitled to enforce laws that turn women's lives into a living hell. Women are more than capable of being in charge of their own lives and making their own choices.
What is your greatest strength?
An inquiring mind that's able of creative and abstract thinking.
Please direct your questions about Spread Group to our Corporate Communications team.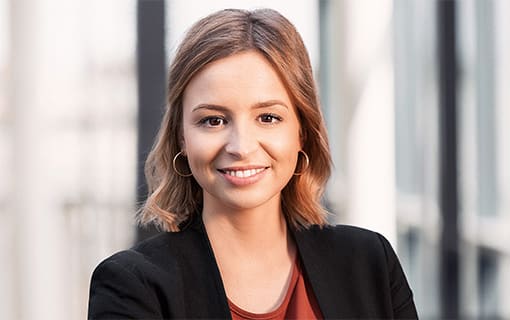 Romy-Marie Ulrich
Corporate Communications Specialist