Show All News
Trees are possibly the most effective solution for removing greenhouse gas emissions from the atmosphere. Tree-Nation is a digital platform that connects people with tree-planting projects all around the world, making it accessible for companies and private individuals to plant trees and fight against climate change. More than 15,000 companies and over 590,000 private individuals have already taken advantage of this offer and together they have planted more than 30 million trees on six continents. With Spreadshop, the Barcelona-based company has now created a new offer: For every merch product purchased from its shop, it plants ten trees. We spoke to Nina Paiano from Tree-Nation about the Spreadshop partner's mission.
Spread Group: What is the idea behind "Tree-Nation"?
Nina Paiano: Founded in 2006 by Maxime Renaudin, to help tackle deforestation and all the issues connected to it, such as pollution, species extinction, climate change, floods, poverty, and malnutrition. It started with one project in the driest and poorest country on earth, Niger, and quickly evolved to help local teams of planters worldwide.
To solve the funding problem, Tree-Nation invented the virtual tree, the online forest, and many other software tools to provide a unique technological solution to break the distance between remote projects and their sponsors in developed countries. Each tree planted has a virtual counterpart with important information about the real tree, including its species, location, and project background. The Virtual Tree is assigned a unique URL, meaning it can be gifted and tracked as it grows. We use Internet Of Trees to refer to our service of integrating customer promotions around tree gifts into our API, allowing us to offer custom planting promotions as well.
Spread Group: What other goals have you set for yourselves?
Nina Paiano: We want to plant 1 trillion trees by 2050. Our commitment should not only benefit climate protection, but also help to restore and preserve biodiversity. 85 percent of all species living on land are native to tropical forests. Their existence is inextricably linked to forests.
We also want to continue improving the user experience of our platform. Recently, we made changes to it so that both the URL and certificate of every tree planted can be tracked and accessed in seconds.
Spread Group: Why did you choose Spreadshop as your partner?
Nina Paiano: Through the Spreadshop shop, we can expand the circle of our supporters and strengthen our brand. Currently, we offer our products mainly to key customers and do not yet actively promote the shop.
Spread Group: How do you measure the positive effect of your projects?
Nina Paiano: This is relatively simple for reforestation projects. We know the number of trees planted as our most important metric, which allows us to calculate the amount of CO₂ neutralized. For the calculation, we use average values based on the GHG Protocol. (GHG it's the abbreviation of Greenhouse Gas. The GHG Protocol is the most widely used greenhouse gas accounting standard. Usually all the calculations use the GHG protocol or ISO 14064.)
Spread Group: What is the best way for interested parties to support you?
Nina Paiano: Plant trees with us by using our platform and buying in our shop.
Spread Group: Thank you for the interview, Nina.
Further information
SPREAD: The next generation fashion & lifestyle brand with a radically new approach, offering what Genzennials like most: individualization and personalization. The global launch will happen in Berlin on Friday, April 28th, during Gallery Weekend. With a surprise campaign starring some of Berlin's coolest DJs, Musicians, actors and artists. And a big bash of 800 selected guests at a secret location.
The SPREAD USP, "created to create," is a fashion revolution! Customers can select their own personal design on demand using a "creative toolbox" which includes bold graphics, prints and embroideries. And exclusive artworks designed by collaborating artists.
All made to order and delivered within the next days.

The first SPREAD drop is a cool and unique streetstyle capsule. A curated selection of unisex, everyday essentials and powerful, iconic styles. Inspired by contemporary urban culture, it is cool, relaxed, oversized: hoodies, crew necks, t-shirts, long sleeves, zip hoodies, sweatpants and shorts. Produced in Portugal and made from 100% organic cotton. All styles exclusively available globally at the new SPREAD online shop: spreadyourstyle.com
The SPREAD story starts in Berlin, with an ambitious plan to spread globally. Masterminded by Lothar Reiff, Chief Product & Brand Advisor for SPREAD GROUP and a well known fashion and lifestyle visionaire. Together with the young SPREAD team of fashion designers, graphic artists and specialists, headed by Michael Kampe, Creative Director Fashion of SPREAD GROUP (formerly Armedangels Creative Director). SPREAD GROUP Chief Commercial Officer is Frederik Brakel (formerly Zalando and Central Group Europe / KaDeWe).
SPREAD engaged renowned Creative Director Donald Schneider to develop the innovative communication, "from local to global." With a community-building launch campaign concept, for which he and his team worked together with upcoming star photographer Vitali Gelwich and stylist Claudia Hofmann. Featuring the "Berlin Squad" campaign stars:
Artist Mago Dovjenko, photographer Vitali Gelwich and artist Jeroen Erosie designed special artworks exclusively for this first SPREAD collection. More collaborations are being planned.
Friday, April 28th, the launch campaign will start on all social media channels, with lots of buzz and media coverage. Berlin will get plastered with the #spreadberlin campaign posters. And in the evening, there will be a big launch party for 800 selected guests at a secret location. Orchestrated by Berlin nightlife impresario Henok Tsehaye. With a cool booking of hot music acts and DJs, like Dania, Alcatraz, Nunguja, Bill Kouligas, Josh Johnson, Anyang Anyang, Rafi Sinn, and special surprise performances.
Dr. Julian de Grahl, CEO of SPREAD GROUP:
"With SPREAD, we are utilizing our proven made-to-order technology in a disruptive way and are creating a unique, digital fashion and lifestyle brand. At the core of it is our successful USP of personalization and individualization. Which is exactly what the fashion world is longing for, including digitalization and sustainability. And what the Genzennials value most: personality and consciousness."
SPREAD THE WORD! SPREAD YOUR STYLE! SPREAD: good vibes, awareness, warmth, creativity, individuality, from Berlin to the world.
PHOTO & VIDEO MATERIAL FOR PRESS: campaign photos (photographer: Vitali Gelwich), campaign videos, campaign posters, BTS photos
Spread Group is the exclusive and official merchandise partner of Rock am Ring and Rock im Park. For at least two years, the global provider of customized and sustainable fashion products will make an appearance with their consumer brand Spreadshirt. Following recent collaborations with Netflix and Universal Products & Experiences, Spread Group will for the first time distribute fanwear in the live entertainment sector, on-site and through online shops. With additional merchandising products that complement the online offering, the fashion-tech company Spread Group will also keep the festival feeling alive in the aftermath of the event.
In doing so, Spread Group will take over the design creation and production of all merch products for Rock am Ring and Rock im Park for the 2023 and 2024 festival seasons. Online sales will take place via the official websites of Rock am Ring and Rock im Park with integrated online shops, as well as on Spreadshirt's marketplaces. In addition, products will be distributed on the Rock am Ring (#RAR2023) and Rock im Park (#RIP2023) social media platforms, such as the YouTube Merch Shelf.
The online offers allow visitors to get their festival package with T-shirts, hoodies, caps, tote bags, drinking bottles and mugs before the festival weekend. From June 2 to 4, more than 160,000 music fans are expected to attend the two festivals. Spread Group has received an exclusive license from eventimpresents GmbH & Co. KG c/o CTS Eventim AG & Co KGaA.
Frithjof Pils, Managing Director Eventim Live:
"In Spread Group, we have found a strategic partner that will enable us to provide a comprehensive online availability of a diverse merch portfolio, in addition to an attractive merch offering on site. I am sure that this cooperation with its associated offer will help us succeed in conveying the unique festival feeling and the shared passion for Rock am Ring and Rock im Park."
Dr. Julian de Grahl, CEO Spread Group:
"With the exclusive license of Rock am Ring and Rock im Park, we are continuing our path of offering high-quality designs to customers in the fanwear segment with convincing, sustainable product quality. The multichannel approach with sales on site and through online shops facilitates a multifaceted portfolio with diverse campaigns, while offering the opportunity to rethink and expand festival merch as such."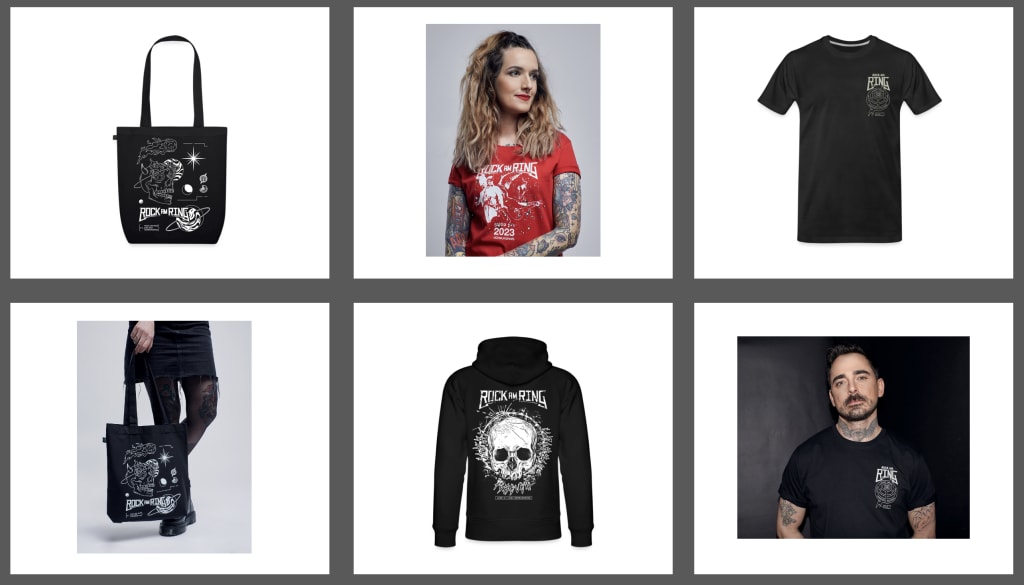 Photo Material for Download
Related Links
The fashion AI startup "SAIZ" has secured a pre-seed investment from Spread Ventures in its first financing round. The newly founded VC fund "Spread Ventures" (part of Spread Group) will participate in the Berlin-based company SAIZ as lead investor with a six-figure sum. SAIZ is an AI-based solution to reduce returns in the fashion industry. It is the business idea of the two founders Svenja Tegtmeier and Marita Sanchez de la Cerda.
The fashion AI startup "SAIZ"
Returns are a key problem for the fashion industry, especially for online retailers. More than half of online purchases are returned due to problems with size and fit. This not only creates significant costs for brands and retailers, but also accounts for a large portion of the industry's CO2 emissions. SAIZ addresses this problem by using Artificial Intelligence and NLP to optimize sizes and fits for fashion brands – recommending the right size to customers based on their body measurements and preferences. The B2B SaaS platform also provides real-time data analytics and insights that help companies make informed decisions and stay ahead of the competition. As a first-of-its-kind solution, SAIZ creates product-specific 3D measurements for each garment and matches them with each customer's body measurements.
The two founders previously founded a fashion label themselves. They used AI and data analysis to translate their experience in the fashion industry into an innovative size and fitting solution for the e-commerce and fashion industry, which they further developed together with well-known brands and online retailers.
The Spread Ventures x SAIZ investment
The financing at SAIZ is Spread Ventures' first investment and a milestone for the company and the industry. The lead investment has been joined by other angel investors from the fashion and e-commerce industries – a reflection of the potential of the solution and the strength of the team behind it. The fresh capital will be used to accelerate product development, expand the team and drive growth.
SAIZ is poised to transform the fashion industry and help brands reduce returns, improve customer satisfaction and become more sustainable.
Marita Sanchez de la Cerda, co-founder of SAIZ on the investment from lead-investor Spread Ventures:
"SAIZ and Spread Ventures are a perfect match. We are super excited to build a sustainable fashion tech future together with a lead investor with the same ambitions."
Robin Nitsch, Head of Ventures and Innovations at Spread Group on the investment in SAIZ:
"SAIZ is the first solution that actually works and is proven to reduce returns. As a result, fashion brands and retailers can not only save on logistics costs, but also reduce their CO2 footprint at the same time. SAIZ fits perfectly with our mission to establish sustainable solutions in the fashion industry and to support Spread Group in its transformation into a fashion tech company. With our investment and close partnership, we can combine personalized products with perfect fit, something that has not been found in the market so far."
New VC fund "Spread Ventures"
The newly founded investment fund Spread Ventures is Europe's first VC that specializes in fash-ion tech startups in the pre-seed and seed phase. Commenting on the investment strategy, Robin Nitsch, Head of Ventures and Innovations, says: "We are looking for the best teams in Europe (and beyond) to invest in technology-based startups with innovative solutions for a more sustainable fashion and e-commerce industry. The fashion industry is at an inflection point – pushed by new web3 technologies and ESG requirements, sustainability awareness of consumer generation Z and legislators. These trends and technologies will significantly change the fashion industry in the coming years, from 3D product design to greener materials and production processes to virtual collections, social commerce and circularity solutions. With our startup partners, we want to develop answers to these market trends, share our industry knowledge and test new concepts at scale."
Related Links
Photo and Video Material
About Spread Ventures
Spread Ventures GmbH is the first European early-stage venture fund to focus on pre-seed and seed investments in fashion tech companies, supporting them with operational industry exper-tise from the e-commerce and print-on-demand business. The company is a subsidiary of Spread Group, a technology-enabled global provider of individualized fashion and lifestyle products. Spread Ventures scouts and invests in technology-based start-ups with new solutions for a more sustainable fashion and e-commerce industry. The focus is on B2B and B2C startups in the areas of Fashion Tech // Digital Fashion & Metaverse // New Textiles & Circular Fashion // Creator Economy.
Contact: Robin.Nitsch@spreadgroup.com  (Head of Ventures and Innovations)
Tech-enabled next generation fashion company, Spread Group, has appointed Frederik Brakel as Chief Commercial Officer (CCO). The experienced fashion industry manager will pioneer a new direction to ensure further growth of the direct-to-consumer business. Building on the current macro trends of individualization and digitization, Brakel will, among other things, oversee the expansion of the product range with modern, sustainably produced fashion. The women's segment in particular will be greatly expanded. Resource-saving made-to-order production will be at the top of Spread Group's technological agenda in the near future.
Before joining Spread Group, Frederik Brakel held leading positions in the fashion and luxury industry for 18 years, including some 10 years in the field of e-commerce and digitization. Over eight years, he made a significant contribution to the development of Zalando. Most recently he was Chief Digital Officer at Central Group Europe (e.g. Rinascente and The KaDeWe Group).
In tune with Generations Z and Alpha
What appealed to Brakel most about his new role at Spread Group was working with new products and target groups. The exciting development of the fashion industry is increasingly moving towards on-demand production and stronger individualization. Buyer groups from Generations Z and Alpha are driving these changes, leading to a focus on sustainability and individuality while improving quality and style. This heralds an end to the popularity of mass-produced goods from fast fashion brands and the real-time fashion industry, which are traditionally produced in poor working conditions and at the expense of the environment. Spread Group's made-to-order production – orders are only ever manufactured and shipped on demand – answers the call for sustainably produced and truly unique products.
The evolution of production-on-demand towards next generation made-to-order
With its strong technology-driven approach, Spread Group is one of the main drivers and beneficiaries of the sustainability movement. Spread Group's business model has a fully digitalized made-to-order approach, making it a perfect fit for driving macro trends of individualization, digitalization and sustainability. Trends set by Generation Z consumers currently determine the entire fashion and lifestyle industry.
Over the past two decades, Spread Group has succeeded in manufacturing and distributing one-of-a-kind items at attractive margins. Detailed improvements and customer-focused production with locations in the USA and Europe have enabled the company to invest more in technical and digital innovation, while increasing product quality.
"Investments in research and development will play a key role in our expansion in the immediate future. The goal is an evolution of 'production-on-demand' towards 'next generation made to order'. Further partnerships with innovation leaders are also envisaged." – Frederik Brakel, Chief Commercial Officer
Favorite items you want to wear again and again
Frederik Brakel joined Spread Group in May 2022. In his new role as Chief Commercial Officer, he will ensure Marketing is aligned with Assortment, Supply Chains and Quality Management. Corporate Social Responsibility (CSR) has long been an integral part of Brakel's work. It is his goal to offer customers their new favorite items, whether these are customized, curated by designers or the stylish original look. He will ensure that satisfied customers will enjoy wearing their favorite items again and again.
Spread Group CCO Frederik Brakel explains:
"In an industry characterized by overproduction, I believe we can make an important contribution to more conscious consumption with our digital services and products, which are only ever produced after an order has been placed."
Spread Group CEO Dr. Julian de Grahl adds:
"The fashion landscape is constantly changing, and topics such as sustainability, digitalization and individuality are the future of the industry. As a customer-focused platform, Spread Group wants to continue to promote these topics and accompany current trends. Through his many years of experience in the fashion industry, Frederik knows which steps to take. We look forward to new and exciting projects, and we're happy to give Frederik a warm welcome at Spread Group."
Image Links
Every day, around 25,000 new designs are uploaded to our platforms. The vast majority of them send out positive messages into the world, while supporting an open and fair discourse. Our business model is based on the idea of offering customers an opportunity to create, buy and sell individualized fashion and lifestyle products. The team around Hannes Döring, Director Asset Management, tackles all kinds of design issues within Spread Group. Difficult questions like, "What is acceptable?", and "How do we define the borders of good taste?" are at the center of their work. We talked to Hannes about the importance of context and the value of a diverse team for design reviews at Spread Group.
Spread Group: You and your team review designs that you consider to be, among other things, violations of our Community Standards. How do you go about it?
Hannes Döring: Suspicious designs are mainly reported to us through our community, usually via our design reporting feature. It helps us draw on country-specific knowledge, as each country has its own laws, symbols and signs that are interpreted and used differently from region to region. These designs are reported by the community and checked by my team. They remain online as long as they are being checked, because – as the presumption of innocence goes – no guilt can be presumed until it has been proved beyond reasonable doubt. As with many other platform applications, we rely on the "many-eyes-principle" as our review standard. Our team constantly familiarizes itself with current political or social issues, and we also proactively conduct platform scans. AI-based and human filters help us remove content from our platforms that e.g. glorifies violence, often within minutes.
Spread Group: Some designs can clearly be identified as a violation of the law, whereas others only offend given a context. How do you deal with this in the team?
Hannes Döring: We constantly educate ourselves and inform ourselves through media and portals, but also through experts such as the Amadeu Antonio Foundation, HateAid and other organizations like Germany's Kulturbüro Sachsen. As a team, we have regular meetings and discuss positions on social controversies. In doing so, it is important to us to leave personal sensitivities or questions of taste aside. The latter is more often the case with designs depicting dark humor.
To give an example, due to the debate on the issue of abortion rights in the USA, we put the topic back on the table, discussed it at length and weighed it up. As a result, we don't think it contradicts our community standards to be in favor of a ban on abortion. We do, however, believe that expressing a position needs to adhere to a certain form. Explicit photos are not part of freedom of expression here, as these can hurt the feelings of others.
Periodically, we revisit our decisions and check whether they still apply under the current circumstances. An example of this is the word "lateral thinking" ("Querdenken"), which was unobjectionable for a long time until it has been given a direction by a political movement in which our fifth community standard (supporting harmful, misleading content) is clearly violated. However, it is possible that this level of meaning may change again, and we will use the term in a neutral way.
Spread Group: For which topics do you call on external experts?
Hannes Döring: That varies greatly. As a rule, my team approaches me and asks for more in-depth knowledge on topics that are currently being increasingly reported. Recently, for example, we had two multi-day workshops on sexism, and on another occasion on runes and neopaganism.
In the sexism workshop with the Educat Collective, we learned that sexism takes place on four levels: Sexism on a structural, institutional, individual, and media/discursive level. Sexism is often a mixture of these four forms. Using concrete design examples, we immediately transferred what we had learned into our everyday practice: How would we now (re)assess designs? Can we identify them more clearly?
In the second workshop with the Saxony Cultural Office, we discussed concepts such as runes, Teutons and Vikings, and what their appeal is today. In certain reenactment groups, "Germanic" villages and esoteric circles tend to have nationalistic, racist, and ethnic tendencies that like using runic characters. But runes can also be found in different contexts, such as the metal music scene. It always depends on the individual case and the context. With the help of the workshops, we now have a much greater certainty for our design examinations with these subjects.
Spread Group: You're talking about case-by-case assessment here. Does this mean that you really make your decisions on a case-by-case basis?
Hannes Döring: Let me go back to my earlier example of the right to abortion. As I said, we allow the pro and con sides of these designs on our platforms. However, if the symbolism or choice of images is offensive, these designs must of course be permanently deleted. In such borderline areas, there is no way around having the designs checked again individually by a broad-based, diverse team.
Spread Group: Thank you for the insight into your work, Hannes!
Spread Group's technology will create sustainable & individualised series merch
Stranger Things and The School for Good and Evil are the first two titles to go live in the new Spread Group consumer products deal with Netflix.
Spread Group rolls out the collection on all marketplaces in the UK and Europe. Designs for other properties will follow, including: Squid Game, Sex Education, La Casa de Papel, Elite, Shadow & Bone, 1899, Outer Banks and The Witcher.
The first designs will include Hellfire Club hoodies and The School for Good & Evil lunchboxes. Fans will be able to buy designs across a wide range of products in the apparel and accessories segment but also covering Home & Living products which are great for gifting.
Spread Group's technology enables individualization. This creates a sense of belonging through products people love. Fans can find a design in a style and fit to suit them, across Spread Group's fashion and lifestyle range.
When fans are involved in the creation of an item it creates a greater affinity with the brand. With the Spread Group and Netflix partnership, fans can create for example; Squid Game sweatshirts, Elite water bottles, The Witcher bandanas, Shadow & Bone drawstring bags or Outer Banks long sleeve shirts.
The Spread Group technology also boosts sustainability credentials. Production based on need (not projection), means an item is only produced after it has been ordered. This limits waste because there's no over-stocking and leftover sizes.
Dr. Julian de Grahl, Spread Group CEO, says:
"This partnership will enable Netflix fans to create delight items for much-loved shows. We do this through individualization; a growing trend in brand merch. Our made-to-order technology gives fans space to produce something unique they want to wear every day. The ability to individualise will then increase their sense of belonging to their favourite Netflix shows."
Sven Burscher, Spread Group's Head of Licensing said:
"We're delighted to be partnering with Netflix to offer such a huge range of merch to its wide audiences. Our technology means Netflix can retain brand integrity for its iconic series and a demand-led printing model also limits waste, which is good for the planet."
"The Netflix shows have become significant brands in themselves. Fans identify with the story-lines and characters and the programmes are binge-watch destination TV. With this partnership between Spread Group and Netflix series fans can wear their dedication with pride!"
Image Links
Additional Links
About Netflix
Netflix is the world's leading streaming entertainment service with 221 million paid memberships in over 190 countries enjoying TV series, documentaries, feature films and mobile games across a wide variety of genres and languages. Members can watch as much as they want, anytime, anywhere, on any internet-connected screen. Members can play, pause and resume watching, all without commercials or commitments.
Spread Group enters into a long-term partnership with mula. and acquires shares in the digital B2B merchandising platform.
The strategic partnership is intended to provide B2B customers of both companies with an improved and comprehensive service portfolio.
Spread Group's investment in mula. is driving the expansion of its B2B business and the implementation of its sustainability strategy.
Both companies have complementary offerings and will work closely together both in the operational business and in the further internationalization of mula.
Spread Group is the leading global provider of customized fashion and lifestyle products. The global company is entering into a strategic partnership with the Berlin-based B2B merchandise platform mula. To this end, Spread Group is acquiring shares in the start-up and providing mula. with a growth budget in the millions.
The aim of the long-term collaboration is to offer customers of all sizes an extensive portfolio of services that builds on both companies' existing offerings. In addition to the individual design and production of high-quality corporate fashion and merchandising products, this also includes the digitalization of existing internal processes on the customer side. For example, the digital B2B merchandising platform can be used to provide innovative support for onboarding processes, send automated gift boxes at specified times (e.g., birthdays or customer events), or make merchandise available to a limited customer group via white-label online stores.
Both companies have complementary expertise and will work closely together on operational issues as well as on the further internationalization of mula. In particular, mula. will benefit from the global production and distribution infrastructure of Spread Group.
Dr. Julian de Grahl, CEO Spread Group, explains the move: "Mula. and Spread Group are perfect partners: both companies operate in a customer-centric manner and have repeatedly demonstrated their innovative strength. The topic of sustainable corporate gifting has gained a lot of importance in recent years as a tool for customer and employee loyalty. We create enormous added value for our customers, through the digitalization of time-consuming manual processes in marketing, sales or HR departments, which can result in a significant gain in efficiency."
Marco Lawrenz, Co-Founder and CEO of mula., says: "We cannot imagine a better partner than Spread Group: 20 years of industry experience, market leader and active worldwide. Moreover, known for its special reliability in the market. At the same time, Spread Group can benefit from our broad solutions for merchandise user cases in all business areas. Through this partnership, the digitalization and automation of currently very manual processes, e.g. by integrating HR-, marketing-, or sales software, we can deliver real added value for companies of all sizes. The combination of the expertise and the services of both companies is a forward-looking move for the entire industry."
Image Links
mula. founders with Spread Group CEO Dr. Julian de Grahl (from left to right: Tobias Boertz (mula. Co-Founder, Head of Engineering), Marvin Müller (mula. Co-Founder, Head of Merchandise), Dr. Julian de Grahl (Spread Group CEO), Marco Lawrenz (mula., Co-Founder, CEO), Moritz Halfmeyer (mula. Co-Founder, CTO)
Additional Links
About Spread Group:
Spread Group is a global provider of customized fashion and lifestyle products. With the brands Spreadshirt, Teamshirts and Spreadshop, Spread Group offers consumers, companies, and content creators (e.g., YouTube, Instagram, TikTok) digital services for the individualization of fashion and lifestyle products. The common basis of all Spread Group service offerings is a flexible software platform that enables deep vertical integrations along the value chain. This includes not only product design, marketing and sales via marketplaces and online stores, but also production, payment processing, worldwide shipping and customer service.
The made-to-order pioneer founded in 2002, in Leipzig, Germany, now operates five production sites in the U.S. and Europe and has annual revenues of over 175 million Euros. In 2021, Spread Group manufactured on demand more than 10 million products for customers in over 170 countries.
About mula.:
The digital B2B merchandise platform mula. was founded in Berlin in 2018 by Marco Lawrenz and Marvin Müller and has since developed into an internationally active company. Thanks to the platform, all merchandise activities for companies and their employees can be simplified, streamlined, and managed. This is achieved, among other things, through the automation of processes, API integration with HR and CRM tools, such as HubSpot or Salesforce, and the creation of own stores. In addition, customers can select and individualize their own merchandise as well as their team clothing via the platform. mula. places a lot of emphasis on sustainable products that are environmentally friendly. The B2B merchandise platform is rounded off by a comprehensive design and warehousing service and CO₂-neutral delivery.
Since February 2022, Fabian has been part of the recruiting team of the People & Culture division at Spread Group. He and his colleagues take care of future-proofing the Spreadster, aka our staff. With a lot of passion, Fabian sees himself as a mediator between external applicants and the internal hiring departments. Humanizing as well as making the recruiting process more straightforward were the main factors behind his decision to start working at Spread Group. We talked to Fabian about this and more:
Hi Fabian! When did you join Spread Group and what exactly do you do here?
I've been a Leipzig resident since I joined Spread Group six months ago. And I haven't regretted it for a second so far! As a junior recruiter, I'm something of an interface between the applicants and our internal departments, where I act as somewhat of an intermediary. Some administrative tasks are also part of my job, but what particularly excites and inspires me are interpersonal aspects. The icing on the cake are the conversations and interviews that I get to conduct. This means I always meet new and exciting people, and at the same time I gain insights into the company as a whole. That's what I find both great and unique about the role of recruiter.
What did you do before? And why did you choose Spread Group?
Before moving to Leipzig, I lived in the Netherlands for 10 years. I studied psychology there and gained my first work experience. First as an account manager in a wholesale company, and later as a forensic escort. The work with delinquent youths had a great impact on me, but after a while I also felt like looking for a new field of work. While looking for a new challenge, I came across Spread Group. The company's profile and presence on the web made me very curious. Hardly any other application process was as pleasant and almost family-like as here. The opportunity to meet future colleagues during the process and to feel invited at every step encouraged me to join Spread Group.
What is the most exciting thing about your job as a recruiter? What does it take?
As mentioned earlier, the chance to conduct interviews as a recruiter and to get to meet very different people is definitely the most exciting thing for me. It's the icing on the cake. And helping to find the best applicant match for a department is also at the top of the list. It requires empathy, a sure instinct, and a service-oriented attitude. The application process should be as pleasant as possible for every applicant, no matter how different they are.
Can you share valuable advice for applicants?
Come as you are! Literally and figuratively. Be open and authentic – this is how you'll find the job that suits you best.
What did you want to be when you were little?
A singer! I have a classical voice training and am therefore quite the fit when it comes to Italian operas (laughs).
Are there any other hidden talents or hobbies you would like to share with us?
If the last two challenging pandemic years have taught me one thing, it's to take care of myself and switch off in between. For me, this includes activities like cooking, yoga, and traveling. I'm already planning my next trip to a festival in Hungary, and my colleagues can look forward to new couscous salad variations on a regular basis. That's when my Tunisian roots come to the fore – and a mutual lunch break is always good for me.
Rumor has it that a few new statement shirts have moved into your closet. Which slogan T-shirt will surprise us next time you enter the company kitchen?
A brand-new addition is a T-shirt saying "Personal Manager. Because superhero is no official job title" (laughs). And as soon as the shirt is dry again, I will definitely wear my new favorite saying: "I'm in HR. I can't fix crazy, but I can document it."
Thank you for these exciting insights, Fabian!
Curious? We are looking for colleagues for Fabian as well as new Spreadsters in our SPOD division, e.g. as a Business Development Manager. We are also looking for a Legal Counsel to strengthen our global legal team: https://www.spreadgroup.com/de/job-openings/
Print-on-Demand Offering Helps Sustainability and Customisation Goals
Flashdance, Top Gun, Star Trek, Garfield and SpongeBob SquarePants are five of the iconic brands in the European licensing deal signed by Spread Group and Paramount Consumer Products.
Sustainability is at the heart of this partnership. The Spread Group's print-on-demand offering means an item is only printed after it has been ordered. This limits waste because there's no over-stocking and leftover sizes.
The first designs will include I Feel the Need for Speed Top Gun t-shirts, Flashdance logo and What a Feeling! hoodies, Garfield LASAGNA lunchboxes and Saturday Night Fever posters. The designs will be a mixture of image classics and newly created designs created by Spread Group.
Customisation is also made easy with print-on-demand. Fans have the freedom to add a design to a product in a size, colour, and style of their choice. When fans are involved in the creation of an item it creates a greater affinity with the brand.
Sven Burscher, Spread Group's Head of Licensing said:
"This partnership means Spread Group can offer a huge variety of themes to a wide audience. The Paramount Global brands cover iconic movies and cartoons for a large demographic. There's a coming-of-age moment for everyone!

Our print-on-demand offering means the brands and their fans can customise their creations to suit them, whilst retaining brand integrity. It also limits waste which is better for the planet".
Fans will be able to add images and quotes to t-shirts, hoodies, caps, bags, aprons, mugs, water bottles, lunchboxes, pillowcases, posters, and stickers depending on the brand. Designs will also be localised; for example, Garfield quotes in German, French and English.
The licence covers Germany, Austria, Switzerland, France and the UK.
Image Links
Additional Links