Show All News
Next Gen Merch: Sustainability and a Sense of Belonging within Brand Guidelines 
Leipzig/London, 13th September 2023 – Over 20 brand names under Hasbro Licensed Consumer Products will become available on the next generation fashion platform, Spreadshirt. By adding this impressive new signing, Spread Group – the parent company of Spreadshirt – looks to exceed expectations in 2023.
The deal will cover brands from PEPPA PIG and MONOPOLY to DUNGEONS & DRAGONS, in addition to the newly beloved BLYTHE, featured alongside all-time favourites MR. POTATO HEAD and MY LITTLE PONY.
There's even something for the tabletop gaming lover too. As DUNGEONS & DRAGONS came to the big screen, Hasbro will offer Dungeons and Dragons: Honour Among Thieves merchandise via Spread Group. MAGIC: THE GATHERING will also benefit from customisable styles.
Fans will be able to choose from MONOPOLY umbrellas, Transformers: EarthSpark 'Unity is Power' caps and G.I. JOE sweatshirts. Additionally, DUNGEONS & DRAGONS fans can emblazon their hoodies with the maxim 'Fight Tyranny, Defend the Oppressed, Ask Nothing in Return.
Sven Burscher, Spread Group's Head of Licensing said:
"Choosing their own styles offers fans a new aspect to their merch. Our made-to-order technology impresses Gen Z with its sustainability credentials. Being able to tweak their item gives fans a strong sense of loyalty to the brands they love. It can also all be done within the brand merch guidelines. We're delighted to be working with Hasbro to bring this merchandise to market".
Sustainability is an increasingly important element in merchandising deals. Underpinning Spread Group's offering to brands is its print-on-demand technology. This reduces waste because no item is printed until it is ordered. So, there's no overstocking or discarded sizes. It also brings down the likelihood of returns, as customers invest in a style and size to suit them.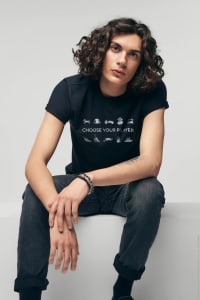 Hasbro brands already available at Spread Group include:
PEPPA PIG
TRANSFORMERS
My little Pony
Power Rangers
Furby
DUNGEONS & DRAGONS
Magic The Gathering
Monopoly
PJ Masks
Additional Links:
About Hasbro
Hasbro is a leading toy and game company whose mission is to entertain and connect generations of fans through the wonder of storytelling and exhilaration of play. Hasbro delivers engaging brand experiences for global audiences through toys, consumer products, gaming and entertainment, with a portfolio of iconic brands including MAGIC: THE GATHERING, DUNGEONS & DRAGONS, Hasbro Gaming, NERF, TRANSFORMERS, PLAY-DOH and PEPPA PIG, as well as premier partner brands.   
Hasbro is guided by our Purpose to create joy and community for all people around the world, one game, one toy, one story at a time. For more than a decade, Hasbro has been consistently recognized for its corporate citizenship, including being named one of the 100 Best Corporate Citizens by 3BL Media, one of the World's Most Ethical Companies by Ethisphere Institute and one of the 50 Most Community-Minded Companies in the U.S. by the Civic 50. For more information, visit https://corporate.hasbro.com. 
About Spread Group
Spread Group is a global provider of customized fashion and lifestyle products. With the brands SPREAD, Spreadshirt, Teamshirts and Spreadshop, Spread Group offers consumers, companies, and content creators digital services for the individualization of fashion and lifestyle products. The common basis of all Spread Group service offerings is a flexible software platform that enables deep vertical integrations along the value chain. This includes not only product design, marketing and sales via marketplaces and online stores, but also production, payment processing, worldwide shipping and customer service. The made-to-order pioneer founded in 2002, in Leipzig, Germany, now operates four production sites in the U.S. and Europe and has annual revenues of over 175 million Euros. Spread Group has more than 20 million customers in over 170 countries.  
Press Contact  
Nora Kulling, Spread Group  
t: +49 (0)341 594 00 5381  
TeamShirts becomes the official jersey sponsor of the Handball-Bundesliga team SC DHfK Leipzig. With the beginning of the 2023/24 season, the teamwear supplier from Leipzig will take over the production and the printing of the DHfK handball team's apparel.
The new jersey for the upcoming 2023/24 season, featuring the TeamShirts logo on its sleeves, was unveiled at the SC DHfK Leipzig Media Day on Friday, July 14. Starting today, the green and white jerseys will be available in the online shop at www.scdhfk-handball.de/fanshop. Fans can also equip themselves with merchandise to support their team from the stands or from home, keeping with the TeamShirts motto "There's a team behind the shirts".
In the "decade of handball", TeamShirts is excited about the collaborative partnership with SC DHfK and the opportunity to promote handball and give it visibility. At the same time, the cooperation helps the e-commerce company grow in the areas of performance team wear and merchandising
Here's the official trailer jersey.
Im "Jahrzehnts des Handballs" freut sich TeamShirts über die partnerschaftliche Zusammenarbeit mit dem SC DHfK und die Gelegenheit, den Handballsport zu fördern und diesem mehr Sichtbarkeit zu verleihen. Gleichzeitig verhilft die Kooperation dem eCommerce-Unternehmen in den Bereichen Performance Teamwear und Merchandising weiter zu wachsen.
Elmar Kühner, Director of TeamShirts:
"At SC DHfK's matches, there is a phenomenal atmosphere: the team performs at its best and stands united, while the fans are fully engaged. It's contagious and exactly what we stand for – team spirit and quality."
Karsten Günther, Managing Director SC DHfK Handball:
"This collaboration is a true milestone in our development, which benefits our members, partners, and fans in particular. TeamShirts' clear commitment to SC DHfK makes us very proud, and I look forward to many exciting joint projects and creations."
Related Links
Spread Group, leading global provider of customized fashion and lifestyle products, appoints Nora Kulling as its new Vice President Marketing. She is an experienced marketing and brand expert who will further develop the marketing strategy and brand-building process and drive the development of specialized marketing teams.
Prior to joining the Spread Group, Kulling held executive positions for marketing and branding in various companies for ten years, including almost eight years at Mister Spex – most recently there as Head of Brand Management. From her point of view, it is "more important than ever to produce relevant content to get closer to your target group and build a connection with the brand. The days of scaling via pure performance marketing without a stringent brand strategy are over. Brands without clear positioning will be punished by consumers."
Right at the start of her job in March 2023, she was involved in the launch of the new fashion and lifestyle brand SPREAD. For the associated marketing campaign, a radically different communication approach was chosen compared to the Spreadshirt umbrella brand. "For the SPREAD marketing campaign, very clear brand positioning was important to us. Therefore, in line with the target group (Gen Z and Y), we focused entirely on social media and entertainment networks. In addition, we foregrounded the community idea," says Kulling.
Nora Kulling says about her new task and focus:
"After extremely successful expansion over the past 20 years, we need to break new ground for further sustainable growth and diversify the marketing mix. I would like to effectively shape this process of change, which can only be successful with the right communicative orientation. My goal is to further strengthen Spread Group as a relevant fashion tech player and to develop love brands with high recognition value, likeability and brand loyalty. I am looking forward to the great design opportunities, especially with Spread Group's focus on brand building, for which I see huge potential. As an end customer, I already have a long personal relationship with the company."
Spread Group CEO Dr Julian de Grahl explains:
"Creative marketing concepts are important success factors to strengthen and expand our global presence. This includes, in particular, strengthening our content strategy and building branding and social media expertise. We are therefore looking forward to Nora's fresh look and expertise."
Photo Material for Download
Trees are possibly the most effective solution for removing greenhouse gas emissions from the atmosphere. Tree-Nation is a digital platform that connects people with tree-planting projects all around the world, making it accessible for companies and private individuals to plant trees and fight against climate change. More than 15,000 companies and over 590,000 private individuals have already taken advantage of this offer and together they have planted more than 30 million trees on six continents. With Spreadshop, the Barcelona-based company has now created a new offer: For every merch product purchased from its shop, it plants ten trees. We spoke to Nina Paiano from Tree-Nation about the Spreadshop partner's mission.
Spread Group: What is the idea behind "Tree-Nation"?
Nina Paiano: Founded in 2006 by Maxime Renaudin, to help tackle deforestation and all the issues connected to it, such as pollution, species extinction, climate change, floods, poverty, and malnutrition. It started with one project in the driest and poorest country on earth, Niger, and quickly evolved to help local teams of planters worldwide.
To solve the funding problem, Tree-Nation invented the virtual tree, the online forest, and many other software tools to provide a unique technological solution to break the distance between remote projects and their sponsors in developed countries. Each tree planted has a virtual counterpart with important information about the real tree, including its species, location, and project background. The Virtual Tree is assigned a unique URL, meaning it can be gifted and tracked as it grows. We use Internet Of Trees to refer to our service of integrating customer promotions around tree gifts into our API, allowing us to offer custom planting promotions as well.
Spread Group: What other goals have you set for yourselves?
Nina Paiano: We want to plant 1 trillion trees by 2050. Our commitment should not only benefit climate protection, but also help to restore and preserve biodiversity. 85 percent of all species living on land are native to tropical forests. Their existence is inextricably linked to forests.
We also want to continue improving the user experience of our platform. Recently, we made changes to it so that both the URL and certificate of every tree planted can be tracked and accessed in seconds.
Spread Group: Why did you choose Spreadshop as your partner?
Nina Paiano: Through the Spreadshop shop, we can expand the circle of our supporters and strengthen our brand. Currently, we offer our products mainly to key customers and do not yet actively promote the shop.
Spread Group: How do you measure the positive effect of your projects?
Nina Paiano: This is relatively simple for reforestation projects. We know the number of trees planted as our most important metric, which allows us to calculate the amount of CO₂ neutralized. For the calculation, we use average values based on the GHG Protocol. (GHG it's the abbreviation of Greenhouse Gas. The GHG Protocol is the most widely used greenhouse gas accounting standard. Usually all the calculations use the GHG protocol or ISO 14064.)
Spread Group: What is the best way for interested parties to support you?
Nina Paiano: Plant trees with us by using our platform and buying in our shop.
Spread Group: Thank you for the interview, Nina.
Further information
SPREAD: The next generation fashion & lifestyle brand with a radically new approach, offering what Genzennials like most: individualization and personalization. The global launch will happen in Berlin on Friday, April 28th, during Gallery Weekend. With a surprise campaign starring some of Berlin's coolest DJs, Musicians, actors and artists. And a big bash of 800 selected guests at a secret location.
The SPREAD USP, "created to create," is a fashion revolution! Customers can select their own personal design on demand using a "creative toolbox" which includes bold graphics, prints and embroideries. And exclusive artworks designed by collaborating artists.
All made to order and delivered within the next days.

The first SPREAD drop is a cool and unique streetstyle capsule. A curated selection of unisex, everyday essentials and powerful, iconic styles. Inspired by contemporary urban culture, it is cool, relaxed, oversized: hoodies, crew necks, t-shirts, long sleeves, zip hoodies, sweatpants and shorts. Produced in Portugal and made from 100% organic cotton. All styles exclusively available globally at the new SPREAD online shop: spreadyourstyle.com
The SPREAD story starts in Berlin, with an ambitious plan to spread globally. Masterminded by Lothar Reiff, Chief Product & Brand Advisor for SPREAD GROUP and a well known fashion and lifestyle visionaire. Together with the young SPREAD team of fashion designers, graphic artists and specialists, headed by Michael Kampe, Creative Director Fashion of SPREAD GROUP (formerly Armedangels Creative Director). SPREAD GROUP Chief Commercial Officer is Frederik Brakel (formerly Zalando and Central Group Europe / KaDeWe).
SPREAD engaged renowned Creative Director Donald Schneider to develop the innovative communication, "from local to global." With a community-building launch campaign concept, for which he and his team worked together with upcoming star photographer Vitali Gelwich and stylist Claudia Hofmann. Featuring the "Berlin Squad" campaign stars:
Artist Mago Dovjenko, photographer Vitali Gelwich and artist Jeroen Erosie designed special artworks exclusively for this first SPREAD collection. More collaborations are being planned.
Friday, April 28th, the launch campaign will start on all social media channels, with lots of buzz and media coverage. Berlin will get plastered with the #spreadberlin campaign posters. And in the evening, there will be a big launch party for 800 selected guests at a secret location. Orchestrated by Berlin nightlife impresario Henok Tsehaye. With a cool booking of hot music acts and DJs, like Dania, Alcatraz, Nunguja, Bill Kouligas, Josh Johnson, Anyang Anyang, Rafi Sinn, and special surprise performances.
Dr. Julian de Grahl, CEO of SPREAD GROUP:
"With SPREAD, we are utilizing our proven made-to-order technology in a disruptive way and are creating a unique, digital fashion and lifestyle brand. At the core of it is our successful USP of personalization and individualization. Which is exactly what the fashion world is longing for, including digitalization and sustainability. And what the Genzennials value most: personality and consciousness."
SPREAD THE WORD! SPREAD YOUR STYLE! SPREAD: good vibes, awareness, warmth, creativity, individuality, from Berlin to the world.
PHOTO & VIDEO MATERIAL FOR PRESS: campaign photos (photographer: Vitali Gelwich), campaign videos, campaign posters, BTS photos
Spread Group is the exclusive and official merchandise partner of Rock am Ring and Rock im Park. For at least two years, the global provider of customized and sustainable fashion products will make an appearance with their consumer brand Spreadshirt. Following recent collaborations with Netflix and Universal Products & Experiences, Spread Group will for the first time distribute fanwear in the live entertainment sector, on-site and through online shops. With additional merchandising products that complement the online offering, the fashion-tech company Spread Group will also keep the festival feeling alive in the aftermath of the event.
In doing so, Spread Group will take over the design creation and production of all merch products for Rock am Ring and Rock im Park for the 2023 and 2024 festival seasons. Online sales will take place via the official websites of Rock am Ring and Rock im Park with integrated online shops, as well as on Spreadshirt's marketplaces. In addition, products will be distributed on the Rock am Ring (#RAR2023) and Rock im Park (#RIP2023) social media platforms, such as the YouTube Merch Shelf.
The online offers allow visitors to get their festival package with T-shirts, hoodies, caps, tote bags, drinking bottles and mugs before the festival weekend. From June 2 to 4, more than 160,000 music fans are expected to attend the two festivals. Spread Group has received an exclusive license from eventimpresents GmbH & Co. KG c/o CTS Eventim AG & Co KGaA.
Frithjof Pils, Managing Director Eventim Live:
"In Spread Group, we have found a strategic partner that will enable us to provide a comprehensive online availability of a diverse merch portfolio, in addition to an attractive merch offering on site. I am sure that this cooperation with its associated offer will help us succeed in conveying the unique festival feeling and the shared passion for Rock am Ring and Rock im Park."
Dr. Julian de Grahl, CEO Spread Group:
"With the exclusive license of Rock am Ring and Rock im Park, we are continuing our path of offering high-quality designs to customers in the fanwear segment with convincing, sustainable product quality. The multichannel approach with sales on site and through online shops facilitates a multifaceted portfolio with diverse campaigns, while offering the opportunity to rethink and expand festival merch as such."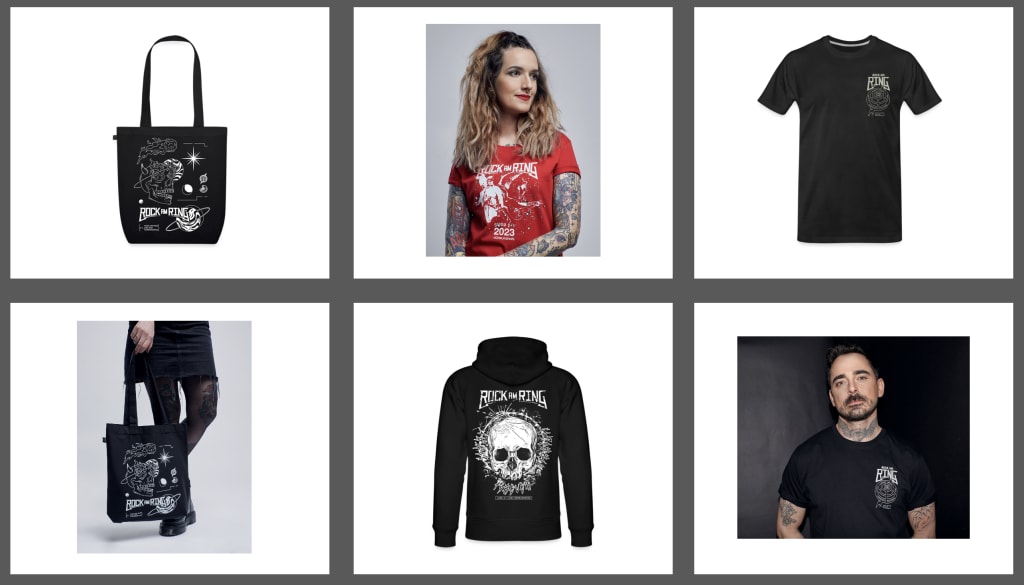 Photo Material for Download
Related Links
The fashion AI startup "SAIZ" has secured a pre-seed investment from Spread Ventures in its first financing round. The newly founded VC fund "Spread Ventures" (part of Spread Group) will participate in the Berlin-based company SAIZ as lead investor with a six-figure sum. SAIZ is an AI-based solution to reduce returns in the fashion industry. It is the business idea of the two founders Svenja Tegtmeier and Marita Sanchez de la Cerda.
The fashion AI startup "SAIZ"
Returns are a key problem for the fashion industry, especially for online retailers. More than half of online purchases are returned due to problems with size and fit. This not only creates significant costs for brands and retailers, but also accounts for a large portion of the industry's CO2 emissions. SAIZ addresses this problem by using Artificial Intelligence and NLP to optimize sizes and fits for fashion brands – recommending the right size to customers based on their body measurements and preferences. The B2B SaaS platform also provides real-time data analytics and insights that help companies make informed decisions and stay ahead of the competition. As a first-of-its-kind solution, SAIZ creates product-specific 3D measurements for each garment and matches them with each customer's body measurements.
The two founders previously founded a fashion label themselves. They used AI and data analysis to translate their experience in the fashion industry into an innovative size and fitting solution for the e-commerce and fashion industry, which they further developed together with well-known brands and online retailers.
The Spread Ventures x SAIZ investment
The financing at SAIZ is Spread Ventures' first investment and a milestone for the company and the industry. The lead investment has been joined by other angel investors from the fashion and e-commerce industries – a reflection of the potential of the solution and the strength of the team behind it. The fresh capital will be used to accelerate product development, expand the team and drive growth.
SAIZ is poised to transform the fashion industry and help brands reduce returns, improve customer satisfaction and become more sustainable.
Marita Sanchez de la Cerda, co-founder of SAIZ on the investment from lead-investor Spread Ventures:
"SAIZ and Spread Ventures are a perfect match. We are super excited to build a sustainable fashion tech future together with a lead investor with the same ambitions."
Robin Nitsch, Head of Ventures and Innovations at Spread Group on the investment in SAIZ:
"SAIZ is the first solution that actually works and is proven to reduce returns. As a result, fashion brands and retailers can not only save on logistics costs, but also reduce their CO2 footprint at the same time. SAIZ fits perfectly with our mission to establish sustainable solutions in the fashion industry and to support Spread Group in its transformation into a fashion tech company. With our investment and close partnership, we can combine personalized products with perfect fit, something that has not been found in the market so far."
New VC fund "Spread Ventures"
The newly founded investment fund Spread Ventures is Europe's first VC that specializes in fash-ion tech startups in the pre-seed and seed phase. Commenting on the investment strategy, Robin Nitsch, Head of Ventures and Innovations, says: "We are looking for the best teams in Europe (and beyond) to invest in technology-based startups with innovative solutions for a more sustainable fashion and e-commerce industry. The fashion industry is at an inflection point – pushed by new web3 technologies and ESG requirements, sustainability awareness of consumer generation Z and legislators. These trends and technologies will significantly change the fashion industry in the coming years, from 3D product design to greener materials and production processes to virtual collections, social commerce and circularity solutions. With our startup partners, we want to develop answers to these market trends, share our industry knowledge and test new concepts at scale."
Related Links
Photo and Video Material
About Spread Ventures
Spread Ventures GmbH is the first European early-stage venture fund to focus on pre-seed and seed investments in fashion tech companies, supporting them with operational industry exper-tise from the e-commerce and print-on-demand business. The company is a subsidiary of Spread Group, a technology-enabled global provider of individualized fashion and lifestyle products. Spread Ventures scouts and invests in technology-based start-ups with new solutions for a more sustainable fashion and e-commerce industry. The focus is on B2B and B2C startups in the areas of Fashion Tech // Digital Fashion & Metaverse // New Textiles & Circular Fashion // Creator Economy.
Contact: Robin.Nitsch@spreadgroup.com (Head of Ventures and Innovations)
We all need to work towards equality, whether as a company or in society as a whole. When it comes to fair opportunities, treatment and pay, as well as proactive and mutual support, it's not just about gender differences. These are integral aspects of making our world more diverse and our chances more equal. As Women's Month comes to an end, we would like to share some thoughts and ideas from our team.
At Spread Group, we see ourselves in a constant learning process, and are fully committed to working towards fairness and equitable treatment company-wide. That's why this year we have addressed the International Women's Day motto, "Embrace Equity", and asked ourselves, what does it actually mean?
#EmbraceEquity – "why equal opportunities are no longer enough"
When talking about gender parity, equality is the top priority. Women's Day 2023 highlighted that equality and equal distribution of resources does not necessarily mean everyone is on a level playing. Instead, it is important to recognize different backgrounds, experiences, and individual challenges. In particular, women, the LGBTQ+ community, people of color, people with disabilities, and the financially disadvantaged are in need of specific empowerment. This is where justice, or "equity," comes into play, which recognizes that not everyone has had the same experience or resources. As a result, we must find individual solutions while breaking down individual barriers – this is how fairness and inclusion can be achieved.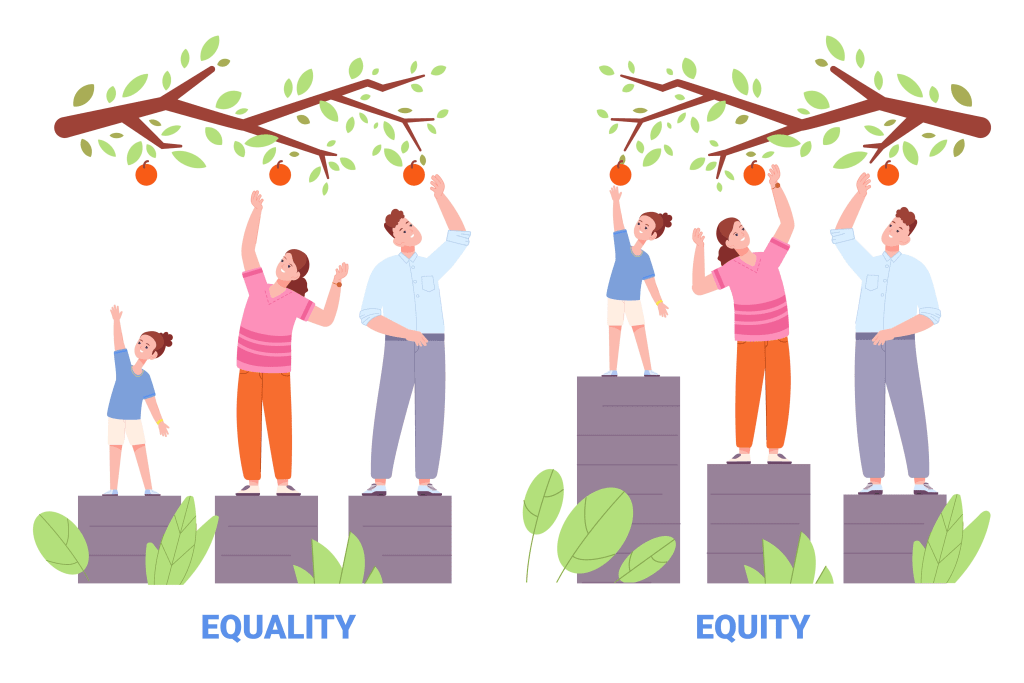 Discussion on Diversity, Equity & Inclusion – our Women's Day event on March 8th
At Spread Group we are also committed to deepening our knowledge on equality and learning from each other in the process. To get us underway, we hosted a hybrid event for Spreadsters at our Leipzig headquarters. Business & Family Coach Hulya Kurt kicked things off with a candid keynote presentation on Equity vs. Equality and Unconscious Bias. This was followed by insights into everyday life at the company, with Spreadsters from different areas presenting their own experiences with diversity and inclusion. Positive experiences at Spread Group were discussed, as well as ideas and suggestions for improvements. Fueled by some tasty snacks and drinks, many conversations took place afterwards, where we chatted about what we had heard so far. Overall it was an insightful day, giving us new energy and input as we continue to strive for equality.
Questions for our Spreadsters – What does Equity and Equality mean to you?
Besides the event, we asked various colleagues what equity and equality mean to them, and how they practice it in their daily lives. Colleagues of all genders had their say, with their responses clearly reflecting the diversity of our company. Different experiences and perspectives produced very different takes, and an excerpt of the statements can be seen here:
Ultimately, we can all do our part, but it is primarily a leadership task to create and follow up on structural changes. A task that also occupies Shazmin Hussein, our new Head of Talent Acquisition & Employer Branding. Her vision is to strengthen the influence of female leaders in the company. This requires the right tools "to better navigate the business landscape, develop and leverage talents, and step into roles of greater influence," says Shazmin. This can enable lasting personal and professional development – because that's possibly the most significant mandate and lever for companies like ours to practice real equity, equity. Addressing career development opportunities individually – empowering the entire Spread Group team.
Production-on-Demand Supports Sustainability and Customisation Goals
Merchandise featuring characters from Universal Products & Experiences will be made available via the online marketplaces of fashion tech company, Spread Group. Fans will get a sense of belonging through customisation. They can choose from popular character images and quotes on clothing, accessories, home & living products, as well as stationery.
Spread Group's ability to bring ideas to market quickly has resulted in collections of Universal Products & Experiences iconic brands being recently launched on the platform. Films, TV shows and cartoons, including 80s classics and 21st century favourites will all have merch made-to-order. Fans can customise The Big Lebowski 'The Dude Abides' T-shirts, Back to the Future sweatshirts, DreamWorks Animation Spirit 'Stay Wild!' stickers and cushions, and long-sleeved tops with 'Amity Island Beach Instructions' designs from JAWS.
Fans of Universal will benefit from Spread Group's ability to allow variation and a nimble approach to getting designs online. Merch ideas can be created from scratch or Spread Group can adapt existing concepts and bring them to life on fashion and lifestyle products online.
In the summer of 2022, Illumination's Minions: The Rise of Gru designs were launched in time for the film's release. These included yellow t-shirts with Minions and hanging-on-the-clothes-line stickers. Special Christmas designs were created and launched in time for the important Black Friday and Cyber Monday shopping days.
Universal Products & Experiences' brands now available at Spread Group include The Big Lebowski, Knight Rider, and from Universal Pictures and Amblin Entertainment – Back to the Future, E.T. the Extra-Terrestrial, JAWS, and Jurassic World, as well as DreamWorks Animation's Spirit, Trolls, and Dragons.
Sven Burscher, Spread Group's Head of Licensing said:
"This collaboration shows how customisation and made-to-order technology can deepen fans' loyalty to the shows, films and cartoons they love. It increases a sense of ownership because they get a delight item in a style, size and colour that suits them. Brands can offer this service whilst still retaining the integrity of their merch guidelines".
Tobias Schaugg, Spread Group CFO commented:
"Spread Group's Licensing Division has continued to grow rapidly, and we expect to exceed predictions in 2023. This international collaboration shows how digital fashion can support licence holders in offering their fans something new and exciting. Universal Products & Experiences are giving their worldwide followers the chance to be involved with the brand and show their enthusiasm in real life".
Product Details
Minions Ugly X-mas Sweater – Blah
The Spreadshirt Collection stands for best-possible print results on top-quality products. A huge range of sizes makes sure that our gear fits everyone, big and small. Fair and sustainable. Very durable. 150 g/ m². Material: 100% cotton (from organic production).
The Big Lebowski – Dude
Our classic T-shirt is now available in organic threads, soft to the touch and full of clean conscience. Durable fabrics. 150g/m². Material: 100% cotton (from organic production).
E.T. The Extra-Terrestrial Since 1982
This hoodie is a do-good icon of environmental soundness that will both benefit the planet and your green conscience. Rugged fabrics: 300 g/m². Material: 85% cotton (from organic production), 15% polyester (from recycled materials).
JAWS Amity Island Beach Instructions
Our Premium Longsleeve Shirt is the safe choice in any weather as it keeps you warm on cooler days and is still light enough to wear when it gets warmer. Fair and sustainable. Durable fabric: 150 g/m² Material: 100% cotton.
Back to the Future DeLorean Destination Time Logo
The Premium T-shirt offers an sheer infinite choice of combination opportunity with other items. Fair and sustainable. Durable fabrics. 150 g/m².
Sustainability is an important element of this deal. Underpinning Spread Group's delight items is print-on-demand technology. This reduces waste because no item is printed until it is ordered. So, there's no over-stocking or discarded sizes.
Image Links
Model photo Minions (Minions Franchise © Universal City Studios LLC. All Rights Reserved.)
Model photo Minions XMas (Minions Franchise © Universal City Studios LLC. All Rights Reserved.)
Model photo E.T. (E.T. the Extra-Terrestrial © Universal City Studios LLC and Amblin Entertainment, Inc. All Rights Reserved.)
Model photo JAWS and The Big L (JAWS © Universal City Studios LLC. All Rights Reserved. The Big Lebowski © Universal City Studios LLC. All Rights Reserved.)
Model photo Back to the Future (Back to the Future © Universal City Studios LLC and Amblin Entertainment, Inc. All Rights Reserved.)
Additional Links
Spreadshirt Licensed Fanwear Overview
Official The Big Lebowski Showroom
Official Back to the Future Showroom
Tech-enabled next generation fashion company, Spread Group, has appointed Frederik Brakel as Chief Commercial Officer (CCO). The experienced fashion industry manager will pioneer a new direction to ensure further growth of the direct-to-consumer business. Building on the current macro trends of individualization and digitization, Brakel will, among other things, oversee the expansion of the product range with modern, sustainably produced fashion. The women's segment in particular will be greatly expanded. Resource-saving made-to-order production will be at the top of Spread Group's technological agenda in the near future.
Before joining Spread Group, Frederik Brakel held leading positions in the fashion and luxury industry for 18 years, including some 10 years in the field of e-commerce and digitization. Over eight years, he made a significant contribution to the development of Zalando. Most recently he was Chief Digital Officer at Central Group Europe (e.g. Rinascente and The KaDeWe Group).
In tune with Generations Z and Alpha
What appealed to Brakel most about his new role at Spread Group was working with new products and target groups. The exciting development of the fashion industry is increasingly moving towards on-demand production and stronger individualization. Buyer groups from Generations Z and Alpha are driving these changes, leading to a focus on sustainability and individuality while improving quality and style. This heralds an end to the popularity of mass-produced goods from fast fashion brands and the real-time fashion industry, which are traditionally produced in poor working conditions and at the expense of the environment. Spread Group's made-to-order production – orders are only ever manufactured and shipped on demand – answers the call for sustainably produced and truly unique products.
The evolution of production-on-demand towards next generation made-to-order
With its strong technology-driven approach, Spread Group is one of the main drivers and beneficiaries of the sustainability movement. Spread Group's business model has a fully digitalized made-to-order approach, making it a perfect fit for driving macro trends of individualization, digitalization and sustainability. Trends set by Generation Z consumers currently determine the entire fashion and lifestyle industry.
Over the past two decades, Spread Group has succeeded in manufacturing and distributing one-of-a-kind items at attractive margins. Detailed improvements and customer-focused production with locations in the USA and Europe have enabled the company to invest more in technical and digital innovation, while increasing product quality.
"Investments in research and development will play a key role in our expansion in the immediate future. The goal is an evolution of 'production-on-demand' towards 'next generation made to order'. Further partnerships with innovation leaders are also envisaged." – Frederik Brakel, Chief Commercial Officer
Favorite items you want to wear again and again
Frederik Brakel joined Spread Group in May 2022. In his new role as Chief Commercial Officer, he will ensure Marketing is aligned with Assortment, Supply Chains and Quality Management. Corporate Social Responsibility (CSR) has long been an integral part of Brakel's work. It is his goal to offer customers their new favorite items, whether these are customized, curated by designers or the stylish original look. He will ensure that satisfied customers will enjoy wearing their favorite items again and again.
Spread Group CCO Frederik Brakel explains:
"In an industry characterized by overproduction, I believe we can make an important contribution to more conscious consumption with our digital services and products, which are only ever produced after an order has been placed."
Spread Group CEO Dr. Julian de Grahl adds:
"The fashion landscape is constantly changing, and topics such as sustainability, digitalization and individuality are the future of the industry. As a customer-focused platform, Spread Group wants to continue to promote these topics and accompany current trends. Through his many years of experience in the fashion industry, Frederik knows which steps to take. We look forward to new and exciting projects, and we're happy to give Frederik a warm welcome at Spread Group."
Image Links