Show All News
Fresh designs, a new breastcare app – Pink Ribbon are finding innovative ways of reminding women across Germany to be vigilant against breast cancer.
Spotting signs early is key to survival. According to the German Cancer Society, breast cancer is the most common cancer in women in this country, statistically affecting one in eight women at some point in their lifetime. Yet if discovered and treated in time, the disease is often curable. The most essential acts of 'prevention' are regular early detection checks, whether at the gynaecologist or self-checks at home. Thanks to their new breastcare app, Spreadshop partners Pink Ribbon Germany are supporting women by reminding them to never miss a check or appointment.
This new digital assistant is completely free, always available and loaded with of information on 'breast awareness'. Designed to address the needs of women of all ages, it features an automated reminder for preventative check-ups and is currently available in seven languages. Being a non-profit organisation, the app is also free of adverts and does not require an account to use. At no point does any personal data need to be entered.
What's more, the Pink Ribbon Shirt Shop is now brimming with new looks created alongside Spreadshop designers, taking the message of breast awareness from the digital into the material world. The 'Power of Pink' design is a stylish and effective reminder to check for lumps, while 'Don't lose hope' is catchy and straight to the point, a symbol for positivity and courage for those undergoing treatment. Or there's 'every day we wear pink', a design evoking a sense of solidarity, collective engagement and awareness of breast cancer.
"We are delighted to have found a strong supporter in Spreadshop for the crucial early detection of breast cancer in women. Both our campaign motifs and the new breastcare app help us achieve this common goal: reminding even more women about breast cancer screening," says Sonja Prinz, who was behind the breastcare app at Awareness Deutschland GmbH, the umbrella organisation responsible for the Pink Ribbon campaign in Germany.
Further information:
breastcare App: www.breastcare.app
Pink Ribbon: www.pinkribbon-deutschland.de
Pink-Ribbon-Shirt-Shop: www.pink-ribbon.myspreadshop.de
Caroline has enjoyed a truly diverse career path over the last 17 years at Spread Group. Having started as a packer in Leipzig, she is now the Director of Manufacturing and Production, responsible for all of our production sites across the world. In the role, Caroline is the main contact and expert for print technologies, production processes and capacity planning. She talked to us about her career before and with us, her tasks and how she finds a work-life balance.
How did you end up at Spread Group?
I applied here after a recommendation from a friend in 2005, at a time when they were looking for people to join the production team. After my interview I actually started working as a packer on the same day. I like to think of Spread Group as my second baby, as the company is slightly younger than my daughter (laughs). I spent the first few years learning production, eventually changing my roles, as team lead, supervisor, production manager and now director. So far it's been fun pretty much every day and I'm proud to be part of the success story that is Spread Group.
Can you tell us a bit about your educational background?
After my apprenticeship as a legal assistant it was clear that working on things which require creative and innovative solutions fits me better. This led me to another apprenticeship in Digital and Print Media Design. Following a classic educational path hasn't really taken me to where I am. More important was the trust and support I received from my supervisors at Spread Group. I am very thankful that they noticed my potential and empowered me. If you want to build yourself up somewhere internally, having fun and staying motivated will set you on your way.
How would you describe your current position?
I am responsible for our production sites in Germany, Czech Republic, Poland and the US, building a fantastic team full of smart people around me. As the main contact person, it's essential to show presence, so I travell regularly between the sites and enjoy doing so. With such a diverse range of tasks, it's hard to summarise exactly what I do. Nevertheless you can roughly divide it into five areas: quality control, capacity planning, optimising productions processes, warehousing and people management. By always having to keep up with the newest developments, in terms of printing technology and textiles, things never get boring.
What was your personal highlight at Spread Group so far?
Boiling it down to one highlight is tough after 17 years. What I am undeniably proud of is having watched this small Leipzig start-up become a global player. Seeing how the production sites have been built up is just confirmation of this. In addition, it is always a highlight when ideas that are brought in are then actually implemented in production and we become better, faster or more modern as a result.
How do you spend your free time?
Although I travel a lot for work, I still like to do it privately as well. Extending my horizons and getting to know other cultures and mentalities is a real passion of mine. I am actually about to become a grandmother for the first time, which is of course incredibly exciting. It wont be hard to guess which baby in Leipzig is going to have the coolest babygrow with the funniest slogan (laughs).
🚀 Are you ready to start your career with us? Check out our current open positions here.
llumi award 2022 for "Outstanding Collaborator"
User Researcher Jana Schöppe recently attended the Human Insight Summit where she collected the 'Outstanding Collaborator' illumni award 2022 on behalf of the whole UX team. A distinguished prize in the industry, the illumi award pays homage to a company that has found innovative ways of creating the ultimate customer experience. With its constantly evolving approach to customer interactions Spread Group managed to win over the panel, despite tough competition.
Backed up by qualitative research methods, the group has championed the prioritization of an enjoyable customer journey over the last 10 years. Simply put, listening to the values and opinions of their customers defines how they go forward. For example, they have expressed a greater desire for sustainable products, leading to a growth of 20% in this area.
"We are very pleased that our work over the past ten years has been recognized with this award. My thanks go to the entire team, especially Christiane, Thomas and Jenny. Without their dedication, we would not have been able to create such an exceptional customer experience, as we just heard from the panel," said Dave Gorman, Director Customer Experience.
Our operations director Zach recently took over an enormous project: the relocation of our production facility in Nevada. He has been with us for 10 years already, now managing our two US-American manufacturing sites. Zach views himself as a ground level air traffic controller, that is taking care of all processes running smoothly. We talked to him about the challenges of managing two teams in two locations, the future of our American production and what keeps him occupied off the job.
Hi Zach! Can you tell us when you joined Spread Group and explain what is your job here?
I started in 2012 as the operations manager for the Greensburg facility. Now I'm the operations manager for both of our North American facilities in Greensburg, Pennsylvania and Las Vegas, Nevada.
If you were to explain your job in three short sentences to somebody like just to summarize, what would you say?
My job really boils down to being ground level air traffic control. You know, the word director and the title are really appropriate because people come to me needing either resources or an answer or solution. Either I help them with that, or I direct the information to who can. And I do a lot of connection in between like an air traffic controller. So, a lot of my time I feel like I'm kind of waving things in, it's a lot of making connections and making sure resources are adequately shared.
You took over a big part in the relocation of our production facility in Nevada. How was this experience for you?
It was challenging for sure, but it was definitely a positive experience. I really enjoyed it. Taking over the project at a later stage was not easy, getting myself up to speed, figuring out where and what was already planned. You know, being both remote and on site, it was a lot. It was a great challenge. It's a great test run for when we move the Greensburg facility someday. It was a lot of work. But it was also rewarding and I'm really glad that I did it.
What are the plans for the future of our production in the USA? Can you already tell something about that?
One of the biggest things we're going to do is making sure that we standardize processes, you know, globally and especially within the US. The time zones being so far apart makes it really hard to communicate. We have got a couple plans in place with changing supervisors, travel times and some weekly meetings to keep both facilities aware of what's going on. So, if somebody has a great idea at one site, we can share that information with the others, and I've been connecting the maintenance teams a lot more. So that if one of our pieces of equipment has an issue, they have a much bigger group to communicate with. We've set up the teams chats and we're communicating a lot better now. And so, to me the thing I'm looking the most forward to is building a national team.
What are qualities or maybe soft skills that you need in this position and in the interaction with your team?
Being an active listener. There's a lot of people that get into leadership positions based on any given skill, like being very good at a particular job. From a leadership perspective to me the most important thing is being an active listener and having empathy, emotional intelligence. Because if you don't have those two things, you're not going to build a team. You know, I can hammer out specific statistics and the time per piece or point out mistakes that are made. But if I don't do it in a way that connects with people and builds them, then it's going to fail.
Are there any hidden talents or hobbies you'd like to share?
I'm an amateur car restorer. I have two project cars. One is a 1969 Mustang and one is a 1973 Scout. I don't do it for money, I just do it for my own entertainment because I like fixing things and it's a nice contrast between my day job. No two days are the same. You know, like sometimes it's very hard to recognize what I really accomplished in a day. But when I'm working on something mechanical, there's a very tactile experience. I can take a part of a car, I can clean it, I can repaint it, I can put it back together. I can make it work again. So that to me is sort of like a cathartic release to counterbalance a hectic day. And in addition to that, I am also a guitar player at a local indie rock band in Pittsburgh named Sommelier.
Oh great, we should definitely check it out! Thank you, Zach!
Spread Group, leading global provider of individualized fashion and lifestyle products, has appointed Martin Gawlak as Vice President of People & Culture. This new position will be accompanied by a comprehensive strategic realignment of human resources and corporate development. Martin will report directly to the CEO, Dr. Julian de Grahl.
Spread Group sees the position a key aspect of the new direction in corporate strategy. Martin's appointment coincides with the recently announced partnership with B2B merchandise platform mula. as well as greater company focus on innovative and sustainable human resources development. The new Vice President of People & Culture has already worked with the Berlin-based start-up in the past.
Martin will oversee the strategic development of the People and Culture department at Spread Group. Across all locations and all affiliates, the experienced manager – with over 20-years in leading management positions – will push forward the development of company culture, talent management and digitalisation.
Gawlak has a diploma in economics to go with his master's in organisational psychology, and his last role was as Chief Human Resources Officer (CHRO) at foodspring, a Berlin company and part of the Mars group.
He explains:
"I am excited at the chance of strengthening corporate culture at Spread Group as they adapt their structures and grow across all parts of the company group. Together with my team, I want to create a working environment which continuously develops their skills and helps the management team reach their ambitious goals."
Spread Group CEO, Dr. Julian de Grahl:
"The exceptional commitment, talent and team spirit of our employees has been a key success factor over the past twenty years. Spread Group management aspires to continue the performance and innovation culture, which has existed here since day one, in the next phase and to further develop our talents in a targeted manner. With his extensive expertise, experience in fast growing companies and last but not least as an experienced user of the mula. B2B merchandise platform, Martin a perfect fit for Spread Group."
Image link
Photo Martin Gawlak, Vice President People and Culture (Copyright: Spread Group)
Spreadshop has put together an expert team of content industry leaders, creative entrepreneurs, and creator economy consultants to form their first-ever Creator Advisory Board. This initiative aims to shape the next chapter of creator commerce for Spreadshop and beyond.
Spreadshop.com is a software as a service (SaaS) provider that helps designers, creators, and influencers monetize their custom merchandise online. They have announced the formation of their first ever Creator Advisory Board, under the strategic guidance of an accomplished group of creatives, to further empower the creator community.
Since 2016, Spreadshop has focused on becoming the best merchandise platform for creators of all kinds. In 2020, Spreadshop became an official YouTube partner, allowing eligible shop owners connect their shop to the Youtube Merch Shelf, Store Tab, and more. Last year, Spreadshop launched a Brand Ambassador Program with the goal of empowering shop owners with added value. Brand Ambassadors not only educate creators about how to use the platform, but also create content and workshops designed to help creators live a more sustainable creative life.
Lauren Virgin, Influencer Marketing Manager at Spreadshop, shared, "I am beyond excited to add the Creator Advisory Board to our existing Brand Ambassador program! We've already seen so much success working with only a few of these pros, thereby helping smaller creators grow their channels or brands to monetize their merch. Being able to scale our program with a wider variety of experts will be awesome. I can't wait to use their guidance to help even more creators in the future to ultimately become a key part of the new creator economy."
Spreadshop's Creator Advisory Board will meet regularly to give feedback, discuss topics important to the creator community, and demo upcoming platform features. One of the first topics of discussion will be input on new print on demand products, with a heavy focus on more sustainable clothing for all.
Millie Adrian of It's Modern Millie and a founding member of the creator board says, "It's one thing to work with a brand on a one-off collaboration, and it's another to partner with a company that truly sees your value – and that you believe in. Together we can create a more significant impact. I love working with Spreadshop as a brand ambassador and am beyond thrilled to become a founding member of the Creator Advisory board. It's exciting to see a company not only invest in their creators but create a space where they can receive direct feedback, thoughts, and opinions. It's a great help to guide their projects with a creator perspective in mind. I truly hope other brands see these strides Spreadshop is making and get inspired to take similar action."
The company welcomes the following new members of the Creator Advisory Board:
Millie Adrian – Online Educator and YouTuber of It's Modern Millie, who teaches aspiring Influencers how to turn their personal brand into a full-time business.
Daniel Batal – Content Creator & Professional Channel Consultant.
Roberto Blake – Creative Entrepreneur and Founder of Awesome Creator Academy.
Saul Colt – Creative Genius behind The Idea Integration Co., an award-winning boutique marketing and advertising agency made up of professionally creative and funny people.
Andrew Kan – Award winning Documentary Film Director. Skilled in Storytelling, YouTube Search Engine Optimization (SEO), Camera Operation, and all things film-making.
Desiree Martinez – Founder of Women of Video, YouTuber, Podcaster, Author, Award-Winning Social Media Creative Content Creator.
Jessica McCabe – American Actress, Writer, and Producer of How to ADHD on YouTube.
Nick Nimmin – YouTube Content Creator and Educator dedicated to helping other content creators succeed.
Tom Phan – Content Creator of Clueless Bushcraft on TikTok and Youtube.
Jim Rugg – Eisner Award Winning Cartoonist and Content Creator for Cartoonist Kayfabe on YouTube.
Renee Teeley – Creator Economy Executive with over 15 years of experience helping creators, brands, and enterprise companies grow their communities and build their businesses using video.
At Spread Group, we have several helpful tools and events to guide our new Spreadsters through their orientation. The goal is to get to know each other and the company.
Onboarding plays an essential role in every employee's experience at a company. Feeling welcomed, supported, and integrated into an organization, and learning about the structures and culture creates our first impression at a new job. That is why onboarding at Spread Group is designed to provide numerous offers and support systems to new employees during their first weeks at the company.
The Welcome Package
The onboarding journey starts on the first day, where we provide our new employees with a welcome package filled with useful goodies. Among them is the Onboarding Booklet – a brochure filled with important information about the company, its structure, our values, and frequently used words or abbreviations. The package also contains an Onboarding Pass, which can be used as a name tag and a checklist for completed onboardings.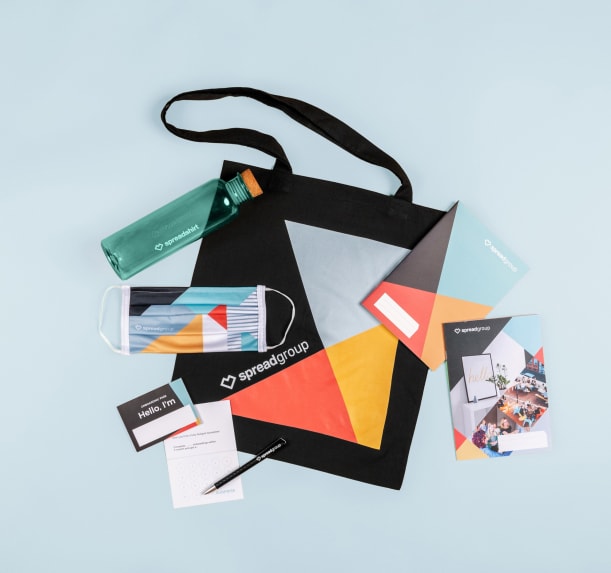 Onboarding Meetings
Our onboarding meetings are a central part of the process because they provide detailed insights into our departments and teams that a booklet cannot. In total, we have 27 onboardings: 7 mandatory and 20 additional meetings. A team leader chooses the most relevant onboardings for their employee. Their purpose is to give new employees an overview of our departments and teams, their tasks and responsibilities, as well as useful information and contact persons for specific issues and questions. At the same time, they give attendees a chance to network and get to know colleagues.
Welcome Tour
A special additional onboarding provided by our people and culture team is the welcome tour. Because we have a quite large building in Leipzig, it is important for new employees to know their way around and to know which team is to be found where.
Internal Introduction & Events
To support the interpersonal communication and get2know process, we provide our new Spread Group colleagues different options. The internal introduction is carried out by your team and within our internal communication channels, such as our blog and company events. Among those events are lunches and Get-togethers with other colleagues, to help new employees to chat, connect and get involved.
Feedback
Creating a comfortable onboarding environment is an ongoing process. We strive to constantly develop and improve it, to create a satisfying experience for every new employee. Feedback is an integral part of this process. To help with this, we implemented a 3-month-feedback conversation that includes questions about the recruitment process, onboarding experience and your satisfaction with your team, tasks, and responsibilities.
Our onboarding process consists of several steps to make sure that new employees get all the information and support that they need during their first weeks at Spread Group.
Would you like to experience our smooth onboarding process? Then check out our open positions!
Hussam Tatari is the producer of our premium collection, and his family-run business has been devoted to the textile industry for over 100 years. When the political situation forced the closure of their factory in Aleppo, Hussam didn't feel like quitting. Today he says: "What I love is to continue what my family has been doing for generations, and it fills my heart with pride that my family name has been standing for quality all the while."
Hello! Can you briefly introduce yourself?
My name is Hussam Tatari, and in my company we are four partners: that's me, my brother, my Italian partner Massimo Burdo, and Tobias Friedmann from Germany. On August 22nd, we had a video team here to document how the company produces. The footage also shows how we implement measures for sustainability, because this issue is very important for everybody and our future. We are already accepting this challenge today. It's important to take these measures before our competitors do, because it creates additional value that will help us stay ahead of the market so that we can successfully sell clothes today and tomorrow.
How did you become a clothes manufacturer? And what do you love about your profession?
By profession, I am electronical engineer, and after my studies I decided to join our family business in textiles. For three generations and over 100 years, the Tatari family has established a textile business in Tangier, Morocco. In my time, this has been run by my cousins. And when I finished my studies, I established production facilities in Syria to continue the family tradition with a production site in Aleppo. In the beginning, it was a lot of hard work, and thankfully it became quite successful over time.
From what we hear, it has to do something with Queen Elisabeth as well.
There has been a long tradition of clothes manufacturing in Syria. We have been exporting fabrics to the United Kingdom for a long time, and Queen Elisabeth's brocade wedding dress was made in Damascus of natural silk fabrics that stemmed from Aleppo.
And what do you love about your profession?
When producing a piece of garment, we start with quality yarn to make the fabric, and then we dye it to create something from scratch that hasn't been there before. This is why I'm passionate about my products, and it is the main reason I wanted to become a draper. It gives me great satisfaction to create something with my own hands, so to speak. This is very important to me.
You moved to Turkey from Syria in 2011. How did you manage to put up your manufacturing company in such a short time?
Unfortunately, the political situation in Syria hailed an end to private businesses like mine: it was first nationalized and then closed. We relocated to Kahramanmaraş in Turkey, because it was only about 150 kilometers from my home city. There has always been the thought of going back to Syria one day – this is why I didn't move further away. In the beginning, it was a completely new situation in a strange country. We came here with 50 people to start anew, most of them family members and former employees. We didn't have any money or equipment, because everything had been taken away from us. It was a big challenge for us.
All our customers supported us from the start, when they gave us advanced payments. This trust was based on well-established customer relationships, as we'd been growing with our customers – or partners, which describes it much better – for over 20 years. Two of our customers and my German business partner lend us money so that we could get started again. We were blessed to be given a new chance. After only 18 days of relocating, we were able to ship the first container of new products we manufactured at our factory in Turkey. What started with just 50 people that travelled across the border has now turned into one of Turkey's great clothes-manufacturing success stories. Today we have over 2,000 employees and generate an annual turnover of €70m.
You produce garments for well-known European companies, like Engelbert Strauss, Versace, Lonsdale, or Alpha Industries. How did the collaboration with Spread Group start?
Spread Group approached us in 2015. They liked the products and were interested in our ethics. We like assuming responsibility by not only complying with laws and regulations, but acting in a socially responsible manner. We want to ensure that everyone involved in the production process has a strong sense of responsibility to live up to our standards. These are ethical standards that include sustainable conduct and collaborative social responsibility, such as BCSI. We all want to have a bright future. After the CEO of Spread Group visited us to see for himself how we produce, Spread Group placed the first order and have been ordering from us ever since.
Are the third-party companies you use for spinning, knitting, and dyeing in the area? And what are their quality standards like?
As of this year, we've been doing everything mind spinning yarn inhouse. This is how we were able to shorten the supply chain and become more sustainable. And most of the cotton we source comes from Turkey and Greece, which is another way of having short supply chains. We expect the partners we work with to ensure the same degree of social responsibility that we have. We make sure our partners adhere to ethical and environmental codes so that the commitment is not limited to environmental and ethical compliance, but also facilitates an improved socioenvironmental setting for the workforce.
Sustainable clothing is becoming more and more important. Do you have any goals to become more sustainable?
It is very important to us to guarantee a high degree of product standards to our partners, because we want to ensure that our production conditions meet the expectations of both our staff and our customers. We are very happy that these measures helped us be awarded the OEKO Tex and GOTS certificates. Moreover, in the section where we dye our fabrics, we use gas instead of coal until the installation of solar cells has been completed to supply electricity. This will result in higher production costs of 50 cents per kilogram, but we are fully committed to reducing pollution wherever we can. We are also installing a green hydrogen station. This way, we will manage to obtain renewable electricity by means of electrolysis. Hydrogen gets separated from the oxygen you find in water, which is a great alternative to traditional energy resources. We are hoping to start using it next year.


It feels like you have a great passion for creating garments. What makes you happy about it?
I am happy when I get the job done perfectly. This is when I feel supportive as a service provider. I always ask my partners and customers for new ideas, so it doesn't feel like we're a photocopy machine that keeps producing the same things over and again. Currently, it's the sourcing of organic cotton and using recycled materials to create new garments. I really like exploring those new avenues. We undertake these efforts to make sure that our customers are completely content with the products, because happy customers keep coming back.
Final question – will you still be a family-run business in the future?
[laughs] Yes, absolutely. The next Tatari generation is already eagerly waiting in line. One of my sons is about to finish university, and he will then join the team. It makes me extremely happy that he feels like joining us. My other son, Abdullah, graduated from university last year, and he has joined us already. He currently does a language program at a school in Germany, seeing that most of our customers are based in Germany.
Spread Group enters into a long-term partnership with mula. and acquires shares in the digital B2B merchandising platform.
The strategic partnership is intended to provide B2B customers of both companies with an improved and comprehensive service portfolio.
Spread Group's investment in mula. is driving the expansion of its B2B business and the implementation of its sustainability strategy.
Both companies have complementary offerings and will work closely together both in the operational business and in the further internationalization of mula.
Spread Group is the leading global provider of customized fashion and lifestyle products. The global company is entering into a strategic partnership with the Berlin-based B2B merchandise platform mula. To this end, Spread Group is acquiring shares in the start-up and providing mula. with a growth budget in the millions.
The aim of the long-term collaboration is to offer customers of all sizes an extensive portfolio of services that builds on both companies' existing offerings. In addition to the individual design and production of high-quality corporate fashion and merchandising products, this also includes the digitalization of existing internal processes on the customer side. For example, the digital B2B merchandising platform can be used to provide innovative support for onboarding processes, send automated gift boxes at specified times (e.g., birthdays or customer events), or make merchandise available to a limited customer group via white-label online stores.
Both companies have complementary expertise and will work closely together on operational issues as well as on the further internationalization of mula. In particular, mula. will benefit from the global production and distribution infrastructure of Spread Group.
Dr. Julian de Grahl, CEO Spread Group, explains the move: "Mula. and Spread Group are perfect partners: both companies operate in a customer-centric manner and have repeatedly demonstrated their innovative strength. The topic of sustainable corporate gifting has gained a lot of importance in recent years as a tool for customer and employee loyalty. We create enormous added value for our customers, through the digitalization of time-consuming manual processes in marketing, sales or HR departments, which can result in a significant gain in efficiency."
Marco Lawrenz, Co-Founder and CEO of mula., says: "We cannot imagine a better partner than Spread Group: 20 years of industry experience, market leader and active worldwide. Moreover, known for its special reliability in the market. At the same time, Spread Group can benefit from our broad solutions for merchandise user cases in all business areas. Through this partnership, the digitalization and automation of currently very manual processes, e.g. by integrating HR-, marketing-, or sales software, we can deliver real added value for companies of all sizes. The combination of the expertise and the services of both companies is a forward-looking move for the entire industry."
Image Links
mula. founders with Spread Group CEO Dr. Julian de Grahl (from left to right: Tobias Boertz (mula. Co-Founder, Head of Engineering), Marvin Müller (mula. Co-Founder, Head of Merchandise), Dr. Julian de Grahl (Spread Group CEO), Marco Lawrenz (mula., Co-Founder, CEO), Moritz Halfmeyer (mula. Co-Founder, CTO)
Additional Links
About Spread Group:
Spread Group is a global provider of customized fashion and lifestyle products. With the brands Spreadshirt, Teamshirts and Spreadshop, Spread Group offers consumers, companies, and content creators (e.g., YouTube, Instagram, TikTok) digital services for the individualization of fashion and lifestyle products. The common basis of all Spread Group service offerings is a flexible software platform that enables deep vertical integrations along the value chain. This includes not only product design, marketing and sales via marketplaces and online stores, but also production, payment processing, worldwide shipping and customer service.
The made-to-order pioneer founded in 2002, in Leipzig, Germany, now operates five production sites in the U.S. and Europe and has annual revenues of over 175 million Euros. In 2021, Spread Group manufactured on demand more than 10 million products for customers in over 170 countries.
About mula.:
The digital B2B merchandise platform mula. was founded in Berlin in 2018 by Marco Lawrenz and Marvin Müller and has since developed into an internationally active company. Thanks to the platform, all merchandise activities for companies and their employees can be simplified, streamlined, and managed. This is achieved, among other things, through the automation of processes, API integration with HR and CRM tools, such as HubSpot or Salesforce, and the creation of own stores. In addition, customers can select and individualize their own merchandise as well as their team clothing via the platform. mula. places a lot of emphasis on sustainable products that are environmentally friendly. The B2B merchandise platform is rounded off by a comprehensive design and warehousing service and CO₂-neutral delivery.
Spread Group's U.S. production team is moving to a new location in the Mountain West Industrial Park in Las Vegas.
From the suburbs to the big city: Spread Group's production team, previously based in Henderson, Nevada, will in future be working in the Las Vegas metropolis. The Mountain West Industrial Park, where the new building is located, is being built in the fast-growing southwest of the city. This brings production close to Las Vegas and its excellent infrastructure, which offers many logistical advantages. A total of 4650 square meters of space in a state-of-the-art hall will become the production hub of Spread Group in the west.
Local move, globally supported
Although the move involved a single production facility, it is also an example of the excellent cross-site cooperation within the company. There was a lot of support from the main U.S. site in Greensburg, Pennsylvania, where several colleagues assisted the team in Nevada to prepare all Spreadsters for the upcoming move. A new director of production in Las Vegas, Abbie Hills, was also brought on board. Zach Coss, who as Director of Operations oversees both U.S. locations, was responsible for the successful implementation of the move as well as supporting the team during the project. Together with Chief Customer Delivery Officer (CCDO) Hanne Dinkel, who is responsible for the strategic management of the five Spread Group production sites worldwide, he inaugurated the site during an official ceremony.
Opening event at the new location
In the modern lobby, the approximately 40 employees and guests from the headquarters in Leipzig were welcomed to the joint opening ceremony. The highlight was the traditional cutting of the ribbon at the entrance of the production hall. The occasion was used not only to honor the team's efforts in implementing the project, but also to celebrate the company anniversaries of several U.S. employees who have accompanied the development of production in Nevada since the opening of the site in Henderson 10 years ago. At the end of the official opening, a raffle was held for the team, with great prizes being drawn among the employees. A successful kick-off for production at the new Spread Group location!
About the Las Vegas production facility
Location: 7180 West Post Road, Suite 105, Las Vegas Nevada 89113, USA
Area: 4650 m²
Team: approx. 40 employees
Download images