Show All News
Lena joined Spread Group 7 years ago, when it was still known as Spreadshirt. Starting out in customer service, she then moved on to become communications manager at Spreadshop. In the summer of 2021 Lena made the switch to Product Management where she is now the Product Owner for SPOD.
How would you describe your role at Spread Group?
Lena: It's now been 7 years in total for me here, but I've been the Product Owner for SPOD since last summer. I guess you could say I've come full circle. Just after I started here, during one of my first feedback sessions, the question popped up: which of the other roles at the company interest me? My answer was clear: Product Management. Right from the get-go I was fascinated by the work of product owners. A colleague from back then whose role I found particularly interesting is now my boss.
Can you sum up your job in 3 sentences?
Lena: As the SPOD product owner I am the one who connects the businesses with our IT department. My job is to aid the continuous development of SPOD and to make sure the customers' wishes and business goals are achieved. SPOD connects e-commerce platforms like Shopify, WooCommerce or Squarespace with our Print-on-Demand Production sites. Merchants can showcase their own designs on clothes and accessories. Orders which have been placed via the SPOD application are then printed by us and sent to the customer in the name of the respective merchant.
What's the best thing about your job as a product owner?
Lena: Simply put, my role as a Product Owner is a lot of fun. Programming fascinates me, but I actually can't code. However, there are definitely elements of programming in my current role. You also get the chance to work, as a team, step-by-step towards a goal, on things like new features that customers have been asking for. We plan it, program it, then check it. In the end, there is a result of work we've all combined for. That's what attracts me the most.
What kind of skills do you need for the job?
Lena: If you're not into organization and problem-solving, this isn't the job for you. When you're getting inundated confronted daily with bugs, feedback and new information you should always remain conscious of the main goals; the development and improvement of the products. Yet to find the best solutions, you still need a certain degree of diplomacy and mediation skills, especially when mediating between UX, Frontend and Backend.
What did you want to be when you were young?
Lena: Honestly, I can't actually remember. But admittedly, it probably wasn't a Product Owner (laughs). I had absolutely no experience in IT or software development before I started at Spread Group, and during my studies, I was still undecided what my next step would be. That's the great thing about the jobs here, they're so diverse. Everything is possible, from in house software development and production to business analytics.
What would be your dream job?
Lena: It was clear as I started at Spread Group 7 years ago that I wanted to get a foot in the door of the tech world and develop my skills from there on. Of course, I can use all the skills I have acquired in other areas or for a different purpose, but I wouldn't want to choose any other job at the moment. Moreover, the team at SPOD is strong and very international. Everyone is into the job and even though some of us have ever never met in person, it just clicks.
🚀 P.S.: We are currently looking for Product Owners (f/m/d) in the area of User Management. Do you want to be part of a design-driven team and create the best possible user experience alongside developers and other product managers like Lena? Then apply now!
Lisa Murray joined the Spreadshirt Marketplaces team as a visual designer in the fall of 2021. Spreadshirt is an independent brand of Spread Group, with Marketplaces connecting customer with a global community of designers. Most customers and Marketplace designers have already seen some of Lisa's work, as she is in charge of creating various visuals for newsletters, socials, website, and more. We talked to her about her first months in her new job with us.
Hi Lisa! Do tell us – what made you join us?
I was looking for a company in Leipzig and found Spread Group. The major factor for joining the company was the international team and diverse working environment. Then I realized the company had a great set of values that I can really relate to. With almost 50% of women in management positions, there is also a focus on women in leadership roles at Spread Group. I think that's pretty good.
Nice. And after you applied, was there anything about the hiring process that stood out?
The recruitment process was straightforward and quick. Everyone was super friendly. They helped with relocating to Leipzig, and I had enough time to sort things out. The prospect of starting a job in a new country can feel quite daunting and overwhelming at times, so I was glad they made it easy for me.
Good stuff! And in your day-to-day work – is there anything that gives you a buzz?
Every day I work on different projects. I get to tackle challenges that spurn my creativity. When I grew up, I couldn't decide whether I wanted to be a teacher or rather an artist. Now I'm very happy that I went with a more artistic career path, and I would always choose a similar job over anything else. Design is just so much fun.
And tell us about your colleagues – who's the craziest person you work with?
Everyone I work with is a bit crazy, like the whole design team! They have a super vivid imagination and create ideas 24/7. These people are really crazy (laughs). I find the atmosphere with designers from different departments here at Spread Group very inspiring. We get to meet once a week and share project updated and ideas. Within the Marketplaces Team, there is a small handful of us and that make for a lovely environment to share work-based ideas. In addition, I get to lend a hand to the licensing team with creating branded store visuals and many more super exciting tasks. Getting to work with famous brands is a lot of fun.
Last but not least: Are there any hidden talents or hobbies you'd like to share?
I speak Irish fluently and I make rugs. The latter is incredible time-consuming, but also very relaxing. Your mind can just let go. And I must admit I am a cycling addict. The Leipzig area is so nice and flat, which makes for a fantastic cycling ground.
Interested in joining #TeamSpreadGroup? Have a look at our career pages, as we are currently having many very exciting vacancies in different areas of the group.
Anna Triebel joined Spread Group as a software developer at the end of last year. She works in the Order Management Team, a team of 10 developers and product owners, covering everything about processing orders and payments. After her childhood dream of becoming an ice cream tester, her studies in philosophy and her first programming experiences in her spare time, Anna finally ended up studying computer science.
We had a chat with Anna and talked on the occasion of International Day of Women in Science, her career, and the challenges that come with working in IT. She's also sharing a few hot tips for women who want to start programming.
Hi Anna! What do you do at Spread Group?
Anna: I've been a software developer in Order Management for four months now. We mainly take care of the software components for order and payment processing. I'm currently working on the topic of fraud detection. The goal here is to use technology to detect "suspicious orders", for example orders with stolen credit cards.
What convinced you to choose your job at Spread Group?
Anna: Two factors were decisive here. I liked both the tech stack and the corporate philosophy. The technology sparked my interest, and the atmosphere in the workplace struck me as quite relaxed. There's no dress code and I can flexibly arrange my working hours. Straight away I had the feeling that Spread Group could offer me an environment in which I would feel comfortable – and it worked out!
Was there anything that stood out during the application process?
Anna: What I really appreciated was the frank and very open way of dealing with people. I felt that they had an open ear for my expectations and respected me as a person. I had to solve a programming task that gave me a fair idea of what was required. Good stuff! I was also able to meet my future team to discuss the task. This helped me meet my colleagues, and I got a good impression of their personalities. Then we had lunch together, and I felt right at home.
Have you always wanted to work in IT or software development?
Anna: When I was a child, I wanted to be an ice cream tester (laughs). I saw it on a TV program for kids and was immediately sold. And then I started out studying two quite different subjects, philosophy and IT. The latter won in the end, and I realized that those two subjects were not too different all together, as they're about abstract concepts described in text form.
Are there any obstacles that make a difference for women in IT?
Anna: Unfortunately, women are still underrepresented in IT. Having said that, the proportion of women keeps fortunately increasing. I personally like diverse teams with different personalities, regardless of gender. But it would be nice to see a few more women in IT, at least this is how I felt in the early stages of my professional life. And women in leadership roles are very rare, which is something that I think could do with improving.
What advice would you give women looking for a career in IT?
Anna: Do whatever you like doing most. If you enjoy programming, go for it! Programming is no witchcraft. I also feel that my work environment is very empowering, regardless of gender. The support I receive is very important. So – don't be afraid to get started and surround yourself with people who take your goals seriously and support you!
What talents do you need to be a software developer?
Anna: Motivation and a penchant for programming. It's essential to understand abstract concepts, and to develop an ability to think like that. Teamwork and communication skills are also important, which is often underestimated. As a developer, you'll need to be a good listener in order to understand the models. Then keep asking questions until it's clear what you want to achieve. In the end, you'll have programmed something that people will find beneficial. And that's quite wonderful.
🚀  P.S.: We are currently looking for Software Engineers (f/md) Backend, Frontend, Fullstack – to learn more and apply check out our career page.
Merle and Katharina are both doing an internship at Spread Group. We spoke to them to get an insight into the daily life of an intern, what tasks they enjoy most, and whether they recommend doing an internship at Spread Group (and yes, it is :)).
Hello you two! What exactly do you do at Spread Group.
Katharina: Hey, I'm Katharina, 20 years old and I'm in the 5th semester of studying Book Trade & Publishing at the University of Leipzig. I'm currently doing a six-months internship at Spreadshirt in the Marketplace Licensing department.
Merle: Hi, I'm Merle. I'm studying Media & Communication Studies in Ilmenau and I'm doing a 6-months internship at Spreadshirt that I need for my studies. I support the marketing team of the Create Your Own business unit. This is the area where customers can design their own clothes with photos, texts, or designs. I mainly take care of newsletters and blog posts.
Katharina, do tell us what you do in the licensing team at Spreadshirt?
Katharina: We work with licensing partners whose designs we sell on Spreadshirt's marketplaces as well as external marketplaces such as Amazon. It's a long process from design creation to communication with license partners to approval of designs and marketing. Well-known licenses at Spreadshirt include Harry Potter, Game of Thrones or Peanuts, for example.
And why did you decide to work for Spreadshirt or in the field of licensing? What does that have to do with your studies?
Katharina: I was already very interested in licensing during my degree course. I didn't just want to see the licensing business from the publisher's point of view, but also to get to know the perspective of a company as a licensee. It's always good to see different processes. I chose Spreadshirt because the corporate philosophy appealed to me, and there were very good vibes during the interview.
What makes the atmosphere at Spreadshirt special for you?
Merle: The working atmosphere! You come here and immediately feel at home. I remember being super nervous at my job interview. But I was made to feel at ease during the interview very quickly. The whole team at Spreadshirt is totally nice and open.
Katharina: I also really appreciate that the atmosphere in the team is so good and that you can deal openly with criticism. Everyone is helpful, supportive and encourages the others with motivating feedback. There are also nice offers like fresh fruit, free soft drinks and feelgood activities that make a day in the office very pleasant.
Merle: You don't feel like an intern since you're given a specific area of responsibility and get down to work straight away. I thought I might have to do boring copy and paste stuff or spend days at the photocopier, but I was in for a pleasant surprise (laughs). The team is really welcoming!
What are your specific tasks and what's your day-to-day work like at Spreadshirt?
Katharina: My internship is quite diverse. I experience the entire licensing process and can take on tasks independently. In addition, I take care of the communication with the license partners and create the appropriate products such as T-shirts, sweaters, or accessories in the backend. I accompanied the entire process of creating the designs as well as the decision-making process. In marketing, for example, I create graphics and videos for social media and offline campaigns. This is a good thing as it further increases my knowledge.
Merle: In the Create Your Own team at Spreadshirt, we send out at least one newsletter per week that gets published in four languages. I design the approximate structure in advance and decide which photos to use. Then I write posts for our SEO page and our Create Your Own blog and promote the blog posts on our Facebook, Instagram and other social media channels. Sometimes there are also research tasks where I gather information on various topics in marketing.
Do you have something like your own project in the internship?
Katharina: Yes! I was, for example, able to take over the support of individual license partners completely on my own. I'm also responsible for videos in marketing as part of the team and was able to try things out a bit.
Merle: I can say the same, I enjoy a lot of freedom. Especially when it comes to newsletters and blog posts, I have a free hand in creating them and can exercise creativity as well. The texts are checked by the copywriting team, but by and large I can take on the topics independently.
What do you enjoy most about your internship?
Merle: The tasks where I can get creative myself are the ones I enjoy the most. Especially creating the newsletter or writing my own texts.
Katharina: I enjoy the marketing part the most. That's also what I found most exciting in my studies. It's very nice that I can also deepen this in the licensing team.
Are there ever boring tasks that you don't enjoy as much?
Katharina: Sending out contracts! Of course, it's also part of it and is important because without contracts there are no license partners (laughs). But it's quite monotonous. Other than that, there is always a lot of variety and I have never done the same task for a whole day.
Merle: I once had to recreate all the designs I had created over four months since the links had expired. This dragged on for two weeks, and after that I couldn't stand doing that anymore. Tasks that drag on for so long obviously get less exciting at some point. But because the newsletters and topics vary every week, I actually quite enjoy it.
Have you experienced any memorable moments already?
Katharina: We generally have a lot of fun moments in the office, like throwing hoops with the mini basketball set. And for a Harry Potter shoot, we were provided with the original Nimbus 2000 broom by the license partner and were then allowed to take photos with it, which was also very exciting.
Merle: There's never a dry day with my team. I wouldn't have thought that you could have so much fun at work. There's always something to laugh about, and funny situations keep coming up in our internal chats. Our team event was also a lot of fun when the whole team went bowling together. It's very nice to see people from work having a fun time away from work.
How does the internship help with your professional orientation? And what will you do next?
Merle: The internship helped me a lot. I wasn't really sure which direction I wanted to take after graduating, but now I know that I want to go into marketing. I'll be going back to university, because I still have a year to go. After that, I would like to get my professional life going with a trainee position, for example.
Katharina: I have come to take great interest in the licensing sector. I only knew the theoretical side from my studies, and only the publishing perspective. The internship showed me that licensing is a really cool sector, and I can imagine doing something similar later. But for now, I'll continue with my master's degree.
Thank you very much for the interview and all the best for you!
Editor's note: Katharina and Merle have since both got their professional career started at Spread Group. Katharina works as a student trainee in the Licensing team, and Merle is a project manager in the Create Your Own department.
Marcus joined Spreadshop as a Category Manager in November last year. As an independent brand, Spreadshop is part of the Spread Group universe and offers a free online shop system for creatives, companies, and associations worldwide. Marcus is responsible for the assortment area, which means he takes care of all products such as clothing, accessories, or home & living products. He sees to questions like "Which new products should be available in the store?", "Which ones are old news?", and "What are the current fashion trends?" Marcus keeps an eye on global fashion developments and analyzes customer needs. We talked to him about his first weeks in his new job with us.
What made you decide to join Spread Group?
Marcus: I have known Spread Group for quite some time and have also had my eye on the Category Manager position. I was unsure whether I had the best qualifications for this position, and a direct message from the recruiter on LinkedIn motivated me to take a closer look at the job. She presented the position to me in more detail, and we agreed on an initial, non-binding meeting. In my old job, I traveled a lot and I wanted to create a home base. Since I already had the job in mind, it was the perfect moment for a new start. It felt right from the start (laughs).
And what do you find exciting about your job as Category Manager?
Marcus: Empowerment. I was able to take on responsibility from day one. Although I've only been with the company for a short time, my manager has a lot of trust in me. Even in areas that are still quite new to me – as for example pricing – I can make decisions independently.
What skills do you need for this job?
Marcus: A penchant for fashion and a feel for trends and people. You should also have an interest in social media, as this is where trends emerge and pick up speed very quickly. An analytical understanding and the ability to quickly recognize correlations should not be underestimated.
And when you're not at work today – how do you spend your time?
Marcus: I spend a lot of time with my dog and enjoy being out and about with friends and family. I've also been running my own online shop with two friends for a couple of years. We sell synthetic hair wigs. I am mainly responsible for the design of the shop and choose the products.
Do you have any hidden talents or hobbies?
Marcus: I am passionate about drag queens. That was also the reason for my own wig online shop. I can completely "transform" myself in just under three hours (laughs). This passion also has advantages for my day-to-day work, especially when it comes to assortment. I simply know what's hot among women at the moment.
Interested in joining #TeamSpreadGroup? Have a look at our career pages, as we are currently having a lot of very exciting vacancies.
Spread Group supported this year's "Sponsored Wishlist Campaign" of the non-profit organization Leipziger Tafel e.V. and fulfilled the wishes of 50 children in need.
"Christmas is the Holiday of love and togetherness, where sparkling children's eyes are a must. Unfortunately, not all families have the financial means to pursue their children's dearest wishes. That's why our colleagues at Spread Group have joined forces to fulfill 50 Christmas wishes for the Leipziger Tafel", says Nelly Flieger, Feel Good Manager at Spread Group.
The internal gift givers were found very quickly. Within a few hours, Spread Group employees had divided the wish lists among themselves. The voluntary donation campaign was met with great interest and joy within the company. The 50 lovingly wrapped Christmas gifts were handed over personally to the Leipziger Tafel.
Irakli (also known as Iko) has been working as a software engineer at the Spread Group for a few weeks now. From a technical point of view, he and his team make sure that the production processes run smoothly. They have developed a software that the staff in production use to print textiles, accessories, or posters on demand. We met Iko and talked to him about his first impressions of his new job.
First impressions – how did your first day go, Iko?
Iko: The first day was much more relaxed than I thought it would be (laughs). In the application process I had already been shown the production, which made me really respect the job and what was behind it. And I received a very warm welcome from the start. I have a great team, which is always half the battle.
What made you join us?
Iko: I was looking for an employer who had a progressive attitude to working arrangements. Remote work and flexible working hours are very important to me. I also met Spreadshirt founder Lukasz Gadowski once at an event. We had a little chat about Spreadshirt and I thought that the company sounded like a pretty cool employer. The option of keeping my home base in Leipzig was just a perfect fit.
What's the most exciting thing about your job?
Iko: It's not only the technical aspect that attracts me to the job. It's more that I can create real added value for the production staff. Developing a software that exactly meets their needs makes their daily work more fun. And the more people enjoy using a software, the more they like their work. So it goes far beyond just programming – I can make a real impact.
It's also great when you've built a feature and it works as well as you imagined. Then you have the feeling that nothing can stop you. And when the users take a liking to the the feature – that's just phenomenal. 
What's your favorite pastime?
Iko: I like to dance hip-hop. In my former life, I was a business economist. I love developing business models and ideas with friends and imagining future needs. It's a really great hobby. (laughs)
Are there any hidden talents or hobbies you'd like to share?
Besides business idea development (laughs), I have a knack for consulting and mentoring. I like to help other people with difficult decisions, for example by asking the right questions. That probably still comes from my business administration days. I'd say I'm quite broadly positioned.
🚀 P.S.: We are currenty looking for Software Engineers (f/md) Backend, Frontend, Fullstack – to learn more and apply check out our career page.
Design Thinking has become indispensable in the field of innovation and digitalization. At Spread Group, the creative process is the tool of the trade for our product developers. Systematically addressing complex problems and developing innovative products and services is Erkan Öğümsöğütlü's daily business. The Digital Product Designer has been with Spread Group for three years. With his Design Thinking experience he drives forward our brand SPOD, a dropshipping print-on-demand service for merchants. We asked Erkan what Design Thinking is about, what benefits and challenges he sees, and what advice he can share.
Hi Erkan, what's Design Thinking to you?
Design thinking is a special approach that helps us solve complex problems. There are certain stages designers need to go through to address and manage a problem effectively. Here "design" is not only referred to in a visual sense, but rather as a process to examining the need and the problems itself. Experimentation helps approaching the ideal solution. Essentially, the Design Thinking approach is not only for digital products. It can be used for all sorts of complex problems in any field, such as public transportation, festival organization, museum planning, factory processes, and so on.
And how does Design Thinking work?
To be able to solve a problem, those who are responsible with the certain service need to know their audience and their needs very well. They must investigate the problem and the customer's pain points to fully grasp the issue. The Design Thinking approach consists of roughly five stages. The first stage is all about understanding the issue with the help of fundamental research. Then the second stage identifies the core problems while defining the details. After that, designers can start speculating on the problem definition and potential solutions. Generating ideas would be the third stage where designers mainly create hypotheses that can potentially solve the problem. Before implementing an idea right away, which might be expensive and risky without figuring out if it really solves the actual problem, it is smarter to create a prototype to define all the details of the hypothesis. This is why the fourth stage is prototyping and the fifth one, which would go hand in hand with prototyping stage, is testing this hypothesis. Such tests are usually called "usability tests" or "user tests" and are conducted by researchers using the prototype created by the designers.
Theoretically, this all sounds like a very linear and strict process, but in practical application it is a process of iterations. If designers come across to a problem in the prototyping or in the test stage, it is necessary to go back and forth. Eventually, a tested and approved idea will be implemented to see the impact in its full scope to improve the user experience.
Do you have an example from your everyday work?
Together with my team, I'm proactively working on the SPOD web app. This web app enables registered users to place designs on apparel and non-apparel SPOD products. They can then be sold on external marketplaces and shop platforms such as Shopify, Amazon, Etsy, etc. SPOD prints the designs on products. When choosing or uploading a design on a certain product, there is an interface that users can directly interact with. Since this is the most used area of the app, it is also the area where we, the product development team, get the most insights about the user's experience. Most of the time we learn from users what their pain points are by conducting surveys, feedback on social media accounts, direct email communication, usability studies, data analysis and through many more ways. When we hear about a certain problem a lot, we initiate the first stage of Design Thinking. We need to dig deeper and understand a wider aspect of that issue.
One of the main insights we could gather so far is that users are getting tired of creating multiple products with one design they want to print. The app does not support this level of automation yet, unfortunately. To be able to define the problem in detail, researchers conduct interviews with our SPOD users. We evaluate the insights together. In a later phase, we will run workshops by bringing these insights together to ideate and generate hypotheses for a solution. Following this, a prototype will be created that mimics this solution. Then researchers will again take over for testing, and we will see whether the solution works for the users before fully implementing it. So basically, my everyday work includes small pieces of these steps where I manage communications, design interfaces and prototypes, collaborate with researchers on the testing and evaluate results.
What do you think are the biggest advantages of Design Thinking?
Instead of giving sets of strict rules to follow, Design Thinking helps teams adapt a sustainable and reliable mindset that they can work out along with many supportive methods. Generally, the approach leverages the center of the user's perspective through research, rather than relying solely on imagined solutions. For this reason, Design Thinking helps minimize the risk of wasting time, money, and resources on unnecessary features, ideas, and services. If the Design Thinking approach is not ingrained in your organization's genes, you might develop wrong solutions with lack of understanding of the real problems and lack of validation of your ideas. As a result, your user experience will suffer, and you would be bound to lose time and money. In addition to that, I think it's great that Design Thinking fosters innovation by getting in touch with real users and exploring uninvestigated opportunities.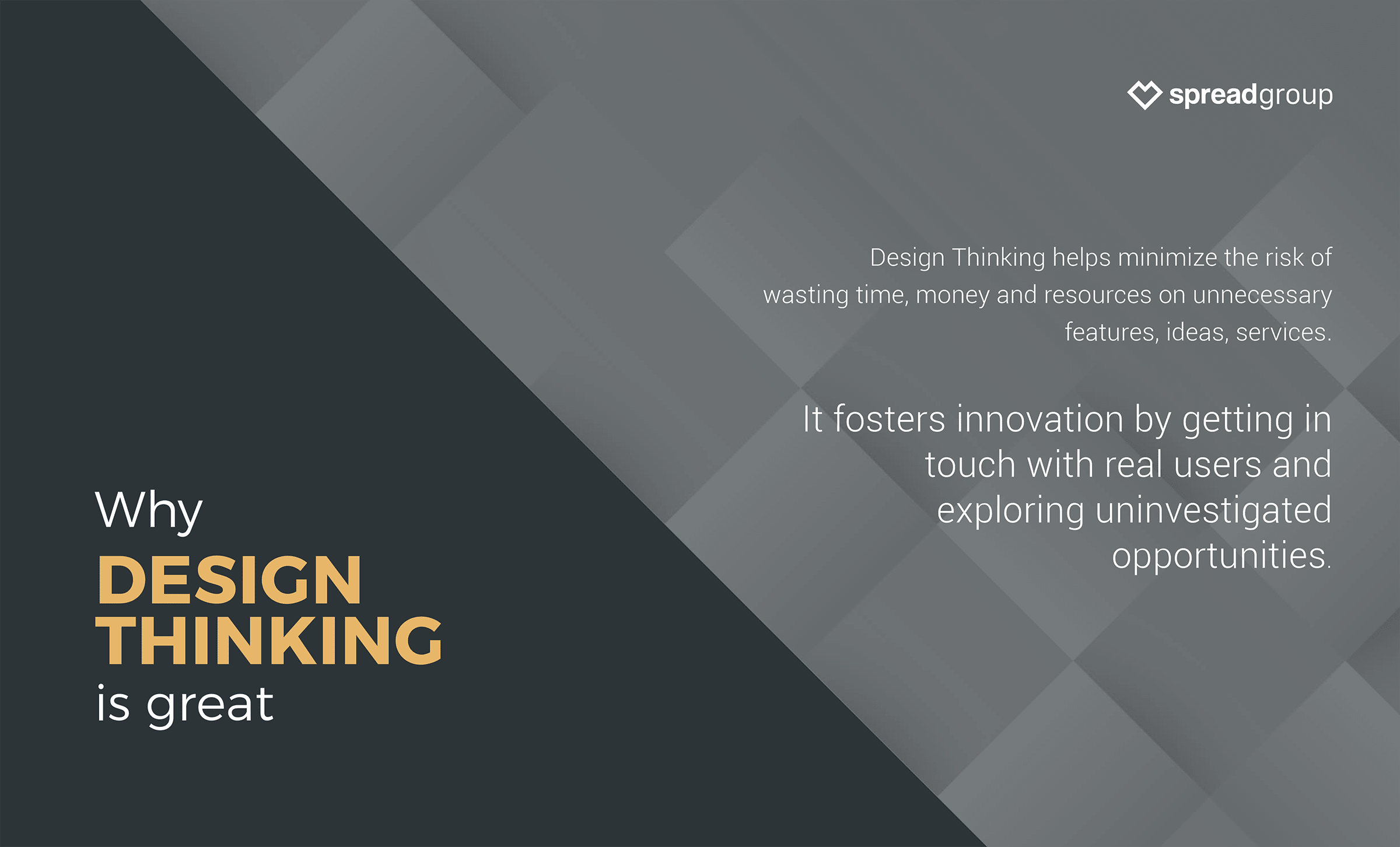 And are there any disadvantages?
I think there are only challenges, but no disadvantages. The main challenge is to strike a harmony and good rhythm with today's fast-cycle product development processes. If product development and design processes lack coordination and collaboration due to time pressure, the product or the service will be struggling to get the best out of Design Thinking. And this is obviously not what we are aiming for. Take the time you need and proceed carefully, then magic will happen. I believe in the magic that a good combination of design and engineering can bring about.
What tips and advice would you give before getting started with Design Thinking?
Frist of all, Design Thinking cannot be imagined without good collaboration. Teams should work hand in hand to connect the process of Design Thinking and product development to get an effective outcome. It is important that everyone has the same understanding of Design Thinking! I have experienced that many non-design professionals have just very rough knowledge about the approach. Product teams and managers should get training to embrace the entire Design Thinking process so that it can also become a core part of an organization's DNA. Last but not least, nothing works without a solid research foundation. Teams really need to make sure they have experienced researchers to generate a well-working Design Thinking flow. Otherwise, the magic of Design Thinking could be nipped in the bud.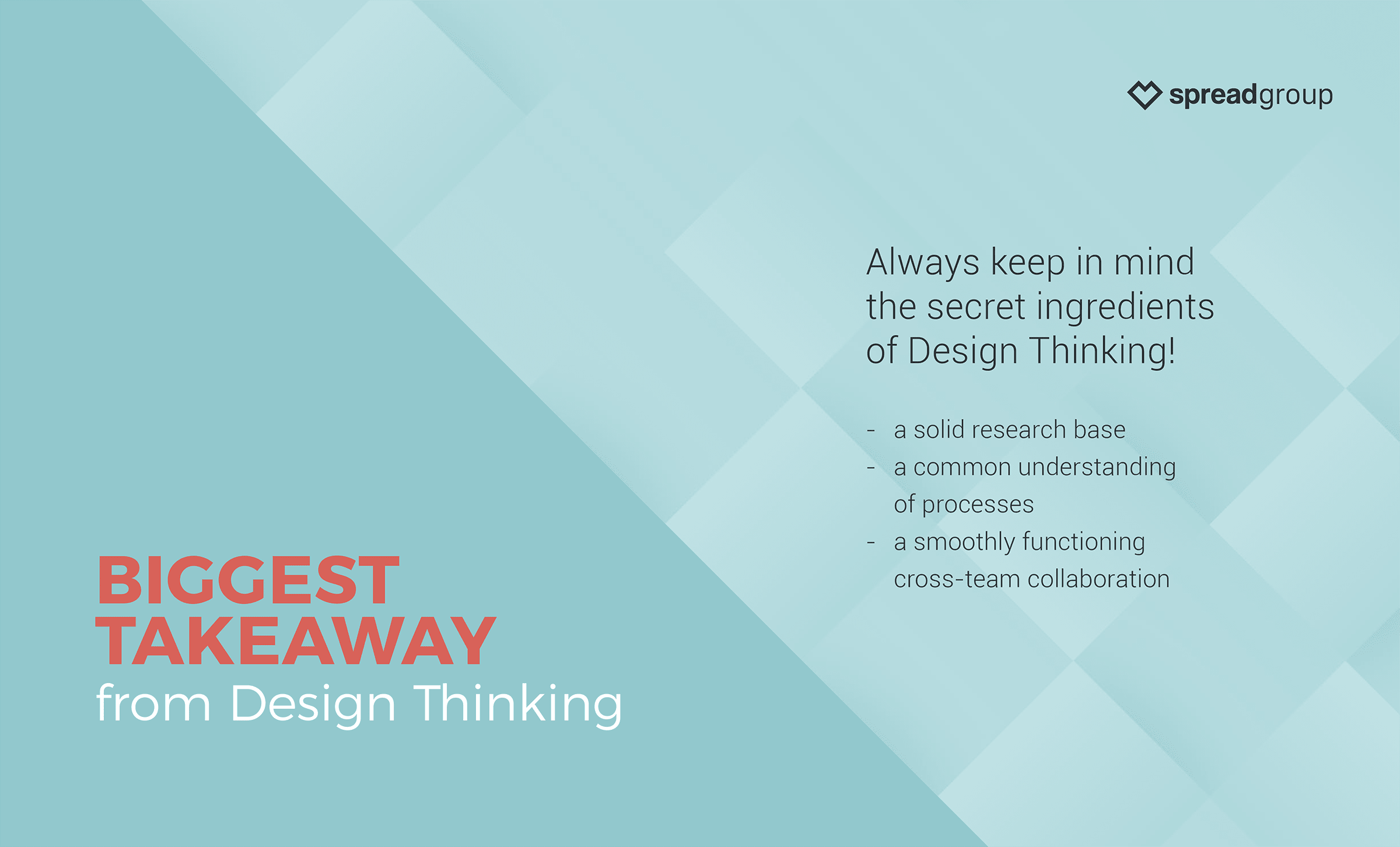 Stephanie Pfundt has been working at Spread Group since 2019. She joined the HR department through an internship and has stayed on as a Learning & Development Specialist. In this position, she plays a key role in creating a framework that enables colleagues at Spread Group to develop personally and professionally. We spoke to her about learning and development at the Spread Group. In the interview, you can find out about our opportunities for professional growth and what skills are high in demand right now.
Stephanie, what are the major challenges that both companies and employees face when it comes to development and training?
Stephanie: E-commerce is and incredibly fast-paced sector. For some it's a dynamic environment to learn and grow, for others it poses great challenges. If you look deeper into it, you can't avoid topics like new work or the age of talentism. These are phenomena that companies must face. And then there are requirements for employees such as resilience, agility, creativity, and innovativeness.
What can companies do to keep up with the fast pace, but also stay ahead of it?
Stephanie: It's important that employees can develop in a direction they set out for themselves within an open corporate culture. People want to learn more, try out new things, and think outside the box. This requires an attitude that allows for mistakes, enables collaboration, and promotes self-determined learning. Every employer needs to create structures in which people can develop and acquire skills and abilities out of their own curiosity. In school we were always told: You have to learn this and you have to learn that, then you will become something. But learning works differently. People can be trusted to identify their own areas of learning and to develop in a self-determined way. If this is the case, all that is needed is a common goal that offers a sufficient scope for identification.
How do employees at Spread Group find their own way?
Stephanie: At Spread Group, employees from 49 different countries come together and bring very diverse backgrounds and knowledge with them. This diversity is very enriching, and it is important to leverage these treasures of knowledge and utilize them. To this end, we have created a range of internal and external offers for our staff. This starts with onboarding trainings. We've set up an entire program to make it easier for new colleagues to arrive at our company. Challenges come with the many and diverse teams, new terminology, numerous events, and also numerous applications and tools that are used on a daily basis. It can be quite overwhelming in the beginning. The whole onboarding process takes several months and gives the new Spreadsters occasion to get to know the company and the culture.
In addition, the motto "Making knowledge usable" applies. We have developed internal formats where colleagues learn from colleagues. At our SpreadX event, for example, knowledge is imparted on various topics in a kind of mini-workshop. Learning about image editing programs, the basics of HTML or how to apply design thinking are examples of what's on offer.
The AwareX format, for example, is about drawing attention to various social topics. The aim is to inform and start a conversation about such topics. This ranges from anti-racism training to questions about sexism and equality, and to a training on unconscious bias (unconscious thought patterns). This format invites to change the perspective and to sharpen the view for sensitive topics.
A slightly different and rather unconventional format is our Smarty Pants Night. It's a barrier-free, informal, and very entertaining get-together, where everyone who feels like it can give a talk on their favorite topic. Plus we have pizza and lots of laughs. How do I sharpen a knife? How does WIFI work? The Vikings and the Wadden Sea – the potpourri of topics is very colorful and the form of presentation can be freely chosen. The interesting thing about it is that the audience not only gets a taste of completely new topics and impulses, but that employees also dare to present themselves. Sometimes employees have a kind of presentation shyness, especially if you don't do it often in your job. At the Smarty Pants Night, the inhibitions to speak in front of the group are very low. This is mainly due to the fact that freely chosen topics can be presented in a playful way. All participants benefit from this. Through the newly acquired ideas, folks don't only acquire valuable knowledge, but also keep open-minded towards new things.
In addition to the numerous internal offers, we also regularly bring in external coaches to provide further training for the staff. Currently, for example, a three-day Agile Leadership Training is taking place. What's more, teams are also always encouraged to attend training courses on their own in order to develop their individual skills for the job.
What skills does it take to be successful on the job these days?
Stephanie: First and foremost, you should keep up to date with the latest developments. Whether you attend webinars, training courses, conferences, or other courses is up to you. Colleagues are welcome to approach me and express needs for their team. I accompany the process and advise e.g. on topics to boost team dynamics. I can also offer support on how to develop core competencies within the team strategy. Of course, I am always happy to help find suitable trainings. The concept of new work requires developing your competencies. These are abilities and skills that enable you to cope with challenging situations on an emotional level. In this context, qualities such as developing resilience, being able to set boundaries, having a positive attitude, but also wanting to develop professionally and personally fall into this category.
One last tip you'd like to share for people's professional life?
Stephanie: Actually, I'd like to give two more tips.
1. Get away from the idea of having to do that one job for life. Curricula vitae are as colourful as confetti. You can take detours, gather new experiences, and try out new things.
2. If you feel stuck in your job, it doesn't mean you have to completely retrain for a new challenge. Sometimes it's just a few tweaks that you need to make. It's important to identify these – they can be great opportunities. Maintain a curious mindset to keep you interested in new ideas 😊
Thanks so much for the interview, Stephanie! Would you like to work at the Spread Group? 🚀  Then take a look at our career portal. 
About Stephanie: Stephanie Pfundt has a bachelor's degree in business administration from Leipzig's University of Applied Sciences (HTWK). She completed her master's degree in researching people with exceptional abilities and competence development at the University of Leipzig. Her first professional experience was gained in competence development, personnel organization and pedagogy at an organic food retailer. In addition, she has worked as a research assistant at the University in Leipzig on numerous projects on advanced learning. Stephanie has been working at the Spread Group since 2019. In the HR department, she is responsible for Learning & Development.
In September, we have a special anniversary. We're celebrating 10 years of Feel Good Management (FGM) at Spread Group. That's a decade of our unique company culture! For one month we want to look back at the good times, and show what FGM can do for companies and their employees, especially in challenging times.
When Stefanie Nobis started as a Feel-Good Manager at Spread Group in 2011, virtually no one had heard of the job title. She was actually one of the first with this job title in Germany. And so we received numerous calls and e-mails from other interested companies and also media outlets such as Spiegel, N-TV, Welt and FAZ, who were keen to find out what the day-to-day work of a feel-good manager is, and why a company would hire a person to ensure a good mood in the office. Skeptical questions about whether "full-time entertainment is necessary for work" or why "you need an office clown" were not uncommon among them. 
Yet FGM is about so much more than just "keeping the office fun" or providing fresh fruit, free coffee or a fooball table for everyone.
We're convinced that it is much more a question of a collaborative, open culture. It's about the general togetherness in the company. At Spread Group, feel-good management is an integral part of everyday life and is practiced at all levels – from interns to C-level managers. A variety of activities, events, and unconventional and cross-team formats strengthen a lively corporate culture and promote the exchange of ideas among colleagues. After all, in a company with almost 1,000 employees worldwide, many of whom work remotely, it can be quite difficult to get in touch with everyone personally and to network. Most work in their fixed teams and spend their break times or even shared free time with their favorite colleagues. FGM can make a significant contribution in promoting understanding, transparency and engagement among one another. Numerous offers from AwareX to Yoga, and more, create points of contact and formats for exchange and mutual support.
In the coming weeks, we'll show you which of our FGM formats are particularly well-received by our international team and how we can reach out to each individual even in pandemic times.
We've dug through our archives and compiled the highlights from the last 10 years in a series of pictures.
Please direct your questions about Spread Group to our Corporate Communications team.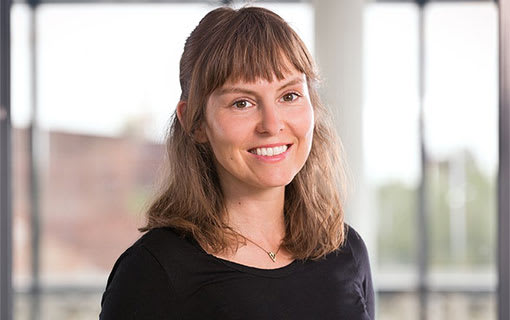 Mary Worch
Corporate Communications Manager