Show All News
At Spread Group, we have several helpful tools and events to guide our new Spreadsters through their orientation. The goal is to get to know each other and the company.
Onboarding plays an essential role in every employee's experience at a company. Feeling welcomed, supported, and integrated into an organization, and learning about the structures and culture creates our first impression at a new job. That is why onboarding at Spread Group is designed to provide numerous offers and support systems to new employees during their first weeks at the company.
The Welcome Package
The onboarding journey starts on the first day, where we provide our new employees with a welcome package filled with useful goodies. Among them is the Onboarding Booklet – a brochure filled with important information about the company, its structure, our values, and frequently used words or abbreviations. The package also contains an Onboarding Pass, which can be used as a name tag and a checklist for completed onboardings.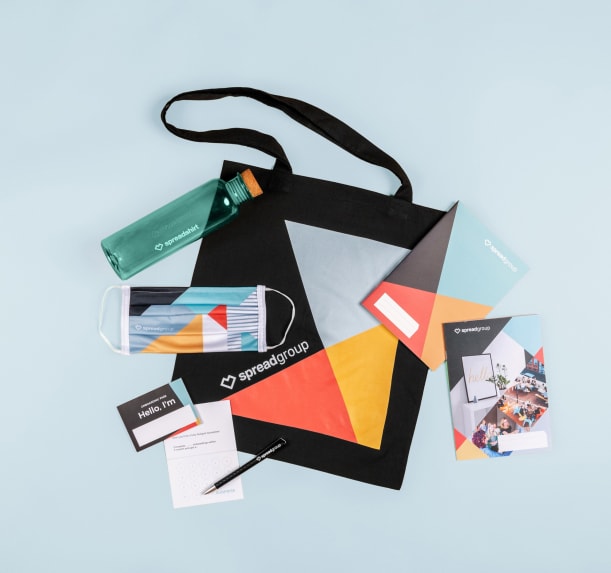 Onboarding Meetings
Our onboarding meetings are a central part of the process because they provide detailed insights into our departments and teams that a booklet cannot. In total, we have 27 onboardings: 7 mandatory and 20 additional meetings. A team leader chooses the most relevant onboardings for their employee. Their purpose is to give new employees an overview of our departments and teams, their tasks and responsibilities, as well as useful information and contact persons for specific issues and questions. At the same time, they give attendees a chance to network and get to know colleagues.
Welcome Tour
A special additional onboarding provided by our people and culture team is the welcome tour. Because we have a quite large building in Leipzig, it is important for new employees to know their way around and to know which team is to be found where.
Internal Introduction & Events
To support the interpersonal communication and get2know process, we provide our new Spread Group colleagues different options. The internal introduction is carried out by your team and within our internal communication channels, such as our blog and company events. Among those events are lunches and Get-togethers with other colleagues, to help new employees to chat, connect and get involved.
Feedback
Creating a comfortable onboarding environment is an ongoing process. We strive to constantly develop and improve it, to create a satisfying experience for every new employee. Feedback is an integral part of this process. To help with this, we implemented a 3-month-feedback conversation that includes questions about the recruitment process, onboarding experience and your satisfaction with your team, tasks, and responsibilities.
Our onboarding process consists of several steps to make sure that new employees get all the information and support that they need during their first weeks at Spread Group.
Would you like to experience our smooth onboarding process? Then check out our open positions!
G'Day Matt! Matthew Alexander has been part of our copywriting team since June 2022, writing texts for our US market. For the Australian-born copywriter, writing is not just a job, but also something he pursues as a hobby. Prior to working at Spread Group, he worked as a freelance copywriter and web developer, as well as a travel agent, among other things. Learn more about Matthew and working at Spread Group in our video!
Since February 2022, Fabian has been part of the recruiting team of the People & Culture division at Spread Group. He and his colleagues take care of future-proofing the Spreadster, aka our staff. With a lot of passion, Fabian sees himself as a mediator between external applicants and the internal hiring departments. Humanizing as well as making the recruiting process more straightforward were the main factors behind his decision to start working at Spread Group. We talked to Fabian about this and more:
Hi Fabian! When did you join Spread Group and what exactly do you do here?
I've been a Leipzig resident since I joined Spread Group six months ago. And I haven't regretted it for a second so far! As a junior recruiter, I'm something of an interface between the applicants and our internal departments, where I act as somewhat of an intermediary. Some administrative tasks are also part of my job, but what particularly excites and inspires me are interpersonal aspects. The icing on the cake are the conversations and interviews that I get to conduct. This means I always meet new and exciting people, and at the same time I gain insights into the company as a whole. That's what I find both great and unique about the role of recruiter.
What did you do before? And why did you choose Spread Group?
Before moving to Leipzig, I lived in the Netherlands for 10 years. I studied psychology there and gained my first work experience. First as an account manager in a wholesale company, and later as a forensic escort. The work with delinquent youths had a great impact on me, but after a while I also felt like looking for a new field of work. While looking for a new challenge, I came across Spread Group. The company's profile and presence on the web made me very curious. Hardly any other application process was as pleasant and almost family-like as here. The opportunity to meet future colleagues during the process and to feel invited at every step encouraged me to join Spread Group.
What is the most exciting thing about your job as a recruiter? What does it take?
As mentioned earlier, the chance to conduct interviews as a recruiter and to get to meet very different people is definitely the most exciting thing for me. It's the icing on the cake. And helping to find the best applicant match for a department is also at the top of the list. It requires empathy, a sure instinct, and a service-oriented attitude. The application process should be as pleasant as possible for every applicant, no matter how different they are.
Can you share valuable advice for applicants?
Come as you are! Literally and figuratively. Be open and authentic – this is how you'll find the job that suits you best.
What did you want to be when you were little?
A singer! I have a classical voice training and am therefore quite the fit when it comes to Italian operas (laughs).
Are there any other hidden talents or hobbies you would like to share with us?
If the last two challenging pandemic years have taught me one thing, it's to take care of myself and switch off in between. For me, this includes activities like cooking, yoga, and traveling. I'm already planning my next trip to a festival in Hungary, and my colleagues can look forward to new couscous salad variations on a regular basis. That's when my Tunisian roots come to the fore – and a mutual lunch break is always good for me.
Rumor has it that a few new statement shirts have moved into your closet. Which slogan T-shirt will surprise us next time you enter the company kitchen?
A brand-new addition is a T-shirt saying "Personal Manager. Because superhero is no official job title" (laughs). And as soon as the shirt is dry again, I will definitely wear my new favorite saying: "I'm in HR. I can't fix crazy, but I can document it."
Thank you for these exciting insights, Fabian!
Curious? We are looking for colleagues for Fabian as well as new Spreadsters in our SPOD division, e.g. as a Business Development Manager. We are also looking for a Legal Counsel to strengthen our global legal team: https://www.spreadgroup.com/de/job-openings/
Patrick-Philipp Kasten joined Spread Group as Accounting Manager for Germany at the beginning of 2022. After 9 years in auditing, it was time for pastures new! With Leipzig being his hometown, he has followed Spreadshirt's story from start-up to international e-commerce company Spread Group. Patrick chatted to us about his diverse tasks here, why he has chosen Spread Group, and how he balances office and personal life.
How would describe your job at Spread Group?
As Accounting Manager for Germany, I am responsible for the annual and monthly financial statements of the parent company and its German subsidiaries, as well as making sure our team of 6 continue to work together. It's a very varied job in which I have to both be a manager and drive projects forward. For example, I am currently working with developers to automate more administrative processes. I am also the first point of contact for our auditor in the context of the single-entity audit of sprd.net AG.
Why did you choose Spread Group?
Before I applied, I had a look at the latest published annual financial statements. You could call that a symptom of being so long in the industry (smiles). And what I saw was there that the company had grown healthily and moderately – without any major fluctuations. In my eyes, that speaks for a promising business model. I was also very impressed about the fast application process. It felt like I had the contract within three days (laughs).
What's the best thing about your job?
It's got to be the collaboration with all departments in the company. In Accounting, we bring together a lot of information. Through this close contact, we know what the departments are working on or what projects are pending.
What talent and knowledge do you need for working in accounting?
A passion for numbers is important in accounting, but that's not the only thing. It is also very important to be familiar with MS Excel and other relevant programs. As an interface to all departments, you should also be communicative and enjoy working with others. Personally, I also find it essential to be able to observe things critically. Invoices should not simply be processed, but also questioned. This also requires a general understanding of our corporate structure and purpose in order to understand the more complex invoice correlations.
What did you want to be when you were young?
When I was a kid, I wanted to be an archaeologist, digging around and exploring the world. To this day I'm still very fond of gardening; after accounting, gardening would be my back-up (smiles).
How do you like to spend your free time?
I like to keep active to balance out the challenges of an office job. This usually involves a saddle, either on my bicycle or the motorbike. Since I was a kid, I've played the accordion, but I must admit this sadly only gets brought out twice a year or so. More regularly, I go fishing. My tip: get up early! Around Leipzig there are many lakes with fishing spots perfect for catching perch or pike. But there are also some great spots right in the city, for example in Plagwitz on the Karl Heine Canal near the Spread Group headquarters.
🧮  Want to find out more? Patrick is looking for support for his team. If you like numbers, a welcoming team, flexible home office options and more fishing tips from Patrick, apply now! 
Lena joined Spread Group 7 years ago, when it was still known as Spreadshirt. Starting out in customer service, she then moved on to become communications manager at Spreadshop. In the summer of 2021 Lena made the switch to Product Management where she is now the Product Owner for SPOD.
How would you describe your role at Spread Group?
Lena: It's now been 7 years in total for me here, but I've been the Product Owner for SPOD since last summer. I guess you could say I've come full circle. Just after I started here, during one of my first feedback sessions, the question popped up: which of the other roles at the company interest me? My answer was clear: Product Management. Right from the get-go I was fascinated by the work of product owners. A colleague from back then whose role I found particularly interesting is now my boss.
Can you sum up your job in 3 sentences?
Lena: As the SPOD product owner I am the one who connects the businesses with our IT department. My job is to aid the continuous development of SPOD and to make sure the customers' wishes and business goals are achieved. SPOD connects e-commerce platforms like Shopify, WooCommerce or Squarespace with our Print-on-Demand Production sites. Merchants can showcase their own designs on clothes and accessories. Orders which have been placed via the SPOD application are then printed by us and sent to the customer in the name of the respective merchant.
What's the best thing about your job as a product owner?
Lena: Simply put, my role as a Product Owner is a lot of fun. Programming fascinates me, but I actually can't code. However, there are definitely elements of programming in my current role. You also get the chance to work, as a team, step-by-step towards a goal, on things like new features that customers have been asking for. We plan it, program it, then check it. In the end, there is a result of work we've all combined for. That's what attracts me the most.
What kind of skills do you need for the job?
Lena: If you're not into organization and problem-solving, this isn't the job for you. When you're getting inundated confronted daily with bugs, feedback and new information you should always remain conscious of the main goals; the development and improvement of the products. Yet to find the best solutions, you still need a certain degree of diplomacy and mediation skills, especially when mediating between UX, Frontend and Backend.
What did you want to be when you were young?
Lena: Honestly, I can't actually remember. But admittedly, it probably wasn't a Product Owner (laughs). I had absolutely no experience in IT or software development before I started at Spread Group, and during my studies, I was still undecided what my next step would be. That's the great thing about the jobs here, they're so diverse. Everything is possible, from in house software development and production to business analytics.
What would be your dream job?
Lena: It was clear as I started at Spread Group 7 years ago that I wanted to get a foot in the door of the tech world and develop my skills from there on. Of course, I can use all the skills I have acquired in other areas or for a different purpose, but I wouldn't want to choose any other job at the moment. Moreover, the team at SPOD is strong and very international. Everyone is into the job and even though some of us have ever never met in person, it just clicks.
🚀 P.S.: We are currently looking for Product Owners (f/m/d) in the area of User Management. Do you want to be part of a design-driven team and create the best possible user experience alongside developers and other product managers like Lena? Then apply now!
Lisa Murray joined the Spreadshirt Marketplaces team as a visual designer in the fall of 2021. Spreadshirt is an independent brand of Spread Group, with Marketplaces connecting customer with a global community of designers. Most customers and Marketplace designers have already seen some of Lisa's work, as she is in charge of creating various visuals for newsletters, socials, website, and more. We talked to her about her first months in her new job with us.
Hi Lisa! Do tell us – what made you join us?
I was looking for a company in Leipzig and found Spread Group. The major factor for joining the company was the international team and diverse working environment. Then I realized the company had a great set of values that I can really relate to. With almost 50% of women in management positions, there is also a focus on women in leadership roles at Spread Group. I think that's pretty good.
Nice. And after you applied, was there anything about the hiring process that stood out?
The recruitment process was straightforward and quick. Everyone was super friendly. They helped with relocating to Leipzig, and I had enough time to sort things out. The prospect of starting a job in a new country can feel quite daunting and overwhelming at times, so I was glad they made it easy for me.
Good stuff! And in your day-to-day work – is there anything that gives you a buzz?
Every day I work on different projects. I get to tackle challenges that spurn my creativity. When I grew up, I couldn't decide whether I wanted to be a teacher or rather an artist. Now I'm very happy that I went with a more artistic career path, and I would always choose a similar job over anything else. Design is just so much fun.
And tell us about your colleagues – who's the craziest person you work with?
Everyone I work with is a bit crazy, like the whole design team! They have a super vivid imagination and create ideas 24/7. These people are really crazy (laughs). I find the atmosphere with designers from different departments here at Spread Group very inspiring. We get to meet once a week and share project updated and ideas. Within the Marketplaces Team, there is a small handful of us and that make for a lovely environment to share work-based ideas. In addition, I get to lend a hand to the licensing team with creating branded store visuals and many more super exciting tasks. Getting to work with famous brands is a lot of fun.
Last but not least: Are there any hidden talents or hobbies you'd like to share?
I speak Irish fluently and I make rugs. The latter is incredible time-consuming, but also very relaxing. Your mind can just let go. And I must admit I am a cycling addict. The Leipzig area is so nice and flat, which makes for a fantastic cycling ground.
Interested in joining #TeamSpreadGroup? Have a look at our career pages, as we are currently having many very exciting vacancies in different areas of the group.
Anna Triebel joined Spread Group as a software developer at the end of last year. She works in the Order Management Team, a team of 10 developers and product owners, covering everything about processing orders and payments. After her childhood dream of becoming an ice cream tester, her studies in philosophy and her first programming experiences in her spare time, Anna finally ended up studying computer science.
We had a chat with Anna and talked on the occasion of International Day of Women in Science, her career, and the challenges that come with working in IT. She's also sharing a few hot tips for women who want to start programming.
Hi Anna! What do you do at Spread Group?
Anna: I've been a software developer in Order Management for four months now. We mainly take care of the software components for order and payment processing. I'm currently working on the topic of fraud detection. The goal here is to use technology to detect "suspicious orders", for example orders with stolen credit cards.
What convinced you to choose your job at Spread Group?
Anna: Two factors were decisive here. I liked both the tech stack and the corporate philosophy. The technology sparked my interest, and the atmosphere in the workplace struck me as quite relaxed. There's no dress code and I can flexibly arrange my working hours. Straight away I had the feeling that Spread Group could offer me an environment in which I would feel comfortable – and it worked out!
Was there anything that stood out during the application process?
Anna: What I really appreciated was the frank and very open way of dealing with people. I felt that they had an open ear for my expectations and respected me as a person. I had to solve a programming task that gave me a fair idea of what was required. Good stuff! I was also able to meet my future team to discuss the task. This helped me meet my colleagues, and I got a good impression of their personalities. Then we had lunch together, and I felt right at home.
Have you always wanted to work in IT or software development?
Anna: When I was a child, I wanted to be an ice cream tester (laughs). I saw it on a TV program for kids and was immediately sold. And then I started out studying two quite different subjects, philosophy and IT. The latter won in the end, and I realized that those two subjects were not too different all together, as they're about abstract concepts described in text form.
Are there any obstacles that make a difference for women in IT?
Anna: Unfortunately, women are still underrepresented in IT. Having said that, the proportion of women keeps fortunately increasing. I personally like diverse teams with different personalities, regardless of gender. But it would be nice to see a few more women in IT, at least this is how I felt in the early stages of my professional life. And women in leadership roles are very rare, which is something that I think could do with improving.
What advice would you give women looking for a career in IT?
Anna: Do whatever you like doing most. If you enjoy programming, go for it! Programming is no witchcraft. I also feel that my work environment is very empowering, regardless of gender. The support I receive is very important. So – don't be afraid to get started and surround yourself with people who take your goals seriously and support you!
What talents do you need to be a software developer?
Anna: Motivation and a penchant for programming. It's essential to understand abstract concepts, and to develop an ability to think like that. Teamwork and communication skills are also important, which is often underestimated. As a developer, you'll need to be a good listener in order to understand the models. Then keep asking questions until it's clear what you want to achieve. In the end, you'll have programmed something that people will find beneficial. And that's quite wonderful.
🚀  P.S.: We are currently looking for Software Engineers (f/md) Backend, Frontend, Fullstack – to learn more and apply check out our career page.
Merle and Katharina are both doing an internship at Spread Group. We spoke to them to get an insight into the daily life of an intern, what tasks they enjoy most, and whether they recommend doing an internship at Spread Group (and yes, it is :)).
Hello you two! What exactly do you do at Spread Group.
Katharina: Hey, I'm Katharina, 20 years old and I'm in the 5th semester of studying Book Trade & Publishing at the University of Leipzig. I'm currently doing a six-months internship at Spreadshirt in the Marketplace Licensing department.
Merle: Hi, I'm Merle. I'm studying Media & Communication Studies in Ilmenau and I'm doing a 6-months internship at Spreadshirt that I need for my studies. I support the marketing team of the Create Your Own business unit. This is the area where customers can design their own clothes with photos, texts, or designs. I mainly take care of newsletters and blog posts.
Katharina, do tell us what you do in the licensing team at Spreadshirt?
Katharina: We work with licensing partners whose designs we sell on Spreadshirt's marketplaces as well as external marketplaces such as Amazon. It's a long process from design creation to communication with license partners to approval of designs and marketing. Well-known licenses at Spreadshirt include Harry Potter, Game of Thrones or Peanuts, for example.
And why did you decide to work for Spreadshirt or in the field of licensing? What does that have to do with your studies?
Katharina: I was already very interested in licensing during my degree course. I didn't just want to see the licensing business from the publisher's point of view, but also to get to know the perspective of a company as a licensee. It's always good to see different processes. I chose Spreadshirt because the corporate philosophy appealed to me, and there were very good vibes during the interview.
What makes the atmosphere at Spreadshirt special for you?
Merle: The working atmosphere! You come here and immediately feel at home. I remember being super nervous at my job interview. But I was made to feel at ease during the interview very quickly. The whole team at Spreadshirt is totally nice and open.
Katharina: I also really appreciate that the atmosphere in the team is so good and that you can deal openly with criticism. Everyone is helpful, supportive and encourages the others with motivating feedback. There are also nice offers like fresh fruit, free soft drinks and feelgood activities that make a day in the office very pleasant.
Merle: You don't feel like an intern since you're given a specific area of responsibility and get down to work straight away. I thought I might have to do boring copy and paste stuff or spend days at the photocopier, but I was in for a pleasant surprise (laughs). The team is really welcoming!
What are your specific tasks and what's your day-to-day work like at Spreadshirt?
Katharina: My internship is quite diverse. I experience the entire licensing process and can take on tasks independently. In addition, I take care of the communication with the license partners and create the appropriate products such as T-shirts, sweaters, or accessories in the backend. I accompanied the entire process of creating the designs as well as the decision-making process. In marketing, for example, I create graphics and videos for social media and offline campaigns. This is a good thing as it further increases my knowledge.
Merle: In the Create Your Own team at Spreadshirt, we send out at least one newsletter per week that gets published in four languages. I design the approximate structure in advance and decide which photos to use. Then I write posts for our SEO page and our Create Your Own blog and promote the blog posts on our Facebook, Instagram and other social media channels. Sometimes there are also research tasks where I gather information on various topics in marketing.
Do you have something like your own project in the internship?
Katharina: Yes! I was, for example, able to take over the support of individual license partners completely on my own. I'm also responsible for videos in marketing as part of the team and was able to try things out a bit.
Merle: I can say the same, I enjoy a lot of freedom. Especially when it comes to newsletters and blog posts, I have a free hand in creating them and can exercise creativity as well. The texts are checked by the copywriting team, but by and large I can take on the topics independently.
What do you enjoy most about your internship?
Merle: The tasks where I can get creative myself are the ones I enjoy the most. Especially creating the newsletter or writing my own texts.
Katharina: I enjoy the marketing part the most. That's also what I found most exciting in my studies. It's very nice that I can also deepen this in the licensing team.
Are there ever boring tasks that you don't enjoy as much?
Katharina: Sending out contracts! Of course, it's also part of it and is important because without contracts there are no license partners (laughs). But it's quite monotonous. Other than that, there is always a lot of variety and I have never done the same task for a whole day.
Merle: I once had to recreate all the designs I had created over four months since the links had expired. This dragged on for two weeks, and after that I couldn't stand doing that anymore. Tasks that drag on for so long obviously get less exciting at some point. But because the newsletters and topics vary every week, I actually quite enjoy it.
Have you experienced any memorable moments already?
Katharina: We generally have a lot of fun moments in the office, like throwing hoops with the mini basketball set. And for a Harry Potter shoot, we were provided with the original Nimbus 2000 broom by the license partner and were then allowed to take photos with it, which was also very exciting.
Merle: There's never a dry day with my team. I wouldn't have thought that you could have so much fun at work. There's always something to laugh about, and funny situations keep coming up in our internal chats. Our team event was also a lot of fun when the whole team went bowling together. It's very nice to see people from work having a fun time away from work.
How does the internship help with your professional orientation? And what will you do next?
Merle: The internship helped me a lot. I wasn't really sure which direction I wanted to take after graduating, but now I know that I want to go into marketing. I'll be going back to university, because I still have a year to go. After that, I would like to get my professional life going with a trainee position, for example.
Katharina: I have come to take great interest in the licensing sector. I only knew the theoretical side from my studies, and only the publishing perspective. The internship showed me that licensing is a really cool sector, and I can imagine doing something similar later. But for now, I'll continue with my master's degree.
Thank you very much for the interview and all the best for you!
Editor's note: Katharina and Merle have since both got their professional career started at Spread Group. Katharina works as a student trainee in the Licensing team, and Merle is a project manager in the Create Your Own department.
Marcus joined Spreadshop as a Category Manager in November last year. As an independent brand, Spreadshop is part of the Spread Group universe and offers a free online shop system for creatives, companies, and associations worldwide. Marcus is responsible for the assortment area, which means he takes care of all products such as clothing, accessories, or home & living products. He sees to questions like "Which new products should be available in the store?", "Which ones are old news?", and "What are the current fashion trends?" Marcus keeps an eye on global fashion developments and analyzes customer needs. We talked to him about his first weeks in his new job with us.
What made you decide to join Spread Group?
Marcus: I have known Spread Group for quite some time and have also had my eye on the Category Manager position. I was unsure whether I had the best qualifications for this position, and a direct message from the recruiter on LinkedIn motivated me to take a closer look at the job. She presented the position to me in more detail, and we agreed on an initial, non-binding meeting. In my old job, I traveled a lot and I wanted to create a home base. Since I already had the job in mind, it was the perfect moment for a new start. It felt right from the start (laughs).
And what do you find exciting about your job as Category Manager?
Marcus: Empowerment. I was able to take on responsibility from day one. Although I've only been with the company for a short time, my manager has a lot of trust in me. Even in areas that are still quite new to me – as for example pricing – I can make decisions independently.
What skills do you need for this job?
Marcus: A penchant for fashion and a feel for trends and people. You should also have an interest in social media, as this is where trends emerge and pick up speed very quickly. An analytical understanding and the ability to quickly recognize correlations should not be underestimated.
And when you're not at work today – how do you spend your time?
Marcus: I spend a lot of time with my dog and enjoy being out and about with friends and family. I've also been running my own online shop with two friends for a couple of years. We sell synthetic hair wigs. I am mainly responsible for the design of the shop and choose the products.
Do you have any hidden talents or hobbies?
Marcus: I am passionate about drag queens. That was also the reason for my own wig online shop. I can completely "transform" myself in just under three hours (laughs). This passion also has advantages for my day-to-day work, especially when it comes to assortment. I simply know what's hot among women at the moment.
Interested in joining #TeamSpreadGroup? Have a look at our career pages, as we are currently having a lot of very exciting vacancies.
Spread Group supported this year's "Sponsored Wishlist Campaign" of the non-profit organization Leipziger Tafel e.V. and fulfilled the wishes of 50 children in need.
"Christmas is the Holiday of love and togetherness, where sparkling children's eyes are a must. Unfortunately, not all families have the financial means to pursue their children's dearest wishes. That's why our colleagues at Spread Group have joined forces to fulfill 50 Christmas wishes for the Leipziger Tafel", says Nelly Flieger, Feel Good Manager at Spread Group.
The internal gift givers were found very quickly. Within a few hours, Spread Group employees had divided the wish lists among themselves. The voluntary donation campaign was met with great interest and joy within the company. The 50 lovingly wrapped Christmas gifts were handed over personally to the Leipziger Tafel.