Show All News
The City of Leipzig's Family Friendliness Award has been presented for the 13th time. This year, companies and institutions were honored that showed particular commitment to the compatibility of family and career during the pandemic. In the "Retail & Distribution" category, Spread Group received the award for being a family-friendly employer.
Local companies became particularly active and also creative in the context of family friendliness during the pandemic. That was the big issue at this year's presentation of the City of Leipzig's Family Friendliness Award 2021. Several Leipzig businesses and institutions applied, and Spread Group can count itself among the award winners.
"The compatibility of family and career is a living culture at the Spread Group. For home-schooling and home-care, parents working at the company were provided with additional technical equipment for digital lessons. Working hours can be individually timed to fit in with family situations. Strategies have been devised for online meetings to ensure that the fun factor is not neglected. Digital sports breaks, lunch lotteries or an Easter challenge are just some of the actions implemented to support the team during the pandemic. This also applied to the children: For them, special kids' yoga classes and a kids' disco were created," says the current press release of the city of Leipzig.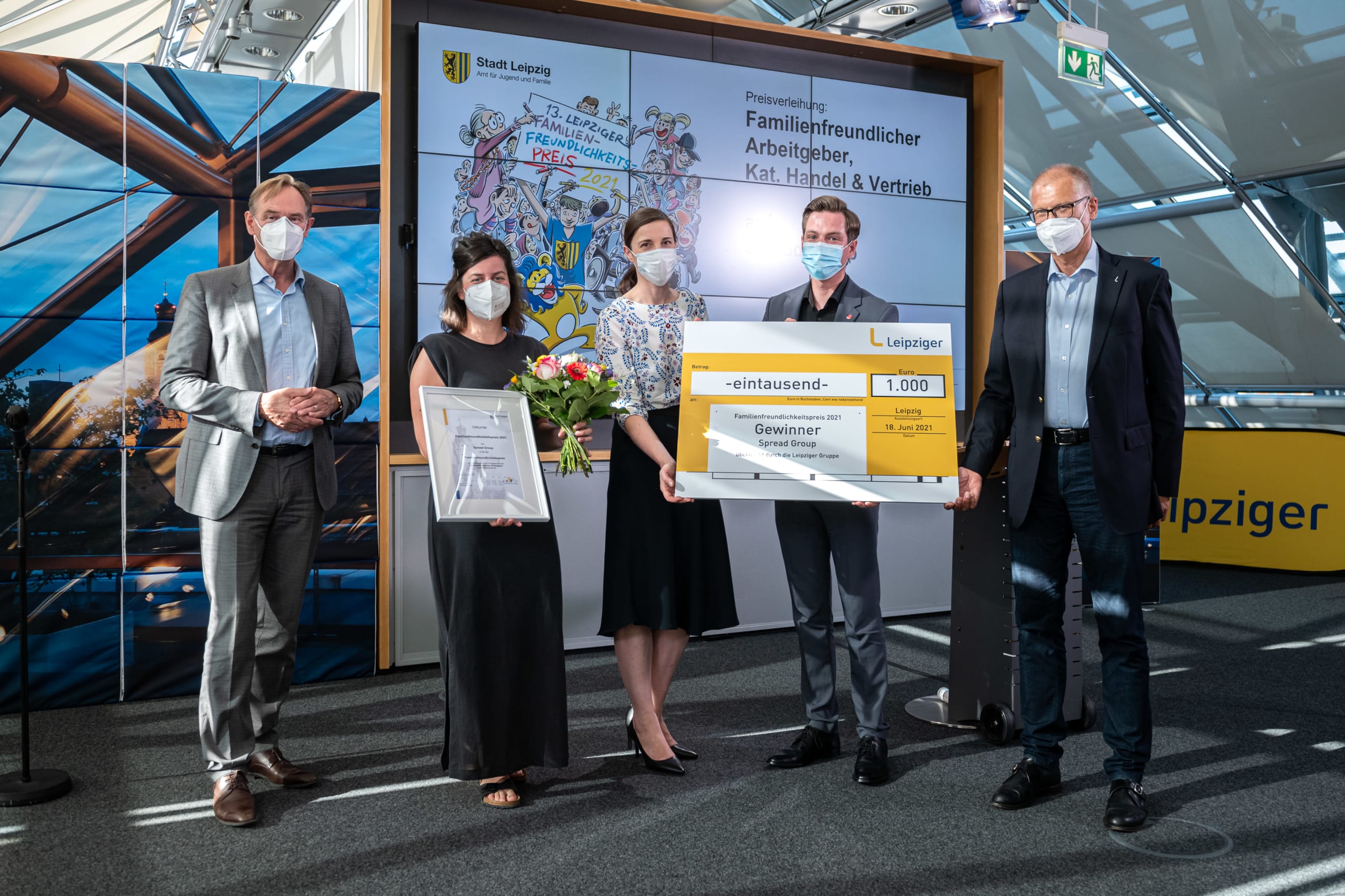 Burghard Jung (Mayor of Leipzig), Silvia Lauterbach (Spread Group), Vicki Felthaus (Mayor for Youth, School and Democracy), Georg Teichert (Central Equal Opportunities Officer for Equal Opportunities, Diversity and Family at the University of Leipzig) and Volkmar Müller (Managing Director LVV), from left to right, © Copyright Eric Kemnitz.
In his laudatory speech at the award ceremony, Georg Teichert, Central Equal Opportunities Officer for Equal Opportunities, Diversity and Family at the University of Leipzig, paid tribute to Spread Group: "Giving expression to messages is Spread Group's corporate idea, and when it comes to family-friendliness, this company has a very clear plan for its employees, where home office has long been part of everyday life. The corporate culture is characterized by flat hierarchies, a willingness to engage in dialog and participation at all levels."
The jury of the Family Friendliness Award was particularly impressed by the fact that Spread Group has always thought about the children of its employees and has created (virtual) formats such as Kid's Yoga or Kids' Disco.
With the words "We as jury members say 'wow' and are thrilled by so much commitment!" Silvia Lauterbach, Head of Recruiting & Employer Branding at Spread Group, will ceremoniously hand over the certificate and the prize money. "Many thanks for this award and this great laudation! I would like to give a very special thanks to our colleagues and Spread Group's management. They have always supported and promoted all these ideas and actions. Hopefully, we will continue to have the courage to be an innovative pioneer and inspirer," says Silvia Lauterbach.
Spread Group's Image of Family Friendliness
Work-life balance has been an integral part of Spread Group's culture since the beginning. As a family-friendly employer, the company relies on 100% trust-based working hours with flexible home office options and usually no appointments after 4 pm. With a very accessible HR department, family-friendly part-time models can be agreed with the employee and implemented promptly. In addition, the company has maintained a successful cooperation with a daycare center in Leipzig for several years. Since 2011, the company's Feel-Good Management department has also been firmly established. Among other things, it organizes yoga and meditation breaks and joint after-work events for colleagues, summer parties and hiking days, as well as children's activities such as the kids' disco and painting activities, all of which currently take place virtually.
In addition to Spread Group, other Leipzig institutions and companies have been honored for their commitment as family-friendly employers. The award winners include pioneer communications GmbH, the Mütterzentrum Leipzig e.V. association and the Dr. Anita Wieser practice. Kunststoffzentrum gGmbH was also honored with the special prize of the Leipzig Chamber of Industry and Commerce. The prize of the children's jury went to a Grünau cooperation project between the Grünau Family Center (Caritas Leipzig e.V.), Haus Steinstraße e.V. and the association dezentrale e.V. The prize was awarded in a small circle of finalists on June 18, 2021 in the LVZ dome.
To watch the award ceremony there is a video recording, which can be accessed at the following link: https://www.leipzig.de/buergerservice-und-verwaltung/unsere-stadt/auszeichnungen-und-ehrungen/familienfreundlichkeitspreis/
Please direct your questions about Spread Group to our Corporate Communications team.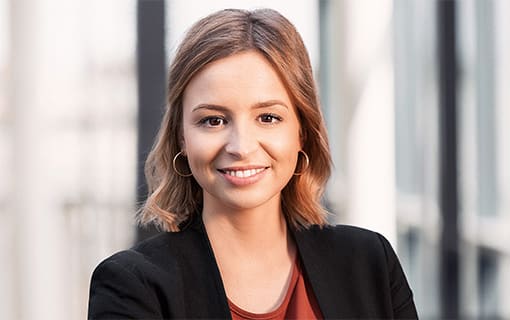 Romy-Marie Ulrich
Corporate Communications Specialist