Show All News
Next Gen Merch: Sustainability and a Sense of Belonging within Brand Guidelines 
Leipzig/London, 13th September 2023 – Over 20 brand names under Hasbro Licensed Consumer Products will become available on the next generation fashion platform, Spreadshirt. By adding this impressive new signing, Spread Group – the parent company of Spreadshirt – looks to exceed expectations in 2023.
The deal will cover brands from PEPPA PIG and MONOPOLY to DUNGEONS & DRAGONS, in addition to the newly beloved BLYTHE, featured alongside all-time favourites MR. POTATO HEAD and MY LITTLE PONY.
There's even something for the tabletop gaming lover too. As DUNGEONS & DRAGONS came to the big screen, Hasbro will offer Dungeons and Dragons: Honour Among Thieves merchandise via Spread Group. MAGIC: THE GATHERING will also benefit from customisable styles.
Fans will be able to choose from MONOPOLY umbrellas, Transformers: EarthSpark 'Unity is Power' caps and G.I. JOE sweatshirts. Additionally, DUNGEONS & DRAGONS fans can emblazon their hoodies with the maxim 'Fight Tyranny, Defend the Oppressed, Ask Nothing in Return.
Sven Burscher, Spread Group's Head of Licensing said:
"Choosing their own styles offers fans a new aspect to their merch. Our made-to-order technology impresses Gen Z with its sustainability credentials. Being able to tweak their item gives fans a strong sense of loyalty to the brands they love. It can also all be done within the brand merch guidelines. We're delighted to be working with Hasbro to bring this merchandise to market".
Sustainability is an increasingly important element in merchandising deals. Underpinning Spread Group's offering to brands is its print-on-demand technology. This reduces waste because no item is printed until it is ordered. So, there's no overstocking or discarded sizes. It also brings down the likelihood of returns, as customers invest in a style and size to suit them.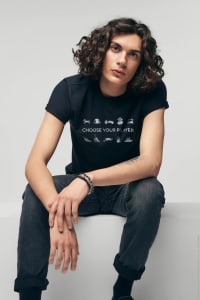 Hasbro brands already available at Spread Group include:
PEPPA PIG
TRANSFORMERS
My little Pony
Power Rangers
Furby
DUNGEONS & DRAGONS
Magic The Gathering
Monopoly
PJ Masks
Additional Links:
About Hasbro
Hasbro is a leading toy and game company whose mission is to entertain and connect generations of fans through the wonder of storytelling and exhilaration of play. Hasbro delivers engaging brand experiences for global audiences through toys, consumer products, gaming and entertainment, with a portfolio of iconic brands including MAGIC: THE GATHERING, DUNGEONS & DRAGONS, Hasbro Gaming, NERF, TRANSFORMERS, PLAY-DOH and PEPPA PIG, as well as premier partner brands.   
Hasbro is guided by our Purpose to create joy and community for all people around the world, one game, one toy, one story at a time. For more than a decade, Hasbro has been consistently recognized for its corporate citizenship, including being named one of the 100 Best Corporate Citizens by 3BL Media, one of the World's Most Ethical Companies by Ethisphere Institute and one of the 50 Most Community-Minded Companies in the U.S. by the Civic 50. For more information, visit https://corporate.hasbro.com. 
About Spread Group
Spread Group is a global provider of customized fashion and lifestyle products. With the brands SPREAD, Spreadshirt, Teamshirts and Spreadshop, Spread Group offers consumers, companies, and content creators digital services for the individualization of fashion and lifestyle products. The common basis of all Spread Group service offerings is a flexible software platform that enables deep vertical integrations along the value chain. This includes not only product design, marketing and sales via marketplaces and online stores, but also production, payment processing, worldwide shipping and customer service. The made-to-order pioneer founded in 2002, in Leipzig, Germany, now operates four production sites in the U.S. and Europe and has annual revenues of over 175 million Euros. Spread Group has more than 20 million customers in over 170 countries.  
Press Contact  
Nora Kulling, Spread Group  
t: +49 (0)341 594 00 5381