Show All News
Design Thinking has become indispensable in the field of innovation and digitalization. At Spread Group, the creative process is the tool of the trade for our product developers. Systematically addressing complex problems and developing innovative products and services is Erkan Öğümsöğütlü's daily business. The Digital Product Designer has been with Spread Group for three years. With his Design Thinking experience he drives forward our brand SPOD, a dropshipping print-on-demand service for merchants. We asked Erkan what Design Thinking is about, what benefits and challenges he sees, and what advice he can share.
Hi Erkan, what's Design Thinking to you?
Design thinking is a special approach that helps us solve complex problems. There are certain stages designers need to go through to address and manage a problem effectively. Here "design" is not only referred to in a visual sense, but rather as a process to examining the need and the problems itself. Experimentation helps approaching the ideal solution. Essentially, the Design Thinking approach is not only for digital products. It can be used for all sorts of complex problems in any field, such as public transportation, festival organization, museum planning, factory processes, and so on.
And how does Design Thinking work?
To be able to solve a problem, those who are responsible with the certain service need to know their audience and their needs very well. They must investigate the problem and the customer's pain points to fully grasp the issue. The Design Thinking approach consists of roughly five stages. The first stage is all about understanding the issue with the help of fundamental research. Then the second stage identifies the core problems while defining the details. After that, designers can start speculating on the problem definition and potential solutions. Generating ideas would be the third stage where designers mainly create hypotheses that can potentially solve the problem. Before implementing an idea right away, which might be expensive and risky without figuring out if it really solves the actual problem, it is smarter to create a prototype to define all the details of the hypothesis. This is why the fourth stage is prototyping and the fifth one, which would go hand in hand with prototyping stage, is testing this hypothesis. Such tests are usually called "usability tests" or "user tests" and are conducted by researchers using the prototype created by the designers.
Theoretically, this all sounds like a very linear and strict process, but in practical application it is a process of iterations. If designers come across to a problem in the prototyping or in the test stage, it is necessary to go back and forth. Eventually, a tested and approved idea will be implemented to see the impact in its full scope to improve the user experience.
Do you have an example from your everyday work?
Together with my team, I'm proactively working on the SPOD web app. This web app enables registered users to place designs on apparel and non-apparel SPOD products. They can then be sold on external marketplaces and shop platforms such as Shopify, Amazon, Etsy, etc. SPOD prints the designs on products. When choosing or uploading a design on a certain product, there is an interface that users can directly interact with. Since this is the most used area of the app, it is also the area where we, the product development team, get the most insights about the user's experience. Most of the time we learn from users what their pain points are by conducting surveys, feedback on social media accounts, direct email communication, usability studies, data analysis and through many more ways. When we hear about a certain problem a lot, we initiate the first stage of Design Thinking. We need to dig deeper and understand a wider aspect of that issue.
One of the main insights we could gather so far is that users are getting tired of creating multiple products with one design they want to print. The app does not support this level of automation yet, unfortunately. To be able to define the problem in detail, researchers conduct interviews with our SPOD users. We evaluate the insights together. In a later phase, we will run workshops by bringing these insights together to ideate and generate hypotheses for a solution. Following this, a prototype will be created that mimics this solution. Then researchers will again take over for testing, and we will see whether the solution works for the users before fully implementing it. So basically, my everyday work includes small pieces of these steps where I manage communications, design interfaces and prototypes, collaborate with researchers on the testing and evaluate results.
What do you think are the biggest advantages of Design Thinking?
Instead of giving sets of strict rules to follow, Design Thinking helps teams adapt a sustainable and reliable mindset that they can work out along with many supportive methods. Generally, the approach leverages the center of the user's perspective through research, rather than relying solely on imagined solutions. For this reason, Design Thinking helps minimize the risk of wasting time, money, and resources on unnecessary features, ideas, and services. If the Design Thinking approach is not ingrained in your organization's genes, you might develop wrong solutions with lack of understanding of the real problems and lack of validation of your ideas. As a result, your user experience will suffer, and you would be bound to lose time and money. In addition to that, I think it's great that Design Thinking fosters innovation by getting in touch with real users and exploring uninvestigated opportunities.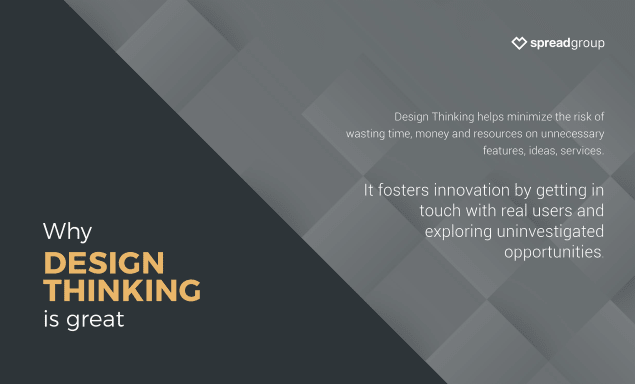 And are there any disadvantages?
I think there are only challenges, but no disadvantages. The main challenge is to strike a harmony and good rhythm with today's fast-cycle product development processes. If product development and design processes lack coordination and collaboration due to time pressure, the product or the service will be struggling to get the best out of Design Thinking. And this is obviously not what we are aiming for. Take the time you need and proceed carefully, then magic will happen. I believe in the magic that a good combination of design and engineering can bring about.
What tips and advice would you give before getting started with Design Thinking?
Frist of all, Design Thinking cannot be imagined without good collaboration. Teams should work hand in hand to connect the process of Design Thinking and product development to get an effective outcome. It is important that everyone has the same understanding of Design Thinking! I have experienced that many non-design professionals have just very rough knowledge about the approach. Product teams and managers should get training to embrace the entire Design Thinking process so that it can also become a core part of an organization's DNA. Last but not least, nothing works without a solid research foundation. Teams really need to make sure they have experienced researchers to generate a well-working Design Thinking flow. Otherwise, the magic of Design Thinking could be nipped in the bud.