Show All News
Quick, strong and independent: it's not exactly a coincidence that 7 years ago Annina Vetterman helped set up "Wonder Woman", the first licensed topic for Spread Group. Thanks to a remarkable amount of willpower, she finished her bachelor's in Media Production, a master's in Media Management, all while working with us as a graphic designer. Oh, and she was a young mother at the time, too. This eventually turned into a permanent job as a graphic designer for licensing. Today, she's the Licensing Success Manager, a role which covers a range of topics, all focused towards successful merchandising strategies. Annina also develops marketing campaigns, organises donation drives and cooperates closely with our over 200 partner brands, including many with core sustainability values.
Spread Group: How would you define sustainability?
Annina Vettermann: For me, sustainability starts in the mind. It's wrong to think that small scale changes don't make a difference – our actions have an impact on our entire environment. We can easily change a few things in our everyday lives, such as separating waste properly or drinking more tap water.
Spread Group: What drives you to live a more sustainable lifestyle?
Annina Vettermann: My son! When we go shopping, ecological factors always influence what we buy and what we don't. I'm impressed with how knowledgeable this generation of young people is. I wouldn't have been able to reflect on my consumption like that when I was 14. In a lot of ways he's right, to keep our planet intact and liveable, we need to consider how we consume. When it came to getting a Christmas tree, he eventually managed to convince me that it doesn't make sense to take a healthy, living tree and put it in your living room.
Spread Group: What sustainable projects are you and your team working on?
Annina Vettermann: At the minute, our biggest project is the cooperation with Studio 100 Media as part of their educative initiative Projekt Klatschmohnwiese (Project Poppy Meadow) with Maja the Bee. This year, we also planted created our own wildflower meadow on the roof terrace at our Headquarters in Leipzig. Then we called on our employees to take part in a competition to find the wildest flower meadow, as well as offered competitions boosting awareness of Spreadshirt's organic collection.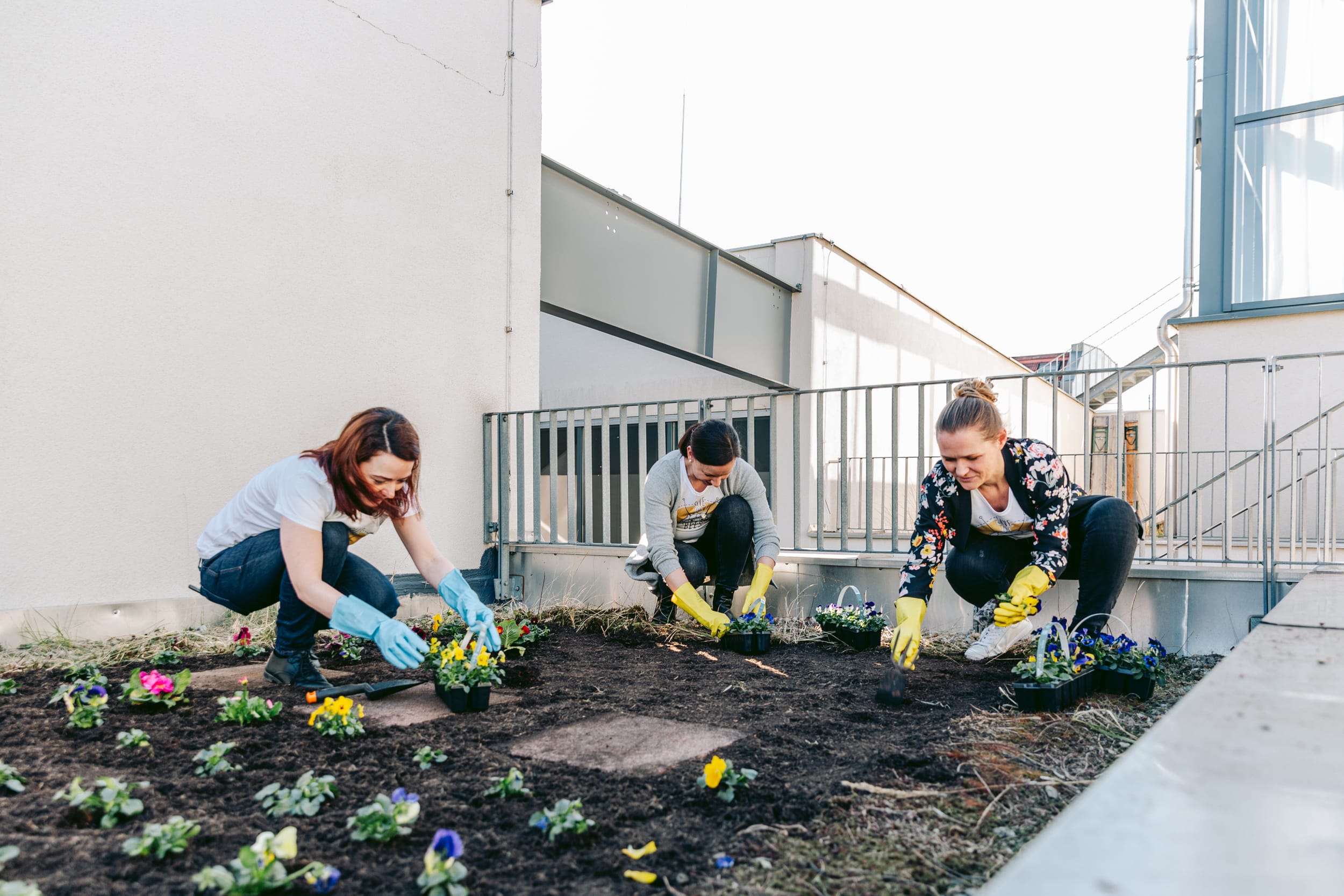 In terms of our internal processes, we have cancelled our license partners' printed brochures and publishing programs, switching to digital magazines. In fact, the licensing team even sometimes received certain print issues three times because colleagues had subscribed to them independently. Most of it went straight into the garbage can. I find the digital brochures much more practical anyway, because I can also read them on my smartphone.
In addition, the Licensing Team is often on the road a lot, at trade shows and conferences. Due to the pandemic, these have taken place completely digitally in the last two years, which has saved travel time between appointments, among other things. Within the industry, it appears that some events will now be permanently digital, and many will be hybrid. I'm curious to see if this trend is here to stay.
Spread Group: What are your concrete sustainability goals?
Annina Vettermann: We are working to reduce our paper consumption to a minimum. We also pass on requests and suggestions from our license partners to our purchasing and product range departments. For example, for a larger range of organic products. Currently, our colleagues in the purchasing department are already working on finding sustainable alternatives for each product type in our range, such as our plastic lunch boxes. We also want to establish long-term cooperation with our license partners. Whether it's a big brand or a "niche" brand – we are not interested in short trends, but in sustainable brand building. To achieve this, the licensing team needs to take to strategically develop the right themes.
Spread Group: What would you recommend to readers who are looking to delve further into sustainability?
Annina Vettermann: When I go shopping, I often ask myself the killer question; 'do I need it, or just do I just want it?' A lot of impulse buys disappear when I do this.
Related links
Corporate Social Responsibility at Spread Group: www.spreadshirt.com/sustainability
Projekt Klatschmohnwiese: www.diebienemaja-bienenschutz.de