Show All News
At Spread Group, we have several helpful tools and events to guide our new Spreadsters through their orientation. The goal is to get to know each other and the company.
Onboarding plays an essential role in every employee's experience at a company. Feeling welcomed, supported, and integrated into an organization, and learning about the structures and culture creates our first impression at a new job. That is why onboarding at Spread Group is designed to provide numerous offers and support systems to new employees during their first weeks at the company.
The Welcome Package
The onboarding journey starts on the first day, where we provide our new employees with a welcome package filled with useful goodies. Among them is the Onboarding Booklet – a brochure filled with important information about the company, its structure, our values, and frequently used words or abbreviations. The package also contains an Onboarding Pass, which can be used as a name tag and a checklist for completed onboardings.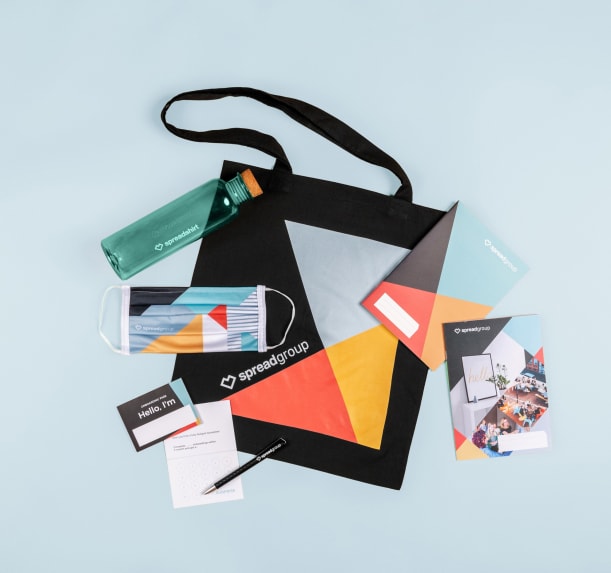 Onboarding Meetings
Our onboarding meetings are a central part of the process because they provide detailed insights into our departments and teams that a booklet cannot. In total, we have 27 onboardings: 7 mandatory and 20 additional meetings. A team leader chooses the most relevant onboardings for their employee. Their purpose is to give new employees an overview of our departments and teams, their tasks and responsibilities, as well as useful information and contact persons for specific issues and questions. At the same time, they give attendees a chance to network and get to know colleagues.
Welcome Tour
A special additional onboarding provided by our people and culture team is the welcome tour. Because we have a quite large building in Leipzig, it is important for new employees to know their way around and to know which team is to be found where.
Internal Introduction & Events
To support the interpersonal communication and get2know process, we provide our new Spread Group colleagues different options. The internal introduction is carried out by your team and within our internal communication channels, such as our blog and company events. Among those events are lunches and Get-togethers with other colleagues, to help new employees to chat, connect and get involved.
Feedback
Creating a comfortable onboarding environment is an ongoing process. We strive to constantly develop and improve it, to create a satisfying experience for every new employee. Feedback is an integral part of this process. To help with this, we implemented a 3-month-feedback conversation that includes questions about the recruitment process, onboarding experience and your satisfaction with your team, tasks, and responsibilities.
Our onboarding process consists of several steps to make sure that new employees get all the information and support that they need during their first weeks at Spread Group.
Would you like to experience our smooth onboarding process? Then check out our open positions!