Show All News
Hussam Tatari is the producer of our premium collection, and his family-run business has been devoted to the textile industry for over 100 years. When the political situation forced the closure of their factory in Aleppo, Hussam didn't feel like quitting. Today he says: "What I love is to continue what my family has been doing for generations, and it fills my heart with pride that my family name has been standing for quality all the while."
Hello! Can you briefly introduce yourself?
My name is Hussam Tatari, and in my company we are four partners: that's me, my brother, my Italian partner Massimo Burdo, and Tobias Friedmann from Germany. On August 22nd, we had a video team here to document how the company produces. The footage also shows how we implement measures for sustainability, because this issue is very important for everybody and our future. We are already accepting this challenge today. It's important to take these measures before our competitors do, because it creates additional value that will help us stay ahead of the market so that we can successfully sell clothes today and tomorrow.
How did you become a clothes manufacturer? And what do you love about your profession?
By profession, I am electronical engineer, and after my studies I decided to join our family business in textiles. For three generations and over 100 years, the Tatari family has established a textile business in Tangier, Morocco. In my time, this has been run by my cousins. And when I finished my studies, I established production facilities in Syria to continue the family tradition with a production site in Aleppo. In the beginning, it was a lot of hard work, and thankfully it became quite successful over time.
From what we hear, it has to do something with Queen Elisabeth as well.
There has been a long tradition of clothes manufacturing in Syria. We have been exporting fabrics to the United Kingdom for a long time, and Queen Elisabeth's brocade wedding dress was made in Damascus of natural silk fabrics that stemmed from Aleppo.
And what do you love about your profession?
When producing a piece of garment, we start with quality yarn to make the fabric, and then we dye it to create something from scratch that hasn't been there before. This is why I'm passionate about my products, and it is the main reason I wanted to become a draper. It gives me great satisfaction to create something with my own hands, so to speak. This is very important to me.
You moved to Turkey from Syria in 2011. How did you manage to put up your manufacturing company in such a short time?
Unfortunately, the political situation in Syria hailed an end to private businesses like mine: it was first nationalized and then closed. We relocated to Kahramanmaraş in Turkey, because it was only about 150 kilometers from my home city. There has always been the thought of going back to Syria one day – this is why I didn't move further away. In the beginning, it was a completely new situation in a strange country. We came here with 50 people to start anew, most of them family members and former employees. We didn't have any money or equipment, because everything had been taken away from us. It was a big challenge for us.
All our customers supported us from the start, when they gave us advanced payments. This trust was based on well-established customer relationships, as we'd been growing with our customers – or partners, which describes it much better – for over 20 years. Two of our customers and my German business partner lend us money so that we could get started again. We were blessed to be given a new chance. After only 18 days of relocating, we were able to ship the first container of new products we manufactured at our factory in Turkey. What started with just 50 people that travelled across the border has now turned into one of Turkey's great clothes-manufacturing success stories. Today we have over 2,000 employees and generate an annual turnover of €70m.
You produce garments for well-known European companies, like Engelbert Strauss, Versace, Lonsdale, or Alpha Industries. How did the collaboration with Spread Group start?
Spread Group approached us in 2015. They liked the products and were interested in our ethics. We like assuming responsibility by not only complying with laws and regulations, but acting in a socially responsible manner. We want to ensure that everyone involved in the production process has a strong sense of responsibility to live up to our standards. These are ethical standards that include sustainable conduct and collaborative social responsibility, such as BCSI. We all want to have a bright future. After the CEO of Spread Group visited us to see for himself how we produce, Spread Group placed the first order and have been ordering from us ever since.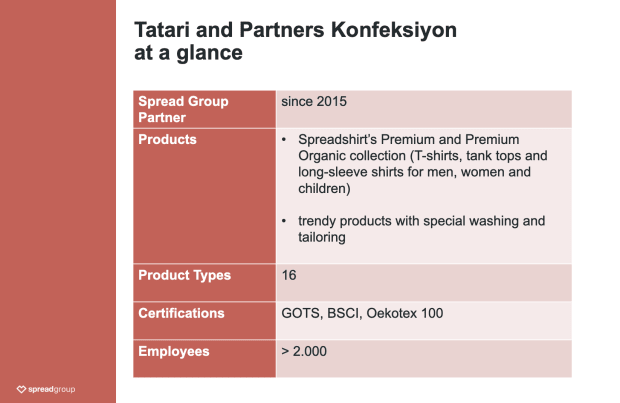 Are the third-party companies you use for spinning, knitting, and dyeing in the area? And what are their quality standards like?
As of this year, we've been doing everything mind spinning yarn inhouse. This is how we were able to shorten the supply chain and become more sustainable. And most of the cotton we source comes from Turkey and Greece, which is another way of having short supply chains. We expect the partners we work with to ensure the same degree of social responsibility that we have. We make sure our partners adhere to ethical and environmental codes so that the commitment is not limited to environmental and ethical compliance, but also facilitates an improved socioenvironmental setting for the workforce.
Sustainable clothing is becoming more and more important. Do you have any goals to become more sustainable?
It is very important to us to guarantee a high degree of product standards to our partners, because we want to ensure that our production conditions meet the expectations of both our staff and our customers. We are very happy that these measures helped us be awarded the OEKO Tex and GOTS certificates. Moreover, in the section where we dye our fabrics, we use gas instead of coal until the installation of solar cells has been completed to supply electricity. This will result in higher production costs of 50 cents per kilogram, but we are fully committed to reducing pollution wherever we can. We are also installing a green hydrogen station. This way, we will manage to obtain renewable electricity by means of electrolysis. Hydrogen gets separated from the oxygen you find in water, which is a great alternative to traditional energy resources. We are hoping to start using it next year.


It feels like you have a great passion for creating garments. What makes you happy about it?
I am happy when I get the job done perfectly. This is when I feel supportive as a service provider. I always ask my partners and customers for new ideas, so it doesn't feel like we're a photocopy machine that keeps producing the same things over and again. Currently, it's the sourcing of organic cotton and using recycled materials to create new garments. I really like exploring those new avenues. We undertake these efforts to make sure that our customers are completely content with the products, because happy customers keep coming back.
Final question – will you still be a family-run business in the future?
[laughs] Yes, absolutely. The next Tatari generation is already eagerly waiting in line. One of my sons is about to finish university, and he will then join the team. It makes me extremely happy that he feels like joining us. My other son, Abdullah, graduated from university last year, and he has joined us already. He currently does a language program at a school in Germany, seeing that most of our customers are based in Germany.